The Easy TikTok Food Hack That Will Keep Your Family Fed On A Road Trip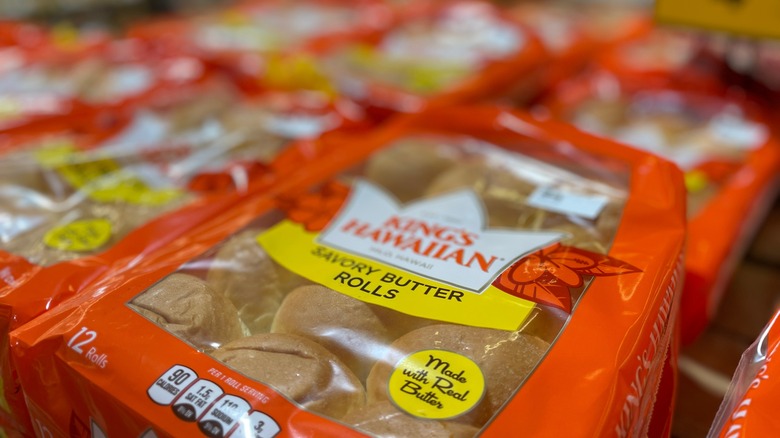 Billy F Blume Jr/Shutterstock
Eating on the go can be a convenient way to stay on track with your road trip schedule, but — if we're being honest with ourselves here — it's almost always a messy disaster, right? Between the crumbs, spills, and one-handed driving (eek!), food disasters are bound to happen, especially with young ones in the car. Finding ways to reduce the spillage while on a road trip isn't easy, but, as always, TikTok comes through with a pretty ingenious hack.
TikTok user @lizastian posted a clever video that demonstrates how road-trippers can save time on food prep and keep things a bit neater and easier to access while on the move. All you need is a pack of King's Hawaiian rolls and some of your favorite cheeses and deli meats.
In the TikTok, we see her slice the top of the rolls off and set them aside. She then layers sliced cheese and deli meats. She replaces the top of the rolls and cuts along the edges to make 12 separate sandwiches. Finally, she puts the sandwiches back in the paper tray and bag that come with the rolls for easy transport.
The secret sauce behind this hack
The key to this hack is really the pre-cut King's Hawaiian rolls and the flat paper tray that they come in. By treating the rolls as a single sandwich, you can easily make 12 separate servings without having to make individual sandwiches for everyone. While cheeses and deli meats are the easiest sandwich ingredients to use for a quick road-trip meal, you could spice this up a little by using different ingredients, especially sauces. Try Dijon mustard, mayonnaise, or even an aioli or some Chick-fil-A sauce. Step it up a notch and add some more fiber and nutrients with thinly sliced cucumbers or some arugula.
You could use pretty much any fixings with this hack. Make a big batch of tuna or egg salad, slap it on the rolls, and you're done! If your kiddos are big on the PB&Js, you could spread some peanut butter on the bottoms and jelly on the tops, slice up some bananas and strawberries, and then split the fruit across the rolls. Boom, now you've got two different kinds of PB&J for the kids to choose from. We're sure this will be an awesome treat for everyone involved.