Repurpose This Poolside Essential To Make Sleeping During A Road Trip Cozier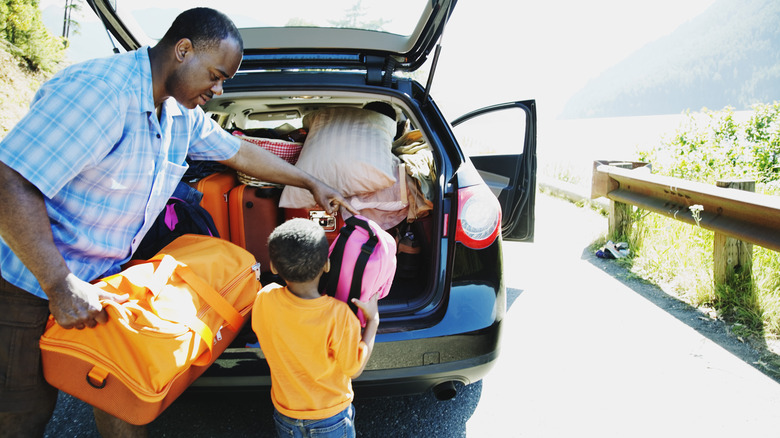 Jupiterimages/Getty Images
Road trips are wonderful, whether you're hitting the pavement alone or with family and friends. They can take many forms, with planned stops at a hotel for a good night's sleep in a bed, leaving your choice of accommodations up to fate — or choosing (or having no choice but to) sleep in your vehicle. 
While you obviously need to keep your safety firmly in mind by choosing a clean, free, safe spot to park, lock your doors, and be aware of your surroundings, there is something else you need to think about. Sleeping in a vehicle isn't always the most comfortable night's rest. That might be okay if you're just out for a night or two, but if you're doing a cross-country trip, heading to a campsite that didn't work out, or just desperately need a break from driving, you can set yourself up for back and joint pain. If you're traveling to a hiking site or another physical activity that comes after the drive, it's going to make things worse. There is a great hack to keep you more comfortable while sleeping in your vehicle and it involves an item you might have in your home or vehicle anyway. That item is a pool raft. 
How the hack works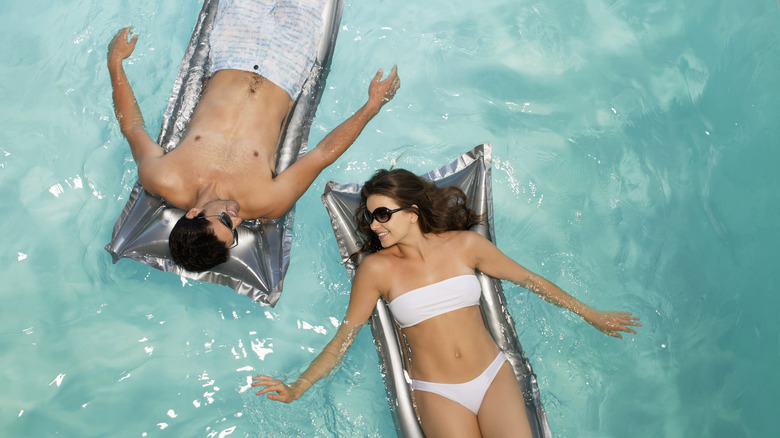 Ojo Images/Getty Images
This hack from The Huffington Post is pretty straightforward. You blow up the pool raft and sleep on it in the back seat or fold down the seats for more room in the trunk. There are a few things to keep in mind here, however. First, it seems obvious that something like a giant inflatable swan isn't going to be conducive to sleep, but not all rectangular rafts will work, either. You should measure your back seat/trunk/sleeping area and find something as close in size to the space as possible. If you can have it mostly inflated before you need it — depending on your spacial capacity — so much the better. 
You should also keep in mind that it's best to have your head above your feet for breathing and comfort. It's worth bringing your pillow from home, as well as a sleeping bag, but if you can't, try a travel neck pillow and blankets, as Casper suggests. You can also use rolled-up laundry as a pillow or to protect yourself from any car implements sticking into tender places like the armrest or drink holder. Complete your tiny hotel room with a sunshade over the windshield (after you ensure the safety of your parking spot) or a sleep mask to keep the light out. Lay off the earphones, however, so you can be aware of what's outside.