Hike The World's Largest Subtropical Rainforest In Australia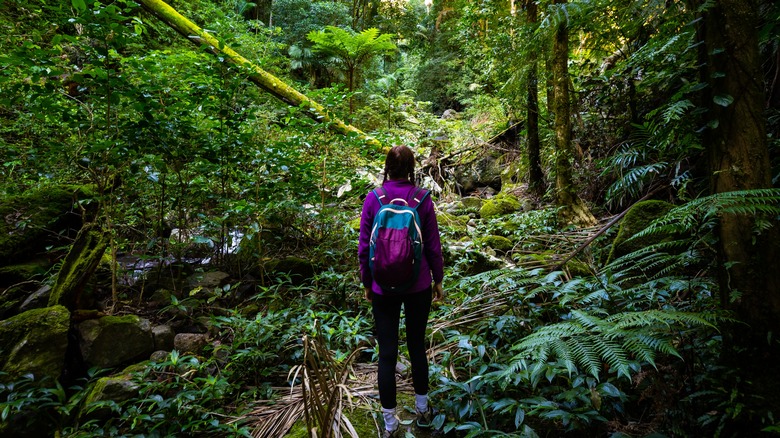 Jakub Maculewicz/Shutterstock
Hiking provides a refuge from the bustle of the day-to-day. It gives us a chance to breathe deeply and connect with nature while also getting exercise. For those who love it, hitting the trails can be a common occurrence, and traveling to explore new ones can feel like a treat. One place that indulges the experienced hiker is the vast subtropical rainforest Gondwana, located in Australia. It's a five-day, 37-mile trek, but its beauty is superb, making it worth the strenuous hike. If you are a beginner, it's highly advised that you go either with a guided group or an experienced hiker.
The Scenic Rim Trail is a thrilling adventure in Australia that's part of the 30 national parks in a region called the Scenic Rim located southeast of Queensland. They each harbor parts of the Gondwana Rainforests. The Scenic Rim Trail is a unique trail located about a 90-minute drive from Brisbane. It used to be a two-day hike, but in 2020 it extended into a five-day trail, although you can choose how many days you'd like to hike. It takes you through sub-tropical rainforests and contains several vantage points where you can see landscapes for miles.
The Gondwana Rainforest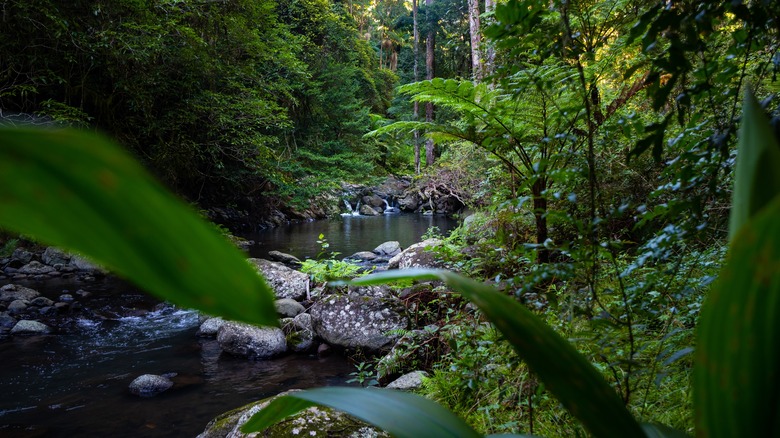 Jakub Maculewicz/Shutterstock
As for the Gondwana Rainforests that you'll be hiking through, it consists of a total of 366,507 gorgeous hectares, — 59,223 hectares are in Queensland — with a plethora of plants and wildlife. The Ugarapul, Githabul, Yugambeh, and Yuggera people have rights over part of the land, and historically, the land belonged to First Nations people. It once was and continues to be a sacred place that all visitors are expected to respect.
Part of the area includes the Scenic Rim Trail, which is designated as a "hard" hike on All Trails, and people who have tried it agree. "This is definitely a difficult trail, a bit of scrambling, lots of elevation," one reviewer wrote on All Trails. However, that shouldn't dissuade you from giving it a try. If you're willing to put in the work, it can be an extremely rewarding affair. "Great rainforest walk with stunning views," another reviewer wrote. "Be prepared for a long day though!" This trail is a great way to fill the need to explore Australia.
The Scenic Rim Trail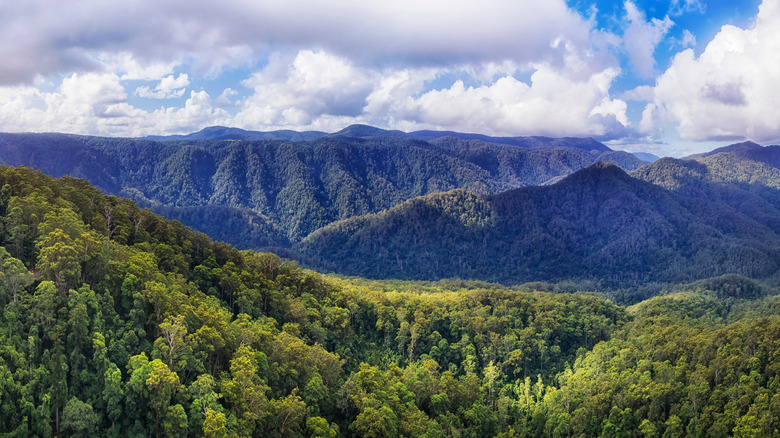 Taras Vyshnya/Shutterstock
If you hike the Scenic Rim Trail through the Gondwana Rainforest, you'll also wander through eucalyptus forests and other types of terrain, as well as bear witness to multiple threatened animal and plant species — over 200 different kinds — in their natural habitat in the Gondwana Rainforest. You can go alone, with friends, or with a guide and a group. Great Walks of Australia, a company that offers guided, small group tours throughout Australia, includes the Great Scenic Rim for its services. 
For the overnight parts, booking with them includes a stay at a top-of-the-line eco camp. If you're headed out without the help of Great Walks America, you can still stay in one of the luxurious eco-camps, or you can opt for the campground. If you visit the Gondwana Rainforest, you're in store for the magical beauty of nature. The best time to visit is during Australia's winter months — June through October — since it won't be as muddy and hot.