The Popular European City That's A Must-Visit For Book Lovers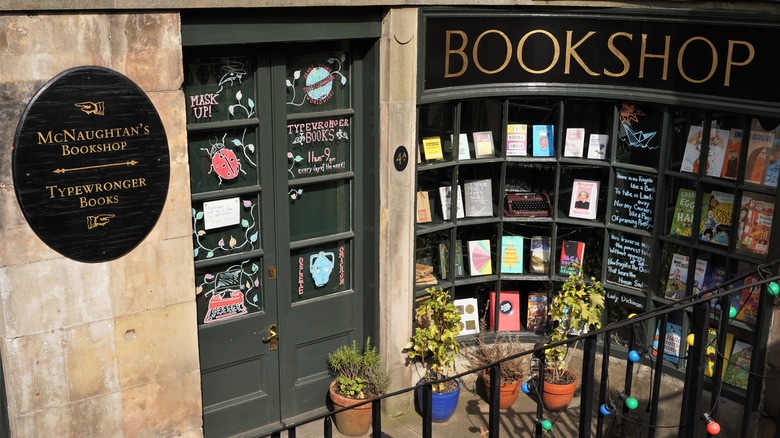 Bob Douglas/Getty Images
There's nothing better than getting lost in a good book. Whether you fancy adventure, romance, or a good thriller, stories entertain and inspire readers of all ages. This is true whether you're at home or unwinding on vacation, and it's even better when you can work some book-related activities into your trip. For bookworms planning a trip to Europe, consider visiting one of the continent's best cities for literature. A cozy chair, a hot cup of tea, and a good page-turner make the perfect recipe for a storied international vacation.
While there are many inspiring destinations across Europe for book lovers, Edinburgh — the capital of Scotland — is one of the best and the world's first to be designated a UNESCO City of Literature in 2004. With an impressive literary past and as a contemporary cornerstone of daily city life, Edinburgh celebrates Scotland's most significant writers with monuments, museums, and festivals. At the same time, it blends old classics with new talent in its many libraries and independent bookstores. Plus, the city's cobbled streets, stunning historic architecture, and friendly locals are just icing on the cake.
What makes Edinburgh a must-visit city for book lovers?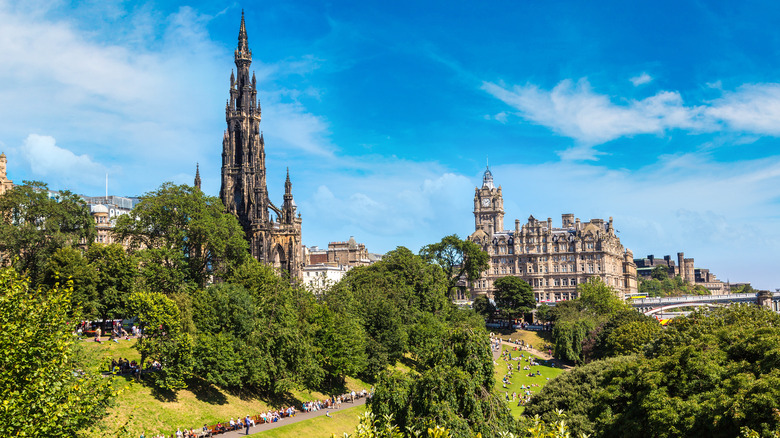 Sergii Figurnyi/Shutterstock
According to travelers surveyed in 2019, Scotland is one of the most beautiful countries in the world, and Edinburgh is one of its most striking cities. One can find tributes to literary greats throughout Edinburgh. For example, the famous Scott Monument is named after Sir Walter Scott, the author of "Ivanhoe," "Rob Roy" and many other classic novels. The gothic landmark in his honor stands proudly above Princess Street Gardens, and visitors can climb the 287 winding steps to the top for glorious city views. There is another nod in Scott's direction — Waverly Station, Edinburgh's main train station, is named after Scott's 1814 novel, "Waverly."
Also of interest to book lovers is the free Writer's Museum, one of the best museums in Scotland, which is located in the heart of Old Town near the top of the Royal Mile. This locale lets visitors peek at a wide range of personal items and books from three famous Scottish writers: Robert Louis Stevenson, Robert Burns, and Sir Walter Scott. Additionally, the National Library of Scotland is the most extensive in the country and houses many treasured works among its over 20 million printed items.
Another favorite pastime for bibliophiles visiting Edinburgh is to explore the city's many fantastic bookstores. Waterstones in the West End is one of the largest while a few independent gems include Lighthouse Bookshop for politics lovers, Rare Birds Bookshop for female authors, and McNaughtan's for antique finds. Edinburgh is also home to the world's largest literary festival. The Edinburgh International Book Festival arrives every August and features over 500 writers and illustrators from around the world.
There's also literary walking trails, including a literary pub tour!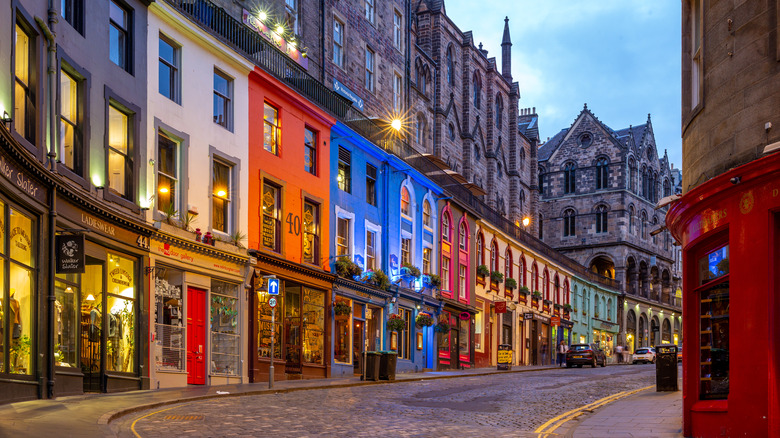 Jui-chi Chan/Getty Images
Edinburgh is a very walkable city, and for book lovers, what better way to explore than on a literary tour? Tourists have their choice between many book trails, but a few favorites are the Edinburgh Literary Pub Tour and the Edinburgh Book Lovers Tour. The pub tour, which won a Scottish Thistle Award for Arts and Tourism, is script-based and led by actors. Pop in and out of pubs in Edinburgh while learning about Scotland's best-known and most fascinating literary characters. The Edinburgh Book Lovers Tour is a popular guided walking tour to explore famous highlights of Edinburgh's most famous writers, including everyone from Edinburgh icon Robert Louis Stevenson to "Harry Potter" author J.K. Rowling.
And speaking of "Harry Potter," Edinburgh also has multiple tours for Potterheads. Options include a free guided Potter Trail, which takes fans down Diagon Alley, lets them spot where Lord Voldemort was buried, and visits many more film sites all attendees will love!