Why Booking An All-Inclusive Resort May Not Be The Best Way To Experience The Caribbean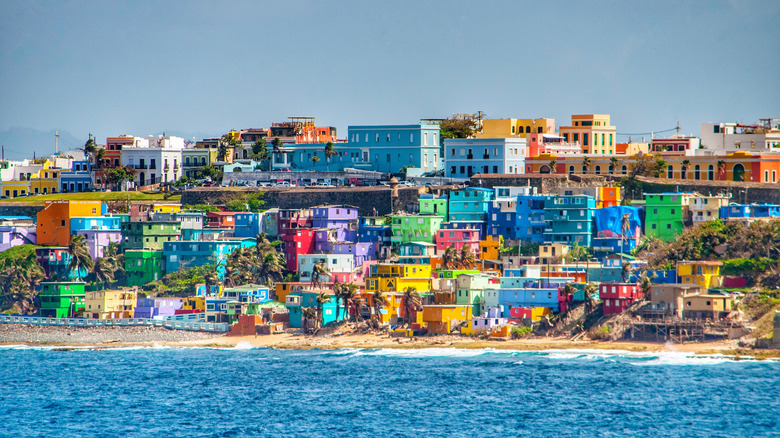 Martin Wheeler/Getty Images
Golden beaches, soothing winds, and azure waters — this is the Caribbean, a mosaic of 26 countries encompassing 7,000 islands that beckon travelers from around the world. However, most visitors, especially those staying in all-inclusive resorts, never truly experience the Caribbean's full richness. Why? On the one hand, the all-inclusive vacation offers a stress-free, luxurious break from daily life. But on the other hand, it keeps visitors cocooned in a comfortable but limiting bubble.
It's easy to understand why many are drawn to all-inclusive deals. Everything is pre-planned, from food, drink, and entertainment, to all amenities available around the clock, without the need for extra thought or planning. At first glance, paying a lump sum for all your vacation needs seems like a great deal. Many travelers, especially those unfamiliar with a region, feel safer within the confines of a resort.
Ultimately, the secret to getting the most out of your Caribbean vacation is to get off the resort. Although petty crimes such as pickpocketing and tourist scams do happen, with streetwise vigilance and safety precautions, these can be avoided. Even so, crimes against tourists in the Caribbean are not as prevalent as in some popular European travel destinations like Paris, Venice, and the like. Caribbean locals are known to be sociable and kind, with Guadeloupe, for instance, being one of the most friendly Caribbean destinations. To get a closer link to the Caribbean without the all-inclusive package, look to local experiences — from mouthwatering food to jaw-dropping hikes, and more.
Get away from resorts for the real Caribbean experience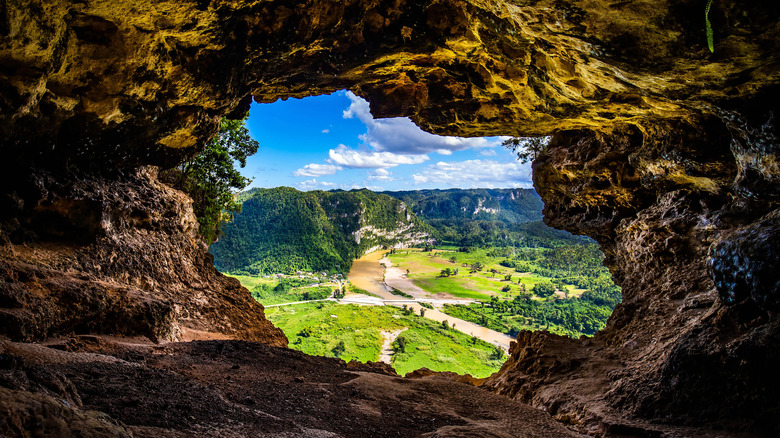 Photo Spirit/Shutterstock
The Caribbean isn't just about pristine beaches or luxury services. It's a region rich in history, culture, and unique experiences. Staying within an all-inclusive resort's confines means a whole lot of missing out. First, you'd be skipping out on some authentic cuisine. Sure, resorts might offer "local" dishes, but there's a difference between resort food and the flavors of a family-run eatery in a nearby town. From jerk chicken in Jamaica to roti in Trinidad and Tobago, the real culinary treasures lie outside those resort walls.
While resorts may have themed nights or cultural shows, it's not the same as participating in local festivals or attending authentic cultural events. For example, the Reggae Sumfest in Jamaica is the largest music festival in the Caribbean and has been taking place annually in mid-July for around 30 years. Expect lots of dancing, fantastic beach parties, musical seminars, and much more. Engaging with locals in local settings like these can provide invaluable insights into a country's way of life.
Beyond the resort's manicured lawns and landscaped pools, there are national parks, hidden beaches, and hiking trails waiting to be explored. Morne Trois Pitons National Park in Dominica, a UNESCO World Heritage Site, is a 17,000-acre tropical forest with hot springs, rich biodiversity, and lots of volcanic activity. There are many other underrated tourist destinations to visit in the Caribbean — the Colonial City of Santo Domingo, Cueva Ventana Cave, and Blue and John Crow Mountains, just to name a few. 
Support local and enrich your travel experience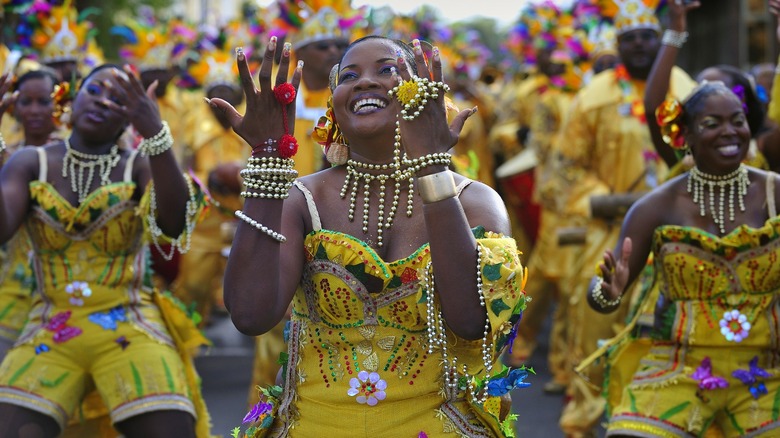 T photography/Shutterstock
Tourism has been a significant income source for many Caribbean nations since the 1980s. However, you can make a truly positive economic impact by venturing beyond the resort. Spending money on local businesses ensures that more money stays within the community, directly benefiting the people, instead of multi-million dollar hotel chains owned by foreign multinational companies. Approximately 80% of what you pay for your all-inclusive vacation doesn't actually go to the host country at all. By booking local tour operators (instead of resort-organized excursions) and stepping out for meals you'll be supporting more of the local economy — one bite, one tour, one exchange at a time.
Keeping your travels local instead of all-inclusive also makes you a more sustainable tourist. A whopping 71% of the Caribbean population faces moderate or severe food insecurity, yet according to UNEP's 2021 Food Waste Index report, 25% of the world's nearly one billion tons of food waste comes from food service. Eating off-resort, engaging with eco-tours or community-driven initiatives, and being mindful in your travels all support responsible tourism.
While there's nothing inherently wrong with enjoying the comforts of an all-inclusive resort, it's essential to remember that there's a vast, vibrant world outside those boundaries. The true Caribbean experience, with its array of cultures, cuisines, and histories, offers far more. The next time you're on one of its enchanting islands, venture beyond the gates of all-inclusive luxury and dive into the warm-spirited heart of the Caribbean.