Why Tourists Are Calling This Island The Most Friendly Caribbean Destination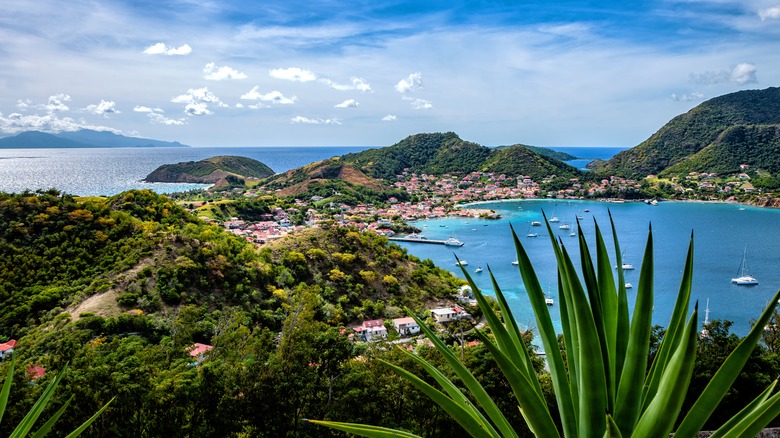 Iryna Shpulak/Shutterstock
The Caribbean is made up of over 7,000 islands. While some of the most popular destinations include the all-inclusive resorts of Punta Cana in the Dominican Republic, Aruba's Flamingo Beach, and the Bahamas island where visitors can swim with pigs, there are many Caribbean islands just waiting to be explored that fly far under the radar. Near the top of the list of hidden gems of the Caribbean is Guadeloupe, a French overseas region in the Lesser Antilles island chain.
Guadeloupe, much like its Caribbean neighbors, is a stunning slice of paradise, but what really makes this tiny destination a step above the rest is its abundance of friendly people. Locals of Guadeloupe are known for their warm, open demeanor. They welcome tourists in with wide smiles and open arms. The official language is French so there can sometimes be the issue of a language barrier, but the people of Guadeloupe are known to go above and beyond when it comes to being friendly and hospitable. 
What to do in Guadeloupe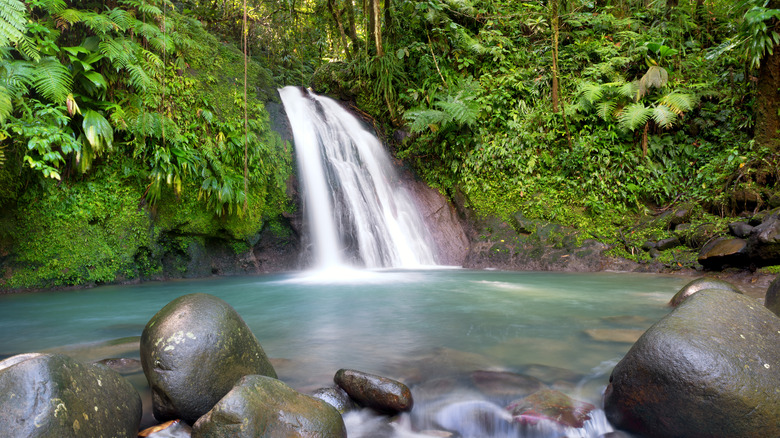 Thomaslenne/Getty Images
Aside from befriending as many locals as possible, what exactly is there to do in Guadeloupe? Despite its tiny size, the island packs a punch with plenty of activities for tourists to partake in. One of the most popular things to do in Guadeloupe is to visit Jardin Botanique de Deshaies, a botanical garden showcasing some of the island's plants and wildlife.
Guadeloupe is also home to many waterfalls, with some of the most popular being Cascade aux Ecrevisses, Carbet Falls, Cascade Le Saut de L'acomat, and Chute du Galion. Of course, no visit to Guadeloupe is complete without visiting some beaches. The most sought-after beaches are the milky white sands and crystal clear waters of Bois-Jolan and the Bourg beach in Sainte-Anne, and Raisins Clairs, Anse à la Gourde, and La Coulée in Saint François. Best of all, beaches here tend to stay uncrowded since Guadeloupe is like a best-kept Caribbean secret.
Don't forget to try the national dish, porc-colombo, a pork curry with Sri Lankan and Indian spices. Another dish worth trying is bokit, a fried sandwich that can be stuffed with anything from saltfish to veggies. Bokit is a typical street food of Guadeloupe, while porc-colombo is something that you'd usually order in a restaurant.
How to get there, when to go, and general costs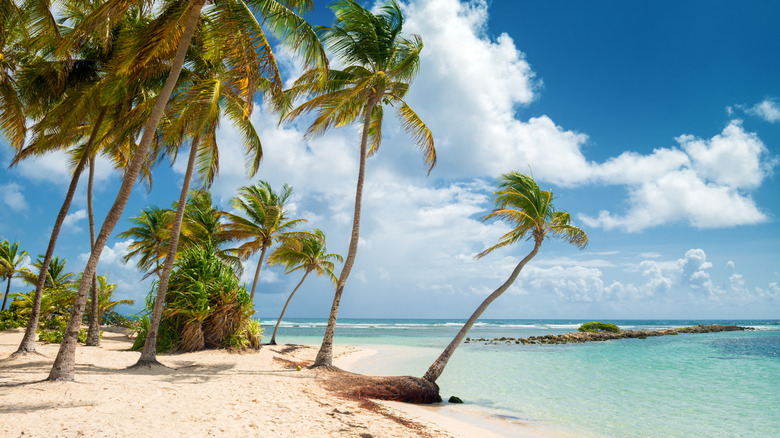 Thomaslenne/Getty Images
If you're convinced to visit this friendly, under-the-radar island, you'll need to know how to get there. JetBlue has direct flights from New York City on Mondays, Wednesdays, and Saturdays. AirFrance and American Air both offer direct flights from Miami, Florida. Cruises are always an option when it comes to visiting the Caribbean, with MSC Cruises and Norwegian Cruises both having great options for Guadeloupe.
The best time to visit Guadeloupe is between December and April since it's dry season, and the weather stays generally sunny. Plus, it's typically cold on mainland USA during those times, so it's a great time to escape down to the sunny Caribbean. Travelers can also get away with visiting Guadeloupe just a little outside of the recommended times (for example, in November or May). By doing so, you might score better deals on hotels.
Speaking of hotels, how much does a trip to Guadeloupe cost? On the higher end, rates at five-star resorts such as La Toubana Hotel & Spa start at around $336 per night. Three-star properties such as Canella Beach Hotel can be booked for as low as $115 per night. If you want to find an even sweeter steal, Tropicana Suites sometimes offers rooms as low as $90 per night.