Australia's Top Ranked Region For A Wine Vacation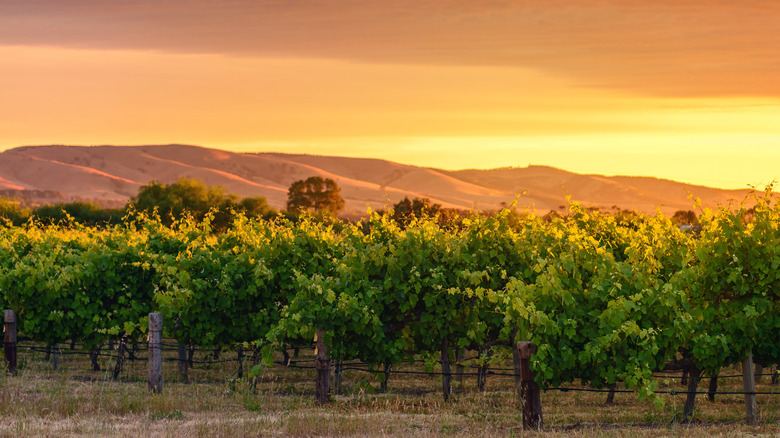 myphotobank.com.au/Shutterstock
Nestled just beyond the bustling streets of Adelaide lies a gem that captures the essence of Australia's rich vinicultural legacy: McLaren Vale. Tucked away on the enchanting Fleurieu Peninsula, this region has been producing some of the best wine in the world since the very first grape vines were planted in 1838 by Englishmen John Reynell and Thomas Hardy, who were enticed by the region's fertile soils and natural beauty. Over some 185 years, McLaren Vale has steadily risen to be recognized as the top-ranked region for a wine vacation, the oldest locale of Australian wine, and also one of the great wine capitals of the world. 
A major factor in McLaren Vale's travel appeal is its accessibility. Just about 24 miles south of Adelaide's city center (a 45-minute drive), it offers international travelers and locals an easy escape into a vinicultural paradise — 160 vineyards and 74 cellar doors to be exact. While Kangaroo Island tends to draw international visitors further down the coast, those truly in the know understand that this particular boozy slice of the Fleurieu Peninsula is an experience that cannot be missed.
McLaren Vale's climate, mirroring the warm, dry, and breezy Mediterranean, has nurtured a unique flavor profile akin to Italian wines. Under-vine, the soil has been formed over the past half billion years, resulting in around 40 different geological configurations from loamy sands to clay — perfect terroir for the production of top-quality grapes for shiraz, cabernet sauvignon, grenache, chardonnay, and many other wine varieties. 
McLaren Vale: Wine, art, and culinary delights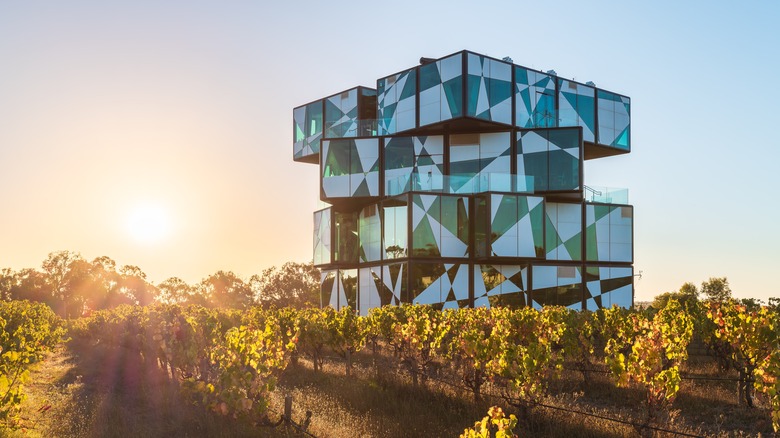 myphotobank.com.au/Shutterstock
Here, wine is a way of life. And what better way to celebrate life than through art and wine? In the d'Arenberg Cube, you can enjoy sipping a glass of shiraz inside a five-story glass Rubik's cube that also functions as an art gallery, virtual fermenter, and wine sensory room. This quirky blend of art and wine is not an isolated incident. Many of McLaren Vale's cellars double up as art galleries, turning a simple wine-tasting session into a complete sensory adventure. To watch the magic unfold as artists craft masterpieces, a visit to the Fleurieu Arthouse is a must.
McLaren Vale's offerings don't end at wine. The region, with its fertile soil and climate, is renowned for its olive oil, offering a Mediterranean gourmet experience that is perfect for wine pairings. Along the region's Olive Trail, you will find Coriole Vineyards (one of the oldest olive producers in the region), The Farm Willunga (fully organic), Lloyd Brothers Wine & Olive Company, and many more.
Yet, even with such fancy delights at one's fingertips (McLaren Vale is chock-full of world-class fine dining establishments), the foodie call that most find irresistible is the humble fish and chips. The coastal proximity of McLaren Vale ensures that cafes lining the nearby shores serve the freshest seafood. Check out Port Noarlunga Fish & Chip, a local family-owned joint that has been operating since the 1950s near the coast of St. Vincent Gulf. 
Following Australia's wine trail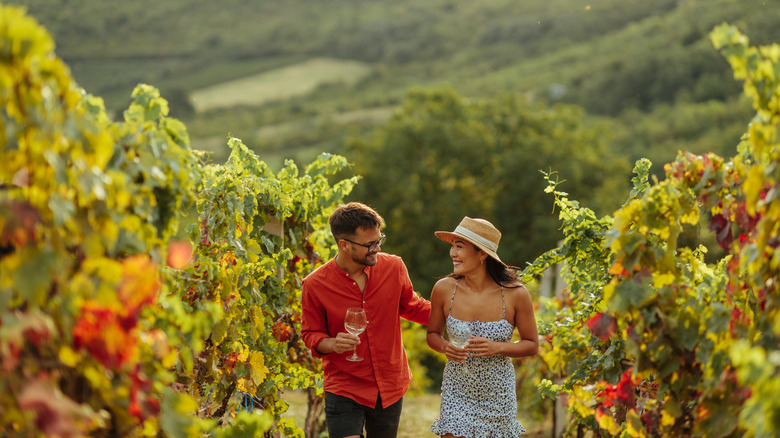 Dimensions/Getty Images
To dive even deeper into the region's offerings, try the many hiking and cycling trails. From national parks to waterways, there is a wide variety of options to satisfy every nature enthusiast. The Shiraz Trail (yes, that's right, named after the wine) stretches for five miles of rail trail from McLaren Vale to Willunga and guides cyclists and hikers across vineyards, farms, and ocean vistas. You can even stop for a mid-walk wine tasting!
Visiting McLaren Vale would make for a really relaxing overnight getaway or multi-day trip from nearby Adelaide. Many B&Bs, hotels, and eco-stays are available, from budget to luxury levels. To truly make the most of your visit, consider partaking in some of the many unique tours on offer. The Gemtree Wine and Wander is a three-hour experience that includes a guided tour of the Gemtree Eco Trail (housing 50,000 native plants over 10 hectares), a foray into biodynamic winemaking, a chauffeured ATV ride, and a three-course private dining experience — with a bottle of wine included, of course. 
With its sprawling landscapes and diverse terrains, Australia offers an expanse of experiences. For those inclined toward wine, art, or gourmet food — McLaren Vale emerges as indisputably top-ranked. If you're thinking of a wine vacation down under, the best vinicultural experiences might just be waiting for you a short drive from Adelaide in the mesmerizing McLaren Vale. With a total annual crush of nearly 35,000 tonnes of grapes, there's plenty of wine to go around. Cheers to that!