Get A Taste Of Europe On A Budget At This Charming East Coast City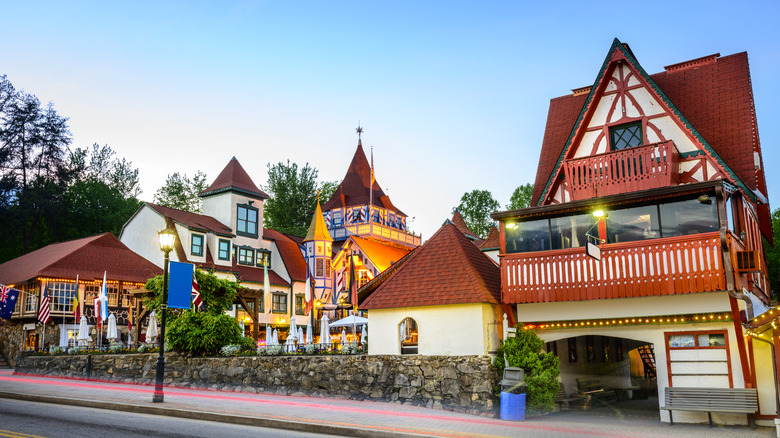 Seanpavonephoto/Getty Images
If you're dying to embark on a European getaway, you're surely not the only one (we are, too!). Of course, traveling to Europe is easier to dream about than to put into action. Long flights, high prices, and extended time needed off from work can all seriously put a cramp in our style when planning a trip abroad (the pandemic also put a damper on European travels). But that doesn't mean you can't still get an excellent taste of Europe right here in America.
The charming town of Helen, Georgia, is inspired by the Bavarian style of Germany. The moment you step foot in this beautiful village, you'll likely do a double take at your plane ticket and wonder how you've been transported to Europe so quickly — it's a town which feels as if it's stuck back in time. Although the town's appearance, food, and activities suggest otherwise, you're still in America — and getting the European experience on a budget. The town is a win any way you look at it!
The history of Helen, Georgia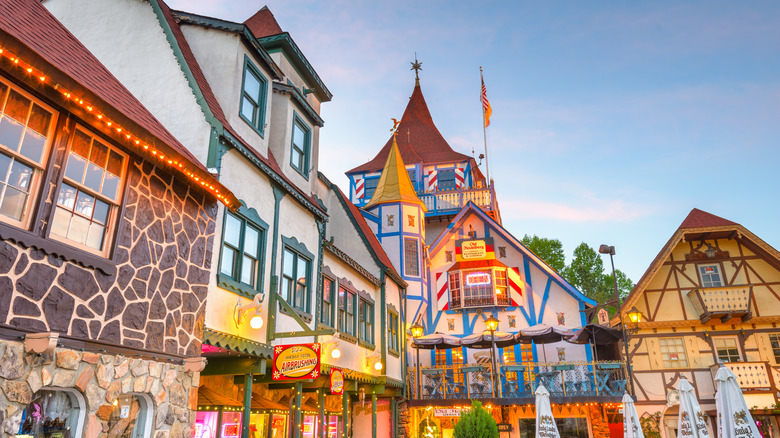 Sean Pavone/Shutterstock
Helen is located in the mountains of northern Georgia — approximately a two-hour drive from Atlanta. Its population is just over 500 people who inhabit the village of 2.1 square miles. So, how did a southern town end up with such a distinctly German feel?
Until the late 1960s, Helen was a sawmill town. But, in 1968, three local businessmen wanted to transform the town, so they approached local artist John Kollock. Kollock had served in the Army and was enchanted by the Bavarian towns while stationed abroad. Helen's landscape, especially the mountains and river, reminded Kollock of the European towns he'd loved so much, so he began sketching alpine designs for the buildings in Helen.
The rest of the town followed the lead of Kollock's vision, and, today, it's home to authentic Bavarian cuisine and brews throughout the year, including, of course, Oktoberfest but also a traditional German Christmas market and other unique festivals.
What to do in Helen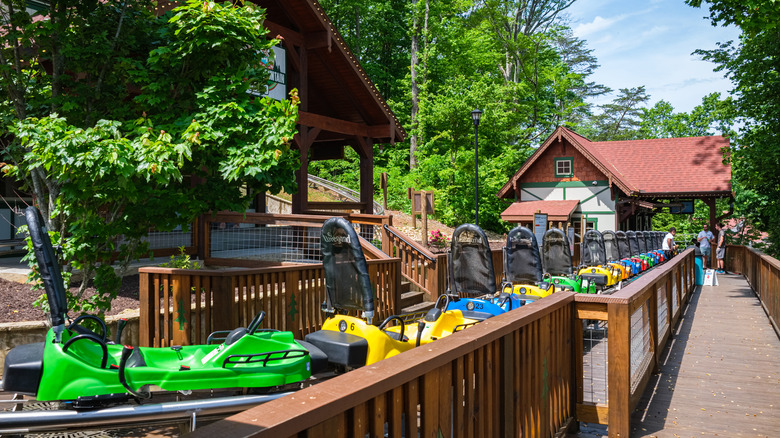 Raul Rodriguez/Getty Images
While it may consist a modest 2.1 square miles, Helen, Georgia, has plenty for tourists to enjoy. Trail hikes complete with wine tastings are a popular option. The Bartram Trail hosted by Winery Journeys is especially beloved, with visitors raving about the eight-hour excursion. "Wonderful tour guide! Felt very safe with Dante as he gave us riddles and pointed out the flora of the area. He is very energetic, knowledgeable, and an all around wonderful person," wrote one reviewer on TripAdvisor. "We would definitely go again. The wine and atmosphere at his chosen winery 12 Spies was also amazing!"
TripAdvisor reviewers described the Georgia Mountain Coaster, an alpine coaster built in Germany to replicate the experience of the country's rodelbahns, as an excellent bucket list item. And, of course, don't forget to eat, drink, and be merry — Helen is home to some of the best Bavarian food and drink you'll find stateside.