The Best Roller Coasters In The US (And What Ones To Skip)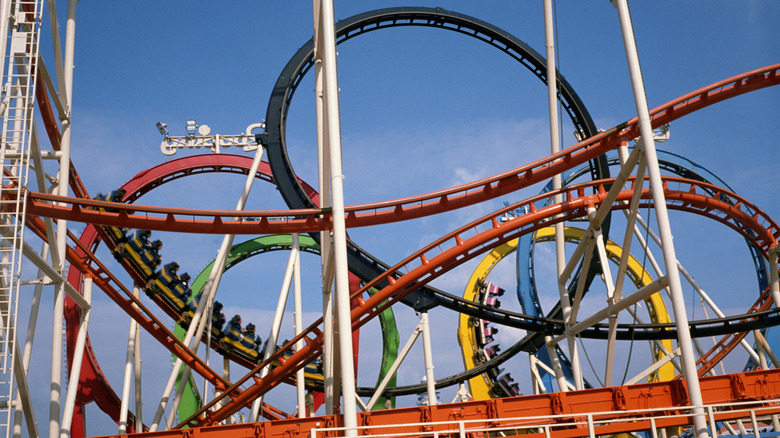 Jupiterimages/Getty Images
Roller coasters are a huge draw for amusement park goers. These exciting rides offer intense thrills and massive speeds that get the heart pumping and the imagination soaring. Some people try to hold up their arms throughout a roller coaster journey, while others scream the whole way to amplify the experience. No matter your preference, most riders try to find the next great coaster whenever a memorable ride comes to an end. From Six Flags parks across the country to SeaWorlds that've recently integrated towering roller coasters into their DNA, amusement parks grab headlines (and attract riders) when they announce any new rollercoasters coming out. Likewise, some of the old tried-and-true favorites remain stunning examples of the incomparable experience that a great coaster can provide. 
Whether you're looking for fast coasters, sky-high drops, or a track that loads up on inversions and gut-busting turns, these are the best coasters in America that you simply must check out. As a bonus, we've also shared some of the least exciting coasters across America, which you may want to place on your no-go list. There's nothing quite as disappointing as lining up for a bummer of a roller coaster, so skipping these rides may save you some time and heartbreak during your next theme park adventure.
Montu, Busch Gardens Tampa
Montu is one of the older roller coasters found on this list, but it continues to thrill. It was opened in the Tampa Bay Busch Gardens in 1996 alongside the entire Egyptian-themed segment of the park. Named after the Egyptian god of war, Montu quickly made a name for itself among hardcore roller coaster enthusiasts and has remained a staple in conversations surrounding the best roller coasters in the country.
The ride features an inverted coaster design, where riders dangle beneath the steel track. When it opened, Montu was both the world's tallest and fastest inverted roller coaster, as well as the first to combine a roll and twist maneuver into a single transition (known as an Immelmann loop). The coaster packs a serious volume of thrilling elements into its 3,983-foot run, including a record seven total inversions (with the Immelmann loop and a unique Batwing inversion included in these featured elements). Montu is a great place to kick off a list of excellent roller coasters because it feels like a unique ride from the moment you leave the station. The floor drops beneath your feet, while the cars push forward in a way that seems both subtle and powerful. Its loops and twisting drops are precise and incredibly fast — rising to a top speed of 60 mph.
[Featured image by ClaudiaTampa39 via Wikimedia Commons | Cropped and scaled | CC BY-SA 3.0]
Emperor, San Diego SeaWorld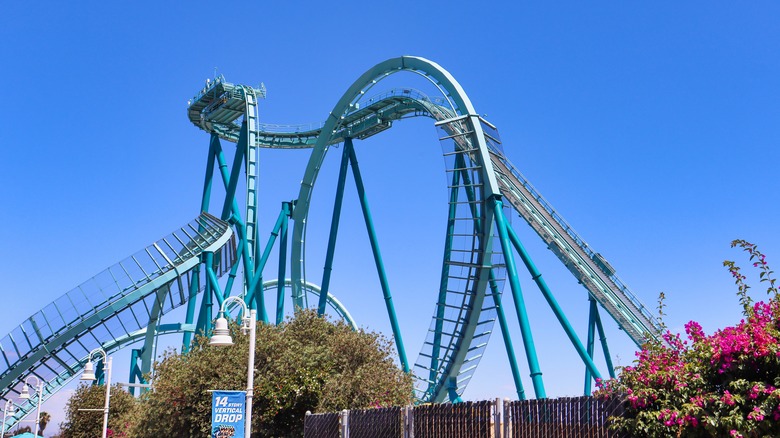 Rosamar/Shutterstock
Emperor is the first floorless dive coaster in all of California, and it's the tallest, fastest, and longest among diver coasters in the state as well. This is a pretty impressive feat, considering all the other great theme parks built into the tapestry of California's entertainment nexus. The San Diego SeaWorld location takes roller coasters seriously, and Emperor really delivers. The cars are brought up to a height of 153 feet before plunging back to Earth at a perfect 90-degree angle. The coaster hits a top speed of 60 mph, and you'll feel every bit of the force created through three inversions, including an Immelmann loop, a flat spin, and a barrel roll. The coaster adds in a hammerhead turn that all but inverts the coaster again.
The height and excitement that the Emperor brings to the table are both dramatic and impressive. Its track was designed with the movements of emperor penguins in mind, and its rollicking adventure provides a sense of unimpeded freedom to dive and turn in the water (with great speed, of course) that emperor penguins experience. What makes this coaster even more noteworthy is that you'll enjoy views of downtown San Diego, Mission Bay, and the Pacific Ocean from the top. As a result, it stands alone among a sea of less impressive competitors.
Phantom's Revenge, Kennywood
Phantom's Revenge was opened in Kennywood in 2001, having been built specifically to replace the less favored Steel Phantom that sat in its place from 1991 to 2000. A few important segments of the track were reused, including the lift hill and the largest drop, which towered above the park's ground level at 160 feet. Part of the allure of Phantom's Revenge is how it utilizes its tallest descent. Instead of placing the highest hill directly after the lift, Phantom's Revenge surprises first-time riders with a second hill that drops into the natural ravine found at Kennywood. The result is a massive 232-foot dive and a top speed that reaches 85 mph as the cars sail around the track.
The coaster also integrates seamlessly with the track of nearby Thunderbolt, passing through its structure twice as it enters and then exits the ravine. It's a really fast roller coaster, and you'll experience great airtime and a few exciting twists and turns over the coaster's 3,365-foot run.
[Featured image by WillMcC via Wikimedia Commons | Cropped and scaled | CC BY 3.0]
Iron Gwazi, Busch Gardens Tampa
Busch Gardens is home to a handful of excellent thrill rides, and its latest offering is no exception. Iron Gwazi was opened in 2022, after pandemic-related opening delays forced it to sit idle after construction had been completed in March 2020. Iron Gwazi is a refit of the wooden coaster, Gwazi, which closed in 2015. The first riders got to experience the new upgrade's 91-degree drop from a blistering height of 206 feet in 2022, and the ride has remained a hugely popular expansion ever since. The original Gwazi coaster opened in 1999, but it quickly fell out of favor due to rough rides and high maintenance costs.
Iron Gwazi, on the other hand, is an eminently exciting rollercoaster that captivates onlookers and riders alike. The steel hybrid coaster includes two inversions and runs over a duration of one minute and 50 seconds from start to finish. This one doesn't repeat the twin-track design of its predecessor but did utilize around 40% of the original ride's track structure in the new build. Iron Gwazi is a more intimidating ride to line up for, even as the iconic wooden track of the original offered a spectacular view. However, the massively steep drop and 76 mph speeds introduce a new level of thrill for riders, making it one of the best in the country.
[Featured image by Adog via Wikimedia Commons | Cropped and scaled | CC BY-SA 4.0]
The Incredible Hulk Coaster, Universal Islands of Adventure Orlando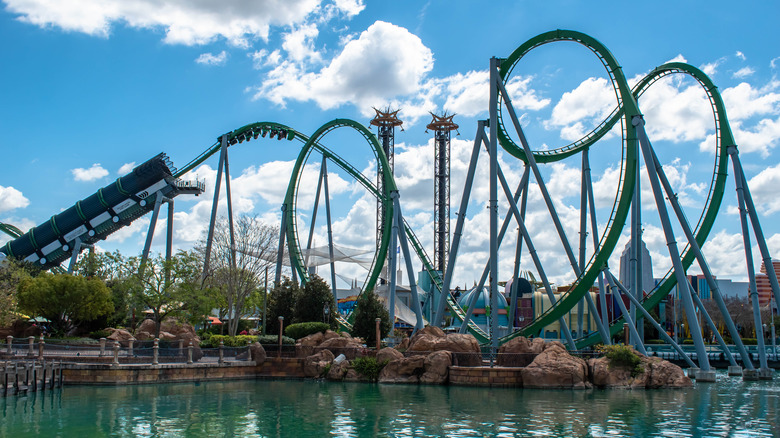 VIAVAL TOURS/Shutterstock
The Incredible Hulk Coaster has been a mainstay in the front segment of Orlando's Universal Islands of Adventure since it opened in 1999. This roller coaster utilizes a tire-propelled launch, so riders are thrown into the air almost immediately after the trains leave the station. In order to facilitate the power required to achieve this launch, sending riders 110 feet into the sky, the park had to build customized generators with 10,000-pound flywheels.
The result is a mighty roller coaster. When you leave the launch tube at the start of the ride, the cars quickly enter the first dive, rolling over in the process to create a ferocious thrill element that is uniquely elegant and highly effective. The rest of the ride includes inversions, twists, and dives that combine in a way befitting the thematic transformation of Bruce Banner into the Hulk. It's frenetic and oozing with raw power. It's easy to forget while you're on the ride that it only hits a top speed of 67 mph. While this is fast, the ride is slower than other highly regarded roller coasters in the U.S. Yet, the ride produces 4Gs within a compact ride time of two minutes and 15 seconds. When riding along a track jam-packed with seven inversions, you'll understand why this one's pretty incredible.
Titan, Six Flags Over Texas
Titan is a monstrous roller coaster found at Six Flags Over Texas in Arlington. Its track is dominated by a 255-foot drop that descends at a 65-degree angle and immediately shoots through a 120-foot-long tunnel at the bottom of the dip. The whirlwind roller coaster sends its riders on a rapid adventure around the 5,312-foot track, placing it among some of the longest roller coasters in the world. It also careens along the voyage at a gut-wrenching 85 mph and achieves 4.5Gs for almost six seconds at the end of the three-and-a-half-minute ride.
This roller coaster is a thrilling experience from start to finish. Not only are you taken up to a seemingly astronomical height to begin the journey, but you transition flawlessly through banking and helix elements after the fabulously disorienting run through the darkened tunnel on your first drop back to Earth. For the best drop experience, you'll want to head to the back row, while airtime-chasers should float to the front seats and take in all the thrills with an unimpeded view at the same time.
[Featured image by Chris Hagerman via Wikimedia Commons | Cropped and scaled | CC BY-SA 3.0]
Skyrush, Hersheypark
Hersheypark's Skyrush is a gigantic thriller. The popular U.S. amusement park is an iconic part of American history, having opened in 1906 as a means to entertain Hershey's employees and others in the community surrounding the candymaker. It has continued to provide excitement and thrills in the century since, with Skyrush, opened in 2012, taking a centerstage role in this effort.
Skyrush is a wing coaster that rises to a top height of 200 feet in the air, and its trains drop at an 85-degree angle, reaching a rapid pace of 75 mph. The roller coaster doesn't feature any inversions, but it swoops around the track at this intense speed over five zero-G airtime hills and four turns. The roller coaster's track dips back and forth across a pond in the park and provides a massively thrilling ride, all packed into a tight three minutes that will have you running back to line up again.
[Featured image by Jeremy Thompson via Wikimedia Commons | Cropped and scaled | CC BY 2.0]
Mako, SeaWorld Orlando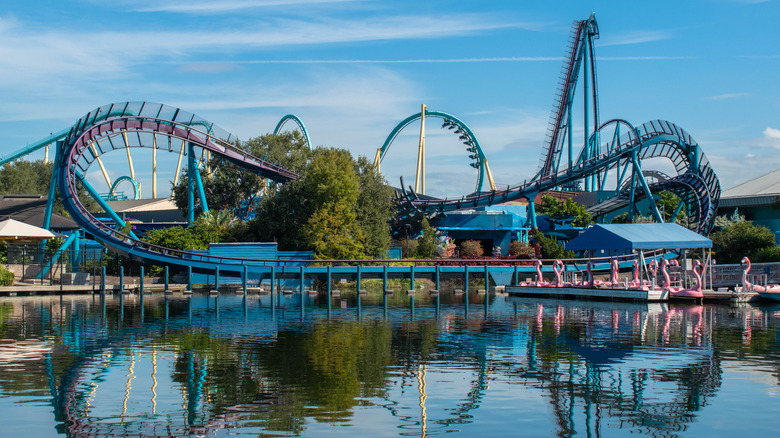 VIAVAL TOURS/Shutterstock
Mako has been thrilling riders since June 2016. It's a steel hypercoaster that rises 200 feet above the ground and rockets to 73 mph. The track is built to mimic the movements of a mako shark, and the design really delivers. After the gigantic lift hill, riders drop out over a lake at SeaWorld's edge, almost like you're diving right in the water.
This is both the tallest and fastest roller coaster in Orlando, giving riders an extreme thrill that isn't easy to match among any of the area's competing rides. Orlando is a magnetic force when it comes to theme parks and great roller coaster construction, so this honor truly sets Mako apart from the pack. You'll be taken along a track that twists and turns, all while executing a constant series of dives and rises that keep you on the edge of your seat. Just when you think the ride is coming back to the station, returning you to the park, Mako takes another set of turns that add a few more sharp twists before returning you to land.
Kingda Ka, Six Flags Great Adventure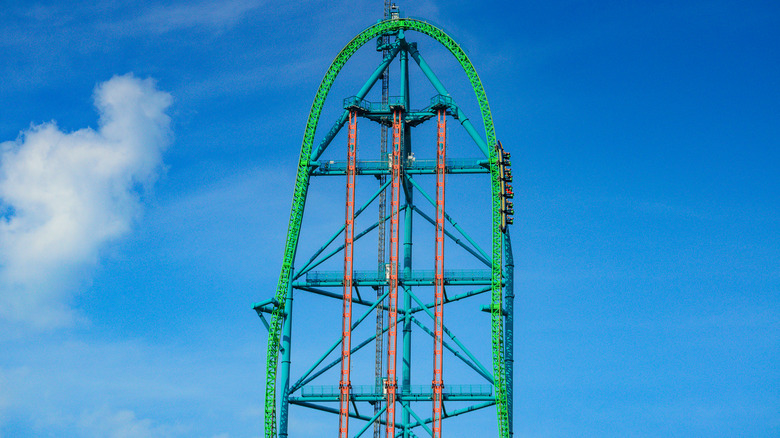 Pit Stock/Shutterstock
Located in Jackson, New Jersey, Kingda Ka held the crown as both the tallest and fastest roller coaster in the world upon its debut. Although it remains the tallest, it's now the second fastest, behind Formula Rossa in Abu Dhabi's Ferrari World. The ride is over in a blistering 50 seconds, but it's sure to leave you wanting another crack at the intense track. The ride uses a hydraulic launch sequence to propel riders to 128 mph in just 3.5 seconds. From there, the track takes a decidedly upward slope to rocket the cart up 45 stories to a height of 456 feet. Then, all that's left is a rapid descent back to Earth. But Kingda Ka incorporates a tight, 270-degree spiral into this drop, adding yet another fantastic and heart-pounding element to the ride.
To top the experience off, it's possible to have a rollback after the car is launched. This typically happens only when it's windy or very wet out, slowing the launch speed down just enough to prevent the cars from reaching a point of no return over the top of the track. If this happens, riders will get to enjoy a second launch up the massive tower, making the experience a rare treat.
Now some of the worst: Iron Dragon, Cedar Point
We'll now share some of the worst roller coasters in America. Unless there's some compelling reason to ride, such as completing a personal list or experiencing a certain type of coaster design, you'll probably want to skip these rides. It might be surprising to see, but the first ride that takes the inauspicious title of a terrible coaster is located at the legendary Cedar Point!
Iron Dragon is built with the veneer of a true thrill ride. Its track looks imposing, and the curves seem ready to deliver some excellent twists and turns. But when the rubber meets the road, Iron Dragon doesn't deliver. It's seemingly stuck somewhere between a kid's roller coaster and a fully formed track. This makes it a boring ride that moves around the course obscenely slowly. The highest drop on the ride is just 60 feet, and it only hits speeds of a lowly 40 mph. Moreover, while the coaster deploys a suspended car design, riders sit in a fully enclosed car body that doesn't add anything to the experience, at least not in a way that well-developed suspended tracks can provide. This one doesn't quite fit in with any kind of roller coaster designation, as it has slightly too much potency to be a true kids' coaster, but lacks the elements to make it anywhere near exciting.
[Featured image by Stratosphere via Wikimedia Commons | Cropped and scaled | CC BY-SA 2.5]
Timberhawk: Ride of Prey, Wild Waves Theme & Water Park
Timberhawk is another roller coaster that looks promising, but the track doesn't utilize any substantial drops, nor does the coaster offer up much in the way of speed. The top of the lift hill only brings riders up to 75 feet in the air, and the cars arrive at a top speed of just 50 mph on their way back down and around the course. There are also no inversions to speak of, though as a wooden coaster, that's to be expected. 
The roller coaster has been in operation since 2003, getting its start at Wild Waves amid a surge of other wooden coaster-building efforts across the country. Yet, while many others, like Busch Gardens Tampa's Gwazi (built in 1999) have seen their time come and go, making room for more exciting rides, Timberhawk remains. It's a bit of a letdown for anyone who expects an experience beyond the classical appeal of a wooden coaster.
[Featured image by Martin Lewison via Wikimedia Commons | Cropped and scaled | CC BY-SA 2.0]
Corkscrew, Michigan's Adventure
Corkscrew doesn't pretend to be more than it offers. While many of the worst rides found around the United States might seem like interesting thrillers that end up falling flat, Corkscrew, a roller coaster built in 1979, no longer holds the appeal that it once enjoyed. There's a good deal of history here, however, making it worthwhile to those who feel a sense of nostalgia for the park or this ride in particular. It was the first roller coaster built in Michigan's Adventure in Muskegon County. Likewise, it sported the first inversion in a roller coaster in the state. These pieces of iconography gift Corkscrew a magnetism that has allowed it to stay rooted in the amusement park.
Still, the Corkscrew is a lackluster roller coaster that offers exactly what it advertises: a series of corkscrews. The lift hill brings riders up to just 79 feet in the air, and the ride achieves a top speed of 45 mph. These features don't scream thrill, and riders expecting to be treated to a typical rollercoaster experience will likely step off the tracks feeling let down.
[Featured image by Larry Pieniazek via Wikimedia Commons | Cropped and scaled | CC BY 2.5]
Swiss Toboggan, Little Amerricka Amusement Park
Reportedly, the Swiss Toboggan rollercoaster in Marshall, Wisconsin's Little Amerricka Amusement Park is the last of its kind in the United States. This gives it a bit of credence when considering why the ride is still operational. Upon seeing the thing for the first time, you're unlikely to think it's a serious ride. However, its history dates back farther than you might expect, adding to the lore of the tiny roller coaster. Sporting the serial number 001, making it the first of its kind, the ride began its life as Earthquake McGoon's Brain Rattler in Arkansas's Dogpatch USA in 1969. It later sat in Porter, Indiana's Seven Peaks Water Park Duneland until 1990 when the ride was acquired by Little Amerricka at auction, beating out Michigan's Adventure owner Roger Jourden.
The ride itself crams you into what can only be described as a sort of "death trap," if the cars had any pace to them, that is. Each car closes with a metal, windshield-like cover, and the space is cramped. The toboggan cars are lifted up the 45-foot structure and then let loose to circle the pillar five times before sweeping around with a slight drop and returning to the start. If not for its history as a true piece of Americana, the Swiss Toboggan would likely be long gone because the ride is simply not much fun on its own.
Anaconda, Kings Dominion
Anaconda, at first glance, appears to be an exciting ride. The roller coaster begins with a pretty good-sized drop — 144 feet from the top of a 128-foot hill — that runs directly into an underwater tunnel. From here, the roller coaster becomes entirely predictable and surges along the track at an exceedingly slow pace. Its top speed is 50 mph, which continues to diminish at a noticeable rate after streaking through the tunnel at an already middling pace. There are some nice elements, including a twisting hill, a 100-foot-tall vertical loop, and a double corkscrew, but at the diminished speed the cars move along the track, these transitions feel outdated. This is especially true when compared to some newer coasters that build on the legacy of rides like Anaconda.
Perhaps this is the most telling sign of the roller coaster's status among the least impressive in the country. It was opened in March 1991, and while the ride has seen some upgrades and improvements, it lags behind what other coasters bring to the table — even when considering rides like Montu that were built in the same decade. Kings Dominion notes that this is a fan favorite among park regulars, but if you didn't grow up in Anaconda's line every summer as a young thrill-seeker, then this one will probably disappoint. 
[Featured image by Chris Hagerman via Wikimedia Commons | Cropped and scaled | CC BY-SA 3.0]