Visit California's Popular Theme Park Knott's Berry Farm In The Fall For A Good Scare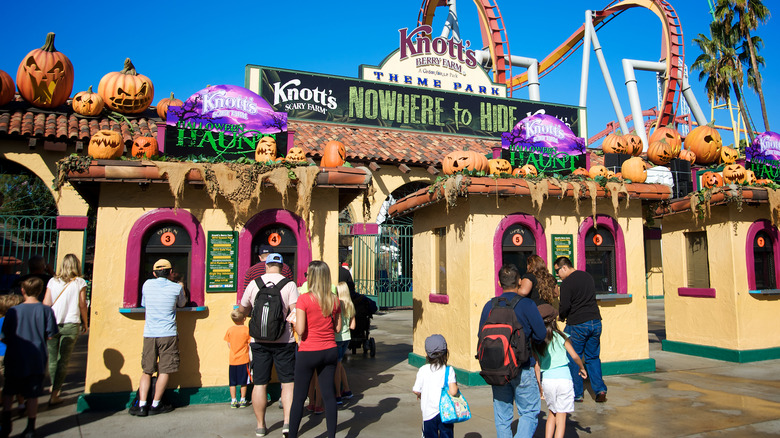 Juan Camilo Bernal/Shutterstock
If Universal Studios has Halloween Horror Nights, Six Flags has Fright Fest, and Disneyland has Oogie Boogie Bash, Knott's Berry Farm boasts its very own Knott's Scary Farm, which it claims as "the largest and most terrifying Halloween event in Southern California." Amusement parks throwing ghoulish festivities in the fall is nothing new, of course, but what many fans may not know is that Knott's Berry Farm was the one that started the trend, catalyzing an entire tradition of theme parks pitching annual hair-raising events that Halloweenies can relish in throughout the scariest time of the year.
It was in 1973 when the Knott's team launched a Halloween event called Halloween Haunt, primarily in an attempt to lure people to visit the park during what was traditionally a slow period. Initially a three-day affair, the staff transformed the rides into haunting spectacles and dressed themselves in monster costumes to scare park-goers loitering around Ghost Town. After two successful years of drawing screams from visitors, Halloween Haunt evolved into what we know now as Knott's Scary Farm and became the longest-running Halloween event at an amusement park in history, according to Knott's website. It has also expanded to be a park-wide event held after hours and lasts an entire month. Year after year, Knott's steps up its game with its fright-inducing tactics for guests hankering for a heart-pounding thrill, and in 2023, the park is celebrating its 50th anniversary in the spookiest way possible.
Knott's Scary Farm is an annual, month-long spook fest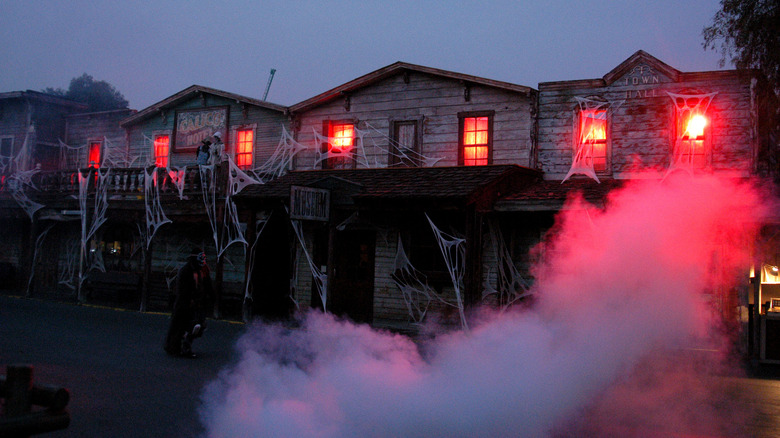 Barry King/Getty Images
From mid-September to the end of October, Knott's Berry Farm transforms into Knott's Scary Farm between 7 p.m. to 2 a.m. Stepping into the park after dark is just like stepping into another world, a vast realm shrouded in fog, with monsters lurking in the shadows throughout the allotted scare zones, looking to creep up on you at the most unexpected times. Knott's Scary Farm is a stark contrast to how it is in the day, with its main attractions being its intricate mazes that change every year, live shows that range from carnival acts to musical performances, and rides outfitted in spooky decorations. Around 1,000 scare actors roam around the park each night, so you can expect to be frightened by various creatures, from zombies and witches to half-human, half-animal monsters.
In Knott's Scary Farm's 50th year, the park went all out in its surprises for its guests. You can look forward to navigating 10 different mazes, strolling through five scare zones, and witnessing four live shows with characters that pay homage to Halloween Haunt crowd favorites, including the crazy Dr. Cleaver and The Lawman, who will be making a big comeback with The Hanging, per Knott's press release. In an interview with Gizmodo, maze designers Daniel Miller and Gus Krueger dished that they have designed a slaughterhouse-type maze inspired by the film "The Texas Chainsaw Massacre" and one patterned after "Halloween." Park-goers can also enjoy Halloween-themed dishes and treats, like the Pickle Hitchin', a whiskey and pickle-based beverage, and Fingers and Toes, Knott's unique take on fries and tater tots.
What first-time Scary Farm goers can expect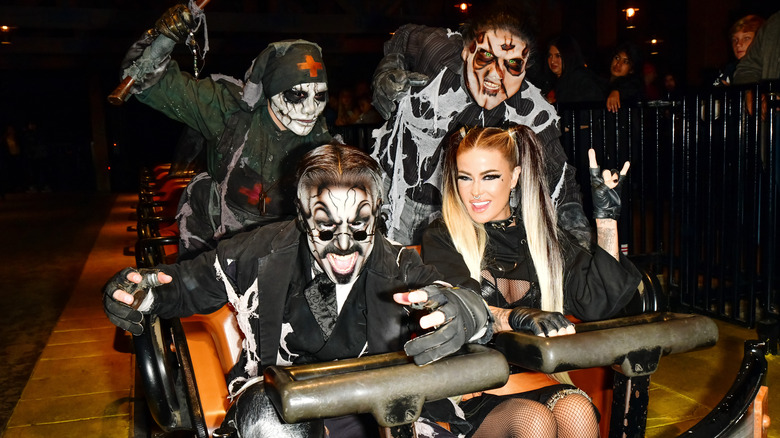 Jerod Harris/Getty Images
In 2023, Knott's Scary Farm is kicking off on September 21 and runs on select nights until October 31. If it's your first time going to the highly-anticipated event, one thing you should take note of is that it requires separate tickets, so your Knott's Berry Farm ticket cannot be used to enter. Tickets are cheaper when bought online, costing $59.99 a pop for a single night admission. If you want additional perks like food and access to the Fast Lane, the Admission & Meal Bundle is available for $74.99, while the Nighly All Inclusive, which also includes a parking pass, costs $199.99. And if you want to go on multiple nights, you can buy the Scary Farm Pass, which allows for unlimited entries for $149.
For those who are not ready to experience jumpscares but still want a taste of what Scary Farm has to offer, "no-boo" necklaces are available for $14.99, sparing you from getting approached by scare actors throughout the night. The kicker, though, is the necklaces only work in the scare zones and not the mazes.
It's also worth noting that Scary Farm discourages guests under 13 from entering due to the terror-packed attractions, but kids can still get in on the Halloween fun by going to Knott's Spooky Farm, the park's not-so-scary event that takes place in the daytime, Thursdays through Sundays, from September 28 to October 29. It features kid-friendly activities, including a pumpkin patch and trick-or-treat.