Avoid Hanging Out At This Popular Italian Tourist Spot For Too Long Or You Might Be Fined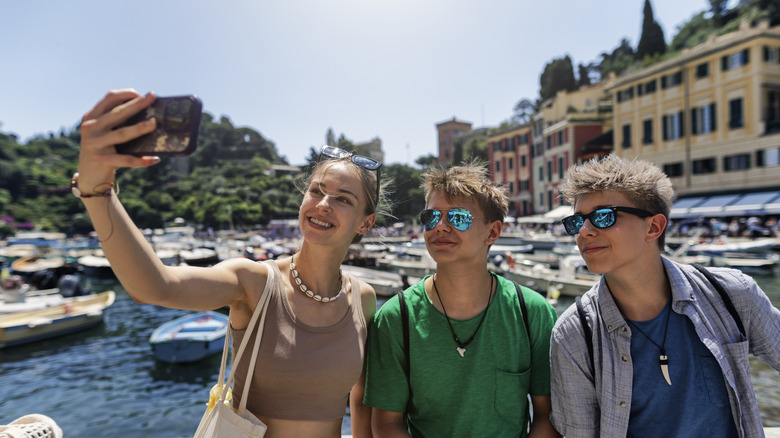 DavideAngelini/Shutterstock
Taking photos in this day and age has become an essential part of traveling. Whether they're photos of sweeping landscapes and cityscapes, selfies with travel buddies and new friends, or historic sights and landmarks, our cameras fill up quickly when we're out in the world. These photos capture memories we'll be able to reminisce about in the future. They'll stir up the feelings and bring to mind our discoveries when we stumble upon them years from now. 
Sometimes, in the moment, getting that perfect shot takes time and a million retakes, but it's worth it. While taking selfies is common, a town in Italy is putting pressure on tourists to get that perfect shot faster. If you find yourself in Portofino, Italy, a city popular for its scenic views of the Italian coast, you best be mindful of the amount of time you spend snapping photos in a few places or you'll risk a steep fine.
Why the fine?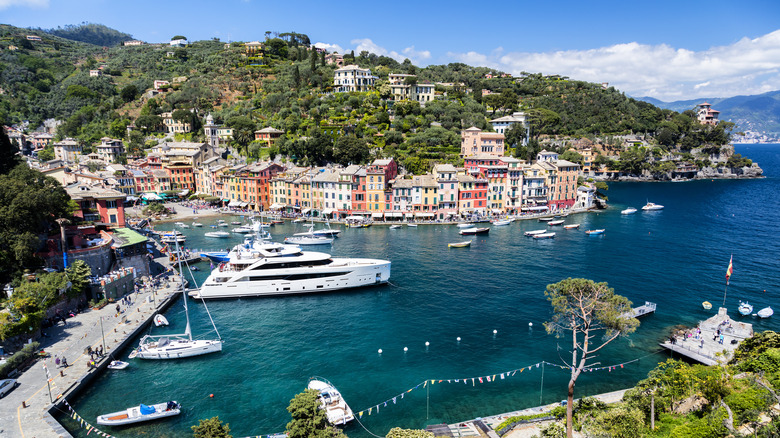 Buena Vista Images/Getty Images
Portofino, Italy is a beautiful place to visit, but if you're caught lingering at popular tourist spots from the morning until 6 p.m., you could be fined up to $302. The reason behind the fine is essentially crowd control. The small town wasn't designed to cater to the influx of visitors. "The objective is not to make the place more exclusive but to allow everyone to enjoy our beauty," Portofino mayor Matteo Viavaca told The Times, according to the Miami Herald. "We want to avoid dangerous situations caused by overcrowding."
This restriction isn't town-wide, but in two specific spots designated as "red zones." The places are popular among tourists and cause the most crowding and traffic. The fine was created to minimize the amount of people visiting these spots at once while enabling as many people as possible to take in the breathtaking sights. The rule that limits tourists in these red zones is a temporary one, first enforced in April and to be lifted in October. While Portofino was once an underrated tourist destination in Italy, this new rule reflects how bustling Portofino has become during peak tourist season. 
Locations of red zones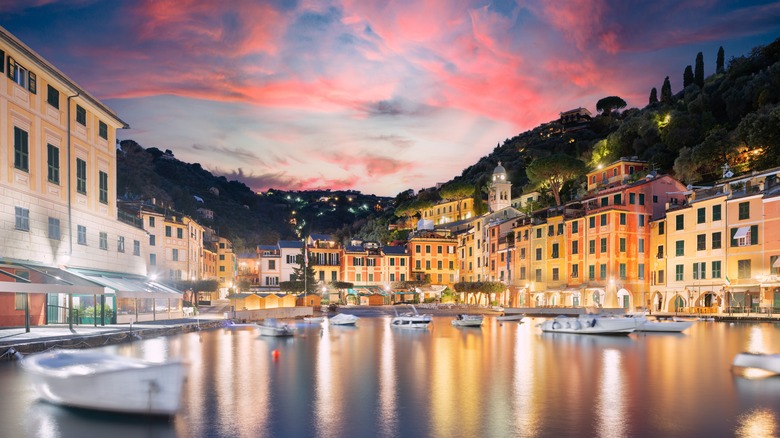 Sean Pavone/Shutterstock
One of the red zones is nestled between the village square and Umberto I pier, and the rule of no lingering is enforced starting at 7:30 a.m. The second red zone is located near Piazza Martiri Olivetta and, once again, the Umberto I pier, and the rule goes into effect at 10:30 a.m. Don't let this new regulation stop you from enjoying the popular fishing village. You can visit in the morning and catch the sunrise or take a trip to these zones for the sunset to avoid the rule altogether. You can also visit during the day. You just have to keep it moving. 
With that being said, there are also plenty of other vantage points to take in the views from, as well as numerous spots to explore, be it cafes and restaurants, or visiting Castello Brown and Chiesa di San Martino (Church of Saint Martino). "Portofino is absolutely beautiful," a reviewer on Tripadvisor wrote. "You can take a walk out to the point for an incredible view of the yachts in the harbor. There are many boutiques in which to shop, or you can just sit and enjoy a beverage while people-watching. Don't miss Portofino."