Visit This African Nation And Discover All The Wildlife It Has To Offer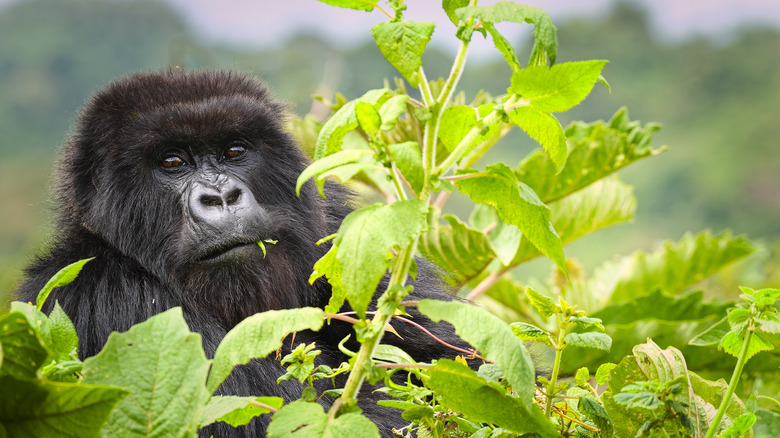 Guenterguni/Getty Images
One of the most exciting bucket list adventures travelers can embark on is going on a wildlife safari on the African continent. Africa, consisting of 54 countries total, has a wide span of safari types, from the unique wildlife of Madagascar to the luxury safaris of Botswana to the high chances of spotting all of the Big Five in Kenya's Masai Mara. There's one nation in Africa, however, where you have a good chance of seeing plenty of the animals you'd see elsewhere, but you also have a unique opportunity to see gorillas in their natural habitat.
Rwanda is the perfect nation to head to if you're obsessed with animals. While you might know the country's name due to its violent past, Rwanda today is one of the most peaceful countries in East Africa, per the 2023 Global Peace Index. Most travelers flock to Rwanda to catch sight of the silverback gorillas, and while that's easily enough of a reason to visit, there's so much more to this vivid and vibrant destination.
One of the best places in the world for gorilla trekking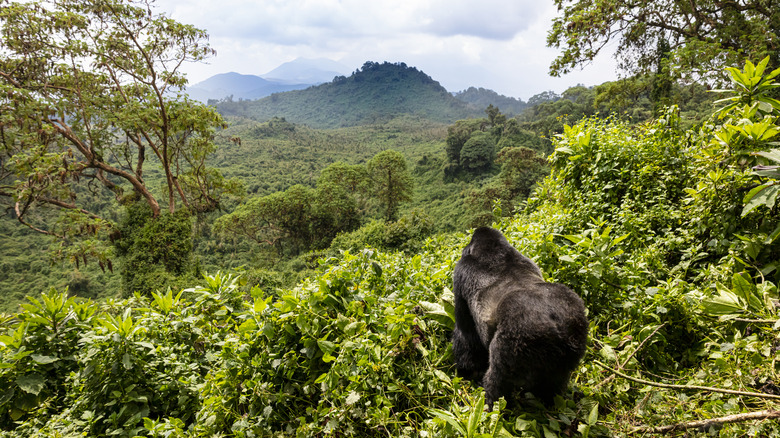 Dennis Stogsdill/Getty Images
Most travelers head to Rwanda for its unique offering of gorilla trekking. It's one of the few places in the world you can spot a silverback gorilla in its prime natural habitat, with your other options being neighboring Uganda and Democratic Republic of the Congo. 
To gorilla trek in Rwanda, you'll need a permit. A gorilla trekking permit in Rwanda costs $1500 per person for non-residents (via Volcanoes Rwanda). There are only 96 permits available per day, so it's important to book as far in advance as possible. The country's gorilla trekking takes place in Volcanoes National Park, located about 60 miles from the capital city of Kigali. According to Visit Rwanda, a typical gorilla trek before actually spotting a gorilla can be anywhere from 30 minutes to over four hours. Every trekker will be appointed a troop, with each group being a maximum of eight people to ensure intimate encounters for both the visitors and the gorillas. Once you come in contact with the gorillas, you are allowed to spend up to one hour with them.
While gorillas are the main draw, a visit to Rwanda can also mean spotting hyenas, lions, giraffes, hippos, and more. Some of the best destinations for a safari, aside from Volcanoes National Park, are Akagera National Park and Nyungwe Forest National Park. Like all African safaris, you'll want to ensure you pack properly, including things such as good sunscreen, necessary pharmaceuticals, and a good camera to capture the magic.
Far beyond just wildlife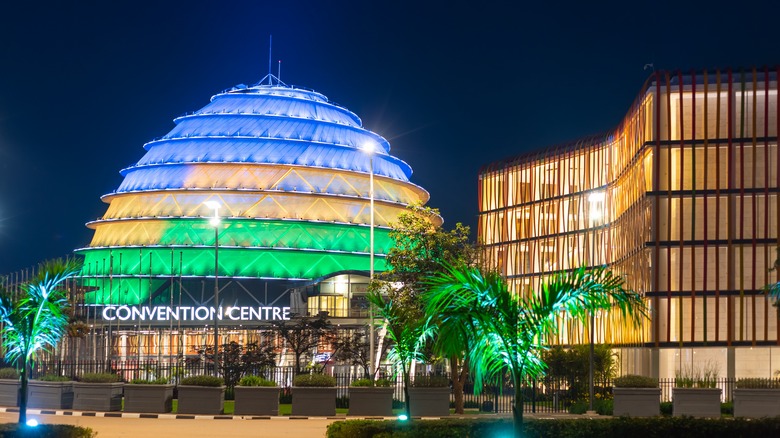 Jennifer Sophie/Shutterstock
Kigali is frequently voted as the cleanest city in Africa, and is home to many five-star luxury resorts. Some of the most sought-after accommodations are Kigali Serena Hotel and The Retreat. When in Kigali, you must visit the Kigali Genocide Memorial, which memorializes the brutal violence that took place against the Tutsi, the ethnic group that was the target during the Rwandan genocide.  
Lake Kivu, one of Africa's Great Lakes, provides a great tranquil escape. Taking a cruise through Kibuye Lake Kivu Boat Tours is a common way to explore the lake, and many tourists choose to see this great lake on a day tour from Kigali, with a company such as African Spice Safaris.
Many might not think of Rwanda as a foodie destination, but there are some dishes unique to the country that every visitor must try. One is ugali, a maize-based side dish with a firm consistency. Isombe is a mashed cassava, tomato, garlic, onion, coriander, and peanut butter dish, which is commonly served throughout Rwanda. The national dish of Rwanda is Brochette, or a Rwandan meat skewer, typically made with beef, goat, fish, or vegetables, served with a potently spicy habanero sauce called pili pili. Brochette can be purchased both in restaurants and as a street food.