The Most Filmed Building In The US Can Be Found In This Popular City
With all the famous buildings there are in America, who would have thought that Union Station in Los Angeles would be the one filmed the most? Surrounded by palm trees, the building may not be as well-known as the White House. However, when HawaiianIslands.com analyzed data from the Internet Movie Database (IMDb), it found that L.A.'s Union Station edges out the White House as the most filmed American building. It's appeared in 97 films, per the analysis, but part of the reason it's not as well-recognized may be that it seldom appears as itself. Filmmakers often use Union Station to stand in for other fictional locations.
Keep in mind that not every movie that features the White House (which ranks second in the analysis, with 91 film appearances) shot the building's real exterior at 1600 Pennsylvania Avenue. Take "Independence Day": The memorable blockbuster image of an alien ship blasting the White House landed on the DVD cover, but that shot utilized a backlot studio model made to look like the Executive Residence's southern facade.
In the same way, movie magic has enabled L.A.'s Union Station to appear onscreen without viewers always realizing it. You might say it has replicated other places, and as it happens, Harrison Ford's replicant hunter in "Blade Runner" walks right through it while the camera passes it off as the police station of the future. It was also the setting of a Gotham City kangaroo court in the Batman movie "The Dark Knight Rises."
Go west via Amtrak to Union Station L.A.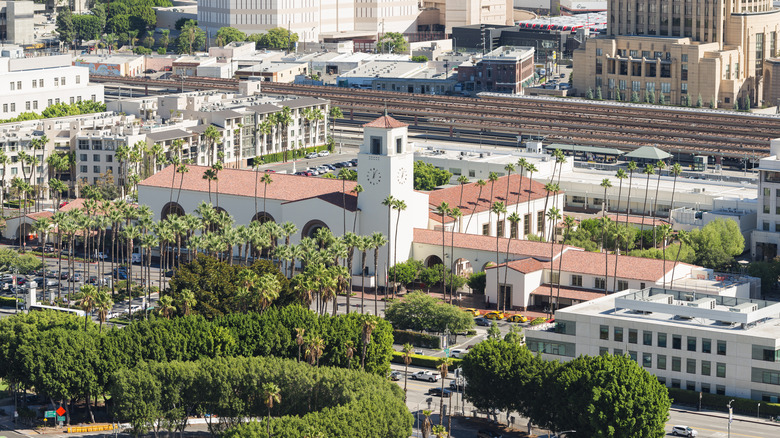 Kivilcim Pinar/Getty Images
L.A. is often thought of as a driving city, but for those arriving or departing without a car, Union Station serves a practical purpose as the biggest railroad passenger terminal in the Western U.S. This is where Amtrak provides its gateway to L.A. from other major U.S. cities as far as 2,000 miles away.
The Sunset Limited train passes through cities like San Antonio on its way to and from New Orleans, while the Southwest Chief goes through Flagstaff (near the Grand Canyon) and Albuquerque on its way to and from Chicago. Amtrak also has trains running up and down the West Coast from Union Station to cities like Seattle, while Union Station itself serves as an important connecting hub to various bus lines and Metro Rail lines in L.A.
Some of those outbound destinations, such as Chicago, have their own Union Station. The name is hardly unique, but the Mission Moderne architecture (a mix of Art Deco, Mission Revival, and Spanish Colonial styles) helps set L.A.'s Union Station apart. The station opened in 1939, just before the outbreak of World War II, and it's listed in the National Register of Historic Places, with the statement of significance that accompanied its nomination reading: "Built when railroad passenger service was on the decline, it was the last of the great passenger terminals to be built in a monumental scale in a major American city," (via Library of Congress).
A local landmark and piece of history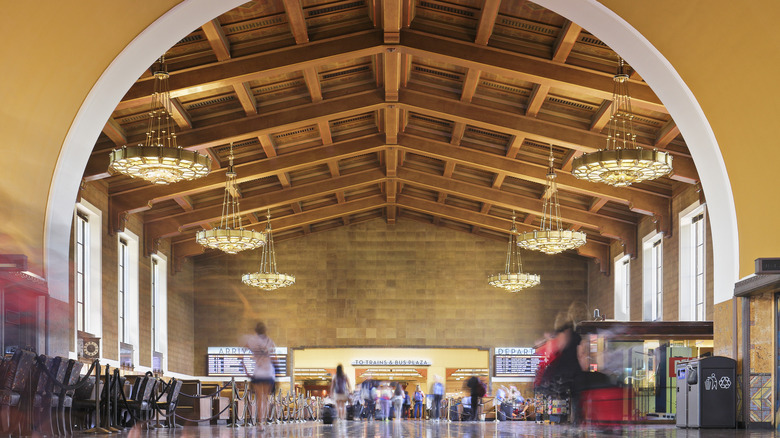 S. Greg Panosian/Getty Images
Given that Hollywood itself is in Los Angeles, it's understandable that the movie industry would latch onto local landmarks like Union Station as filming locations. Two other L.A. buildings, the Hollywood Bowl and Bradbury Building, rank among the 10 most filmed in the analysis, with the latter also appearing in "Blade Runner." With 399 movie appearances, Griffith Park Observatory and its scenic overlook of L.A. top the list of most filmed locations, period. We listed its West Observatory Trail as one of the best hikes to take on your next trip to Los Angeles.
According to Los Angeles Magazine, the real number of films shot in Union Station may number in the hundreds, too. It's a little hard to keep track of them all when you have movies like "Catch Me If You Can" using Union Station's cavernous interior as the stand-in for a Miami bank. Contrast this with well-known landmarks like the Golden Gate Bridge in San Francisco and Brooklyn Bridge in New York. They're right behind the White House on the list of most filmed buildings, but they're also instantly recognizable and wouldn't blend in as well with scenes set elsewhere. In the end, like any good actor, the strength of L.A.'s Union Station as a filming location may lie in its chameleonic quality. Even if you never set foot on the train in L.A., it's worth checking out this building to see a piece of both Hollywood history and American history.