Double Check This Before Heading Out On A Road Trip On Unfamiliar Roads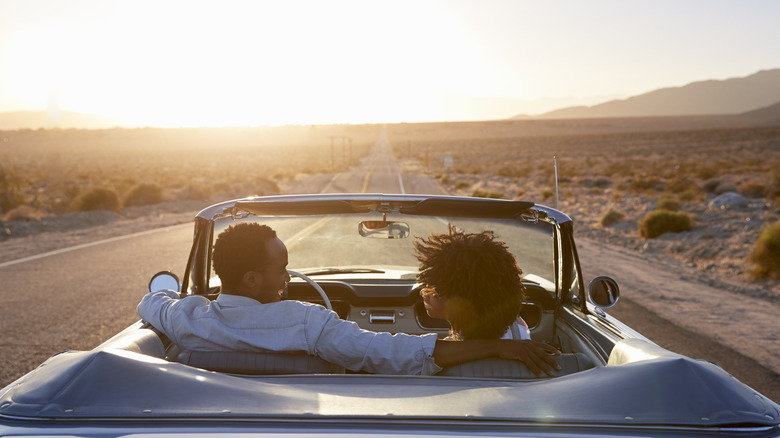 Monkeybusinessimages/Getty Images
There is something so romantic, exciting, and exotic about renting a car and embarking on a road trip across a far-off land. For those in the States, Route 66 is one of the most desirable road trip excursions. Whether you're hopping in a small Fiat and driving along the Amalfi coast, or roughing it in the Australian Outback to race the kangaroos, a road trip can be the perfect way to travel. 
It's definitely something that Americans are jonesing to do. In 2022, The Vacationer conducted a survey of Americans travel plans and found that 80% of Americans want to road trip during the summer — and 6.75% want to hop in the car and head more than 1,000 miles from home! Depending on your direction, driving more than 1,000 miles from home can put you in Canada or Mexico. 
Another road trip perk is that it's actually good for your romantic relationship. The U.S. Travel Association conducted a survey on couples who travel together and found that hitting the road "ignites romance and intimacy" and even improves communication, with 84% of respondents saying they were more likely to communicate well with their partner when traveling together.
However, before you rent that car and brush up on your French or Spanish, make sure you double check the driving laws in the country you're in to avoid hefty fines or even jail time.
Brush up on international traffic laws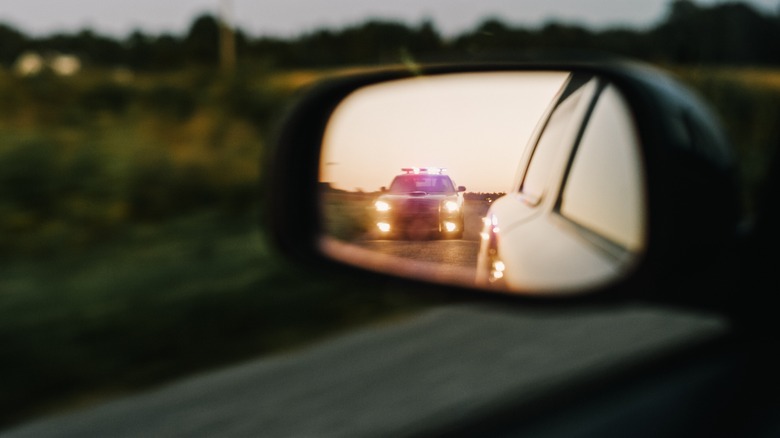 Gorodenkoff/Shutterstock
A good rule of thumb when you're driving in other countries: Just because something is legal in the U.S. doesn't mean it is everywhere else. For example, if you've ever driven into Canada, you will find that despite being very similar to the States, Canadian road rules can shock some Americans. For example, Montreal, which is only 60 miles from the U.S. border and close to Vermont, does not allow turning right on a red light anywhere on the island. In addition, due to Quebec's strict language laws, the "Stop" signs have been translated into French to read "Arrêt." And don't forget that once you cross the border, speed limits are posted in kilometers, not miles. So if the speed limit in Toronto is 60, that's actually a lot slower than you think.
If you're going further abroad than Canada, you'll find more curious road rules that you need to adhere to, or else risk a fine or imprisonment. While distracted driving (or using your cell phone while driving) is on the books almost everywhere, in some countries, it could get you in serious trouble. In Trinidad and Tobago, breaking this law could send you to prison for three months! In Oman, it could land you 10 days in the slammer. In the Philippines, repeat offenders could pay the equivalent of a $400 fine and lose their license! So please, brush up on the road laws before you hit the gas.
Get your International Driver's Permit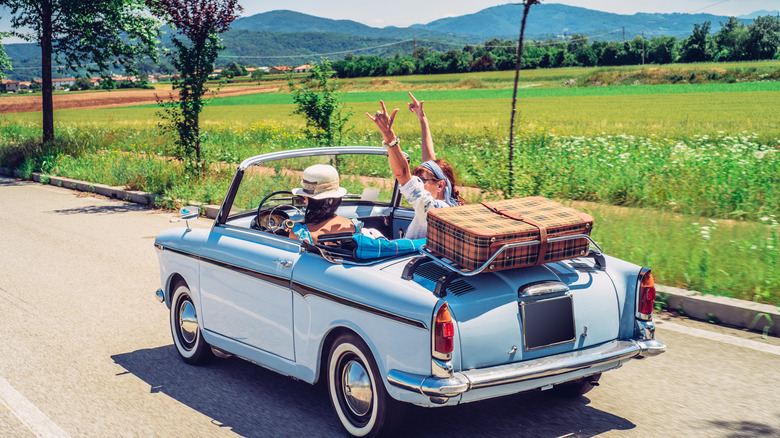 Casarsaguru/Getty Images
It's important to remember that you are subject to the laws of any country in which you travel. Saying, "You can't do this to me; I'm an American" won't get you out of trouble — especially when the road rules are heavily enforced. Road trippin' across Europe is the dream of many people, but wearing flip flops while driving in Spain can lead to a €200 fine, even though Ibiza is blisteringly hot! Stopping unnecessarily on the Autobahn in Germany is forbidden (even if you've run out of gas!). In Cyprus, you can't eat or drink while driving; in Greece, you can't smoke a cigarette while driving; and in Sweden, your headlights have to be on at all times, even during the day. Some of these rules might leave you scratching your head, but they each have their purpose. We personally love this particular road rule from Japan: You'll get a ticket if you splash a puddle on a pedestrian with your car.
So what should you do if you are pulled over by local police? On top of showing your American driver's license and rental car agreement, you should also have an International Driver's License. In the U.S., AAA (American Automobile Association) issues this international permit that is translated in several languages and is often legally required to drive abroad. It's approved by the United Nations and will allow local authorities to confirm your right to drive.