Where To Sample The World's Oldest And Most Unique Type Of Ice Cream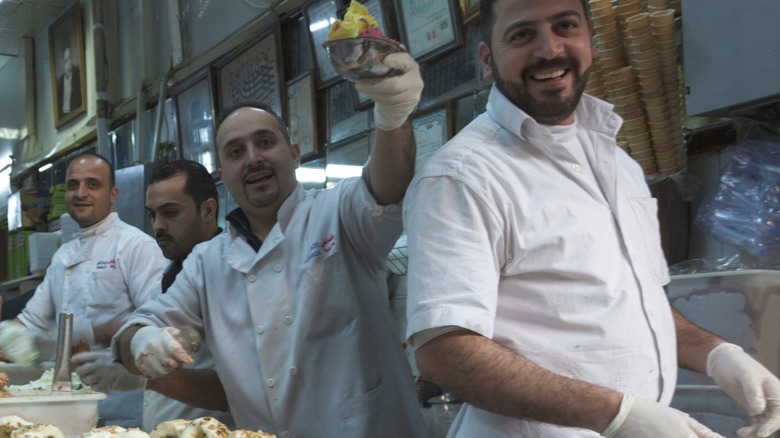 goran_safarek/Shutterstock
While Italy is the home of traditionally-made gelato, if you want to sample some of the world's oldest ice cream, Italy is not the place. You don't have to travel far to try this incredibly unique kind of ice cream, either, as it's served right here in the U.S. However, if you want to sample it in its homeland, you will have to jump on a plane.
We're talking about so-called stretchy ice cream or booza, to use its correct name. Despite the name, booza has nothing to do with alcohol. It originated in around A.D. 1500, and is the traditional ice cream of countries in the Middle East like Syria, Egypt, and Jordan. The texture is unusual — it's elastic, kind of like a cheese stick, though again, it has nothing to do with cheese. There is a very similar Turkish ice cream called Maraş dondurması, too.
Booza is mostly made from traditional ice cream ingredients, including milk, cream, and flavorings, but it also has two unique ingredients that give it its stretchy quality: mastic and salep. As Michael Sadler of the Republic of Booza explained to Thrillist, "Salep is a flour traditionally made from orchid root, and mastic is a resin that comes from the mastic tree in Greece."
Where to sample booza in America
Booza might not quite have replaced soft serve in the U.S., but there are a few places you can sample this unique treat. One place to try is the aptly named Booza in Houston. There is a range of flavors, including classic cookies and cream, along with more traditional flavors like orange blossom and rosewater. They hand-make their booza in small batches using all-natural ingredients. So, it's almost healthy?
Up in Detroit, there's Booza Delight, which serves ice cream rolls as well as scoops. Southern California residents can head to Le Mirage Pastry to try booza made by a Syrian baker, while those in New York should hit up Antepli Baklava to try Turkish-style stretchy ice cream. If you can't find booza near you, you can order it online from Booza in Houston. They guarantee it'll arrive still frozen and ready to eat. Otherwise, you can head outside the country to try this delicious ice cream.
Finding booza abroad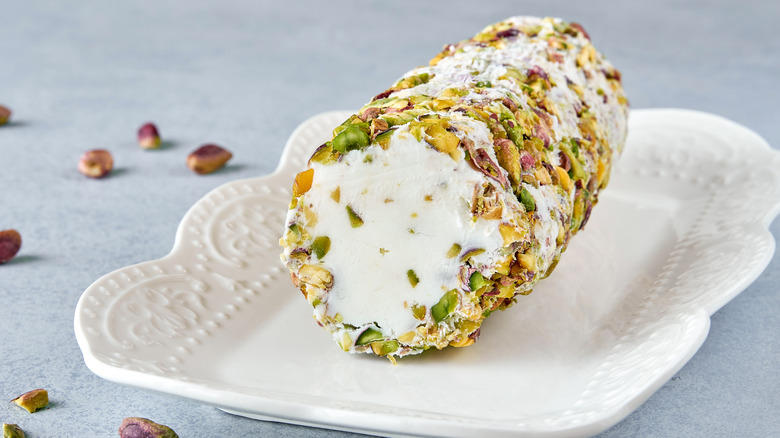 Veliavik/Shutterstock
If you travel for food (a hobby we applaud), there are a lot of places in the Levant where you can try booza. One of the most famous places that serves this type of ice cream is Bakdash in Damascus, Syria, in operation since 1895. Famous faces like Lawrence of Arabia and Tony Blair have reportedly eaten ice cream here, though sadly, the current security situation in Syria means the U.S. Department of State has issued a Do Not Travel warning to the country. However, Bakdash opened up a branch in Amman, Jordan, where visitors can enjoy the same traditional ice cream in a different location.
Lebanon is also a hotspot to try this ice cream. Hanna Mitri, an ice cream parlor in Beirut, has been singled out in The Guardian and Vice. While in Turkey, as long as you avoid the overtly Italian gelato shops, you're likely to be buying traditional stretchy ice cream. One place in Istanbul that comes highly recommended is Bebek Mini Dondurma, where ice cream has been served since 1968.