The Best Place To Buy Travel Souvenirs Isn't What You'd Expect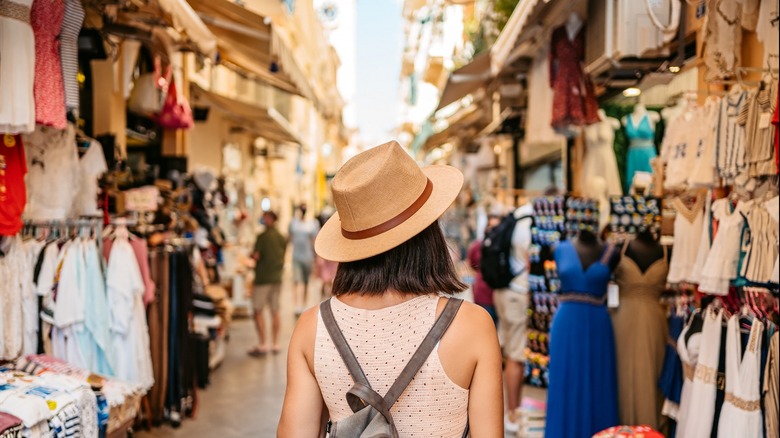 Urbazon/Getty Images
While it may not be everyone's favorite pastime, for many of us, shopping for souvenirs is an integral part of any trip. There's something innately satisfying about stumbling upon that perfect memento, which captures the essence of our latest travels, or securing just the right present for a loved one. The problem is finding these things isn't always easy, so you may wish to try something a little different the next time you're away: a visit to a grocery store.
Okay, we get it; this might not sound like a very glamorous, alluring, or even a very authentic prospect. But bear with us, and you might just be surprised. For a start, there's the fact that traditional souvenir shops, especially in the more well-known destinations, can often be littered with tourist tat. While there may be a few authentic items tucked away among the shelves, we're willing to bet that many of the others are actually "Made in China." What is more, all those fridge magnets, miniature statues, and plastic snowstorms are terrible for the environment, too.
Away from the tacky gift emporiums, it's true that artisan stores, specialist food outlets, or craft markets can be a more reliable source for bona fide, locally made products. However, these places often tend to be on the expensive side. Chances are, if you're anywhere that tourists can be found, those prices will have been ratcheted up to the maximum they can get away with.
Mementos that are authentic — and cheaper to buy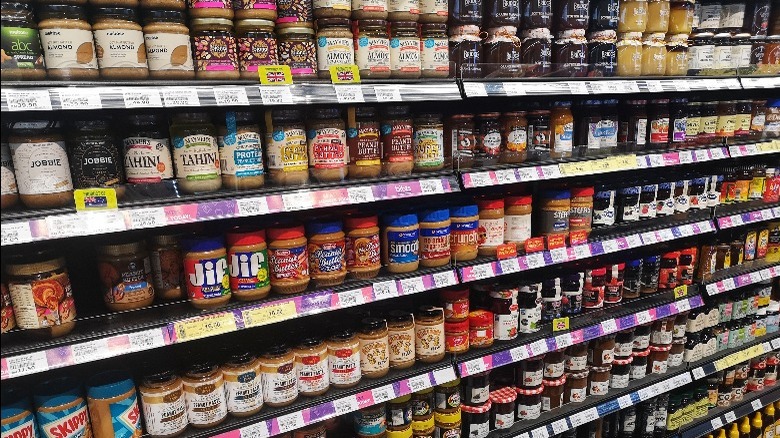 Zety Akhzar/Shutterstock
This is why the best idea is to do as the locals do and head to the local grocery store or supermarket. Often, these places can be a veritable Aladdin's Cave of quirky, interesting, and authentic products — the kind of thing locals actually buy in their daily lives. And, 9 times out of 10, these items will be a much better price than you would pay in a fancy gift shop.
Take the food section, for example. It's not unusual for grocery stores to use local suppliers for things like jams, chutneys, teas, sauces, and olive oils, which can help you remember your trip when you return home. Of course, the nature of the products will depend to some extent on where you are staying, but there's bound to be something food-wise related to the region.
Alternatively, many shops stock items such as soaps, bubble baths, or hand cream. Sometimes, those brands are local to the country or even the immediate area and can often be attractively packaged. It's worth diving into more utilitarian items, too, such as candles, tea towels, or rattan placemats, and, who knows, you might just find an unexpected hidden gem.
Shopping for souvenirs just got a whole lot easier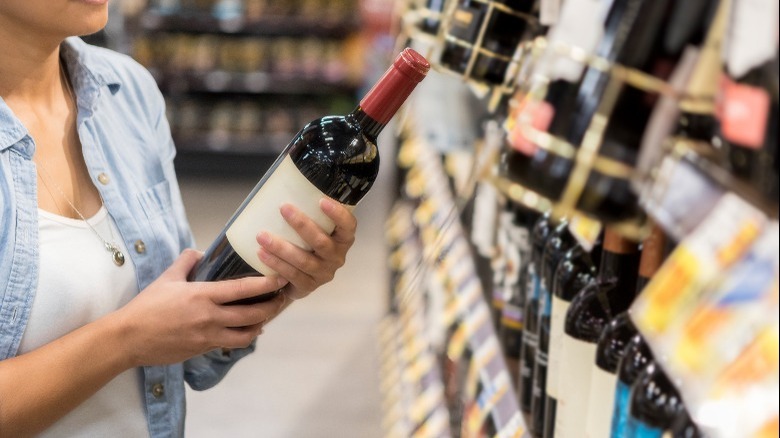 Sdi Productions/Getty Images
Plus, if all else fails, you could always head to the booze aisle to pick up a bottle of wine. In many places, this can be a far more cost-effective option than buying from a specialist wine store or, in some cases, even a vineyard if it's one set up for tourists. Just remember to package up any bottles securely to avoid any accidents in your luggage — and for that reason, white can be a safer option than red. Alternatively, you may wish to consider shipping your souvenirs home.
Finally, on a general note, it's also worth keeping an eye out for any "lost in translation" items. For instance, we love this excellent find by blogger The Fidgety Foodie. Who knew that in Romanian, "carp" is translated to, well, crap. Allow yourself time to trawl the aisles; you never know what you might find on the shelves or make you laugh out loud.
Just one last thing to bear in mind: If you bring back any food products, it's worth checking on your home country's regulations for personal goods. For instance, some places forbid items such as fresh produce, those containing animal derivatives, and, in many cases, also plants. But that aside, far from being a guilty pleasure, your local grocery store or supermarket might just be the souvenir treasure trove you need in your life.