How To Ship Souvenirs Home When Traveling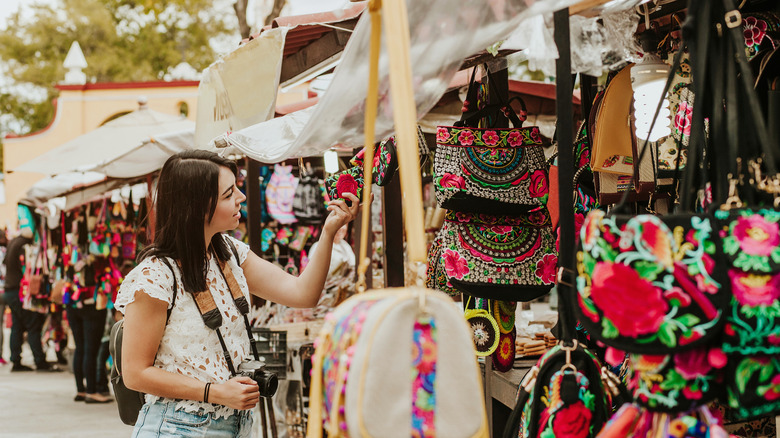 Marcos Castillo/Shutterstock
Commemorating a fun getaway is often accomplished by purchasing souvenirs. Whether they're an investment in your own experiences or gifts for others that you can't wait to deliver when you're home again, souvenirs are a great way to keep your travels in mind long after you've left the experiences behind. They come in all shapes and sizes and depending on how far you've journeyed, figuring out how to get souvenirs home safely isn't always such a simple task.
If the souvenirs you've bought can be maneuvered into a suitcase, it can be tempting to pack them up and trust they'll make their way home in your checked luggage. Unfortunately, there's no guarantee that those souvenirs will make it to their final destination in one piece when you choose this route. In 2022 alone, The Bureau of Transportation's Air Travel Consumer Report pointed out that U.S. airlines either mishandled or lost more than 2 million bags. Those are risky odds no matter how you look at it.
In many cases, shipping souvenirs home instead is a good option. You'll just want to be sure you have a few important details in place before you box up your items and send them on their way. To avoid any disappointments, always take time to browse the U.S. Department of State's customs and import restrictions list before purchasing souvenirs abroad. This comprehensive list will keep you from investing in items that you ultimately can't ship back to the U.S. legally.
Invest in trusted international shipping services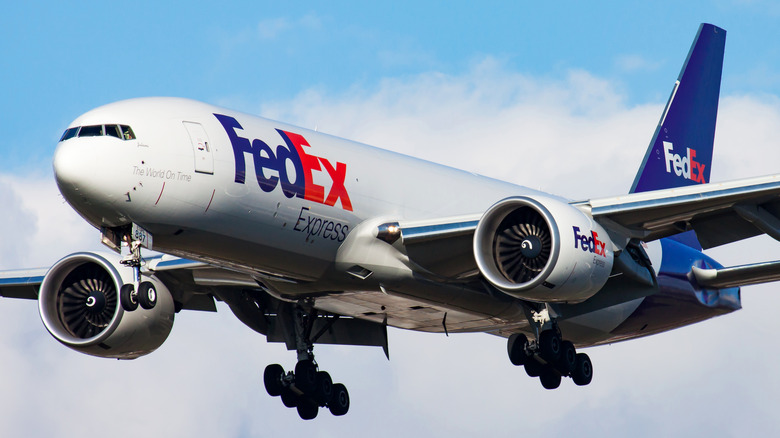 Soos Jozsef/Shutterstock
There are many strategies available to adventurers who are looking to make the most of shoestring-budget travel experiences. However, when it comes to shipping souvenirs home, you're going to want to plan on investing a bit more to make sure the items you've purchased get to their destinations in one piece. Choosing wallet-friendly shipping routes through the national postal service of the country you're exploring can initially seem like an inviting option. Unfortunately, this frequently leads to disappointment.
Unlike major international shipping services, national postal services are typically more unpredictable. In some countries, there simply aren't options for travelers to file claims if the item they've sent home never arrives, or shows up with damages. Shipping souvenirs home with a major international shipping service is almost always more expensive, but comes with reliable standards and shipment tracking that provide peace of mind.
While you won't be able to know exactly what it will cost to ship your souvenirs home until you've purchased your items, you can get a general idea by checking out the pricing estimators that most international shipping companies offer. The FedEx estimator gives customers the chance to anticipate the cost for multiple packages of varying sizes and weights with added coverages and services included. The UPS site also provides easy links to in-country drop-off locations as an added convenience.
Pack strategically and keep your receipts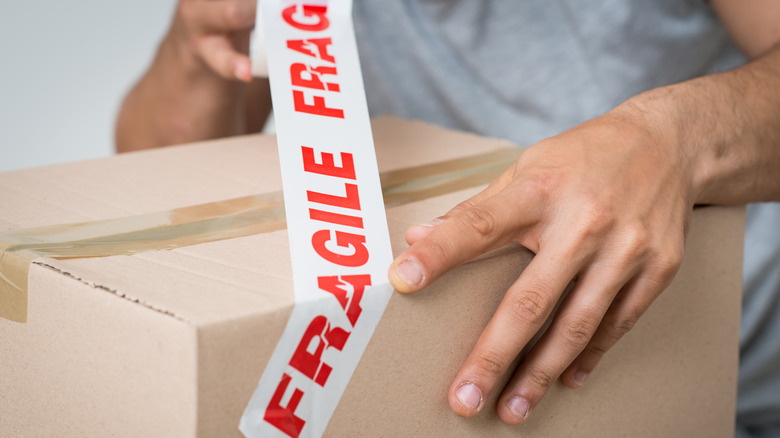 Ridofranz/Getty Images
No matter what major international shipping carrier you decide to go with when it's time to send your souvenirs home, you'll want to take time to make sure you're packing them strategically. Your souvenirs likely have a long way to travel and making sure they have the right protective cushioning and boxing in place is important. If you aren't confident in your own packing skills, don't hesitate to let the on-site staff at the drop-off location handle the packing for you.
In addition to a sturdy box and plenty of bubble wrap, you'll want to consider adding shipping insurance. This is particularly advisable for items that are extremely valuable or extra fragile. Many international shipping companies have some amount of coverage included in the cost but if what you're sending home exceeds that value, you're definitely going to want to increase the coverage amount.
Anytime you ship souvenirs home, be sure to keep all of the receipts. This includes tracking numbers, information on added insurance you've purchased, and any information regarding the drop-off location you used. Having all of this information readily available makes handling potential issues or concerns that arise later on much easier to address.
Shipping souvenirs back home isn't generally inexpensive. However, it can be a very effective option when you're purchasing souvenirs that are sentimental, fragile, valuable, or extra large. Investing in a quality shipping company, insurance, and good packing materials can make all the difference in the end.