The Simple Hack That Will Help You Make Sure Your Car Stays Clean On Your Next Road Trip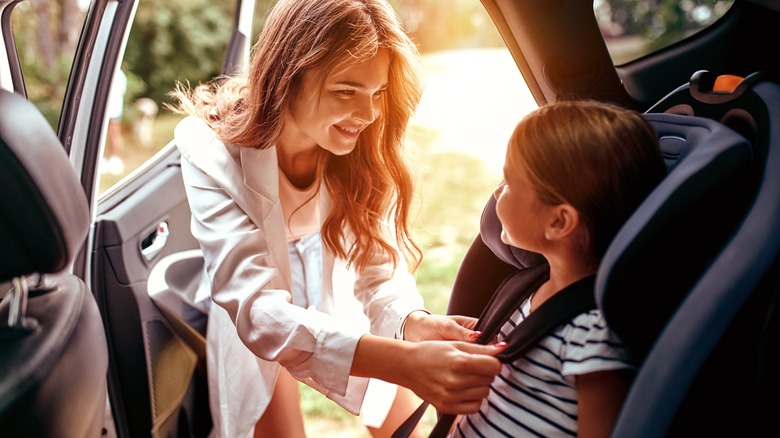 Orion Production/Shutterstock
There are so many things to keep in mind when going on a road trip. There's car maintenance before you take off. There's GPS, dash cams, tire pressure, and refueling along the way. And there's everything that makes a trip feel functional and easier inside of the car. One of these things is cleaning wipes. Making sure each door of your car is supplied with cleaning wipes can make your road trip remarkably easier. This doubly applies if you're traveling with kids.
Don't underestimate the importance of a clean car while traveling. Mess and chaos can amplify stress, and while we know there's always going to be a little mess, there are some clever ways to mitigate it. Take shower caddies out of the bathroom and into your car for a brilliant storage system that'll make your car so much more organized. Pack dryer sheets in your luggage and your car to keep everything smelling fresh. And of course, don't miss out on cleaning wipes.
Keep in mind all of the different wipes you can use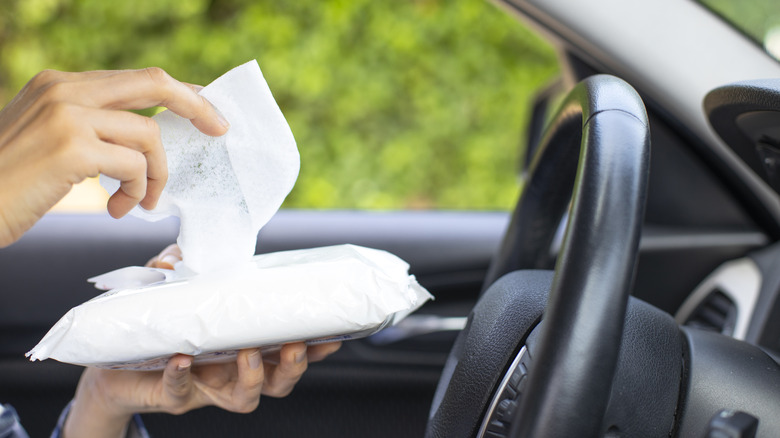 Merovingian/Getty Images
To stay on top of spills, messes, and sticky situations while you're road-tripping, keep cleaning wipes on hand. Many wipes come in big canisters for bulk use, but they also come in smaller packets so that you can easily slip one in every side compartment of your car doors. There are wipes that are great for cleaning up messes in the car. But sometimes, cleaning wipes can be too harsh to use on skin.
With this in mind, opt for a range of wipes to have around the car. Baby wipes are a great choice if you need to wipe a toddler's hands, face, or get in a quick diaper change. Makeup wipes are great for, yes, taking off makeup, but they're also good for getting out stains, and acting as a midday deodorant if you misplaced your regular one. There's also the classic Cottonelle flushable wipes, which can be great if your road trip includes camping stops and you need backup toilet paper.
If you want something ultra simple, opt for water wipes, which are exactly what they sound like: wet wipes that contain only water and are unscented. These are especially helpful if you're traveling with someone with sensitive skin and need something quick and handy. So before you hit the road on your next trip, stock up on cleaning wipes of all varieties. You'll be thankful that you did.