Dangerous American Destinations To Skip On Your Next Trip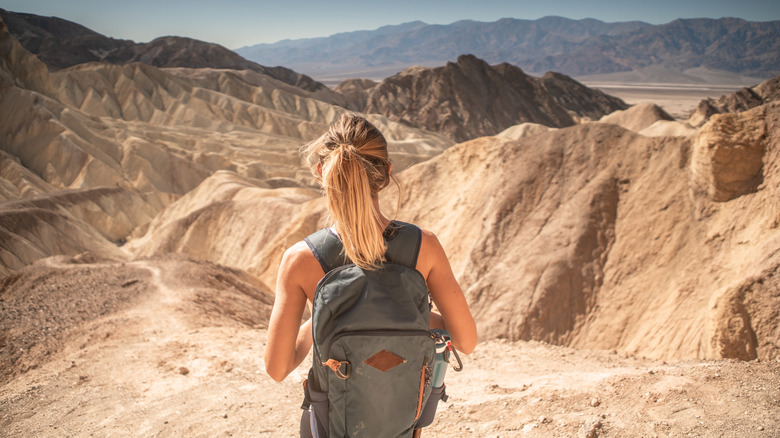 Swissmediavision/Getty Images
Anywhere and everywhere has the potential to be dangerous if you're not careful, but these American destinations don't need any help being hazardous to human visitors. So if you are banking on a safe and carefree vacation, it may be best to skip them altogether. From popular beach getaways and swimming spots to volcanic mountain tops and wild frontiers, the United States is full of potentially perilous vacation spots that shouldn't be visited without full knowledge of what awaits. It's important to research your desired vacation spot before you make any commitments to go and weigh the pros against any potential risks.
Of course, there will always be those who treat warnings as challenges or ignore them altogether, so if you do end up visiting these risky sites, be sure to take all the proper safety precautions and be on your guard. To all the thrill seekers and daredevils out there, feel free to treat this list as a vacation guide. But to the average traveler, please take caution before traveling here — your life may very well depend on it.
New Smyrna Beach in Florida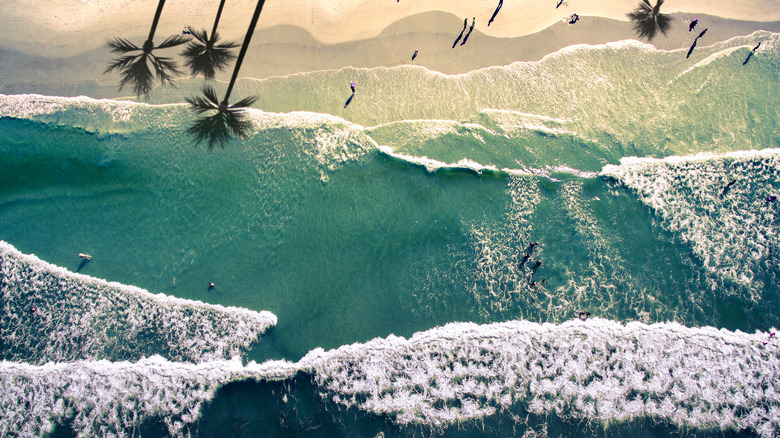 Javier Cruz Acosta/Shutterstock
One of the most feared animals on Earth is the shark, and it's not without good reason, especially when you consider that some of the most popular vacation destinations are connected to their habitats. The beaches of Florida are hot spots for shark attacks, and New Smyrna Beach, just south of Daytona, consistently ranks as the place with the highest number of shark attacks (with several recorded each year). Luckily, shark bites are not typically fatal, but they can cause some lasting damage and loss, making fear of them valid.
Don't get us wrong, New Smyrna and its beach are gorgeous, and there are plenty of attractions that lead visitors to think of it as the perfect destination — but its location on an inlet makes it desirable for sharks. There are more baitfish here and sharks will follow the food. Once sharks are present, the paddling and splashing of surfers and swimmers is more than a little attractive.
The actual risk of being bitten by a shark is very low, considering the countless individuals who flock to the beach and have never even see a shark in their swimming waters. However, the United States is responsible for the majority of shark bite occurrences worldwide, with Florida being the clear leader in the country. If you suffer from galeophobia, consider skipping a trip to New Smyrna Beach. Heading to pretty much any other beach in the world will greatly reduce your risk of a shark attack.
Devil's Pool in Pennsylvania
With a name like Devil's Pool, how could you not want to take a dip? Right outside of Philadelphia, the swimming hole draws a large number of visitors hoping to spend an afternoon basking in the natural oasis beyond city limits. While swimming is not officially allowed due to the high rate of drownings and injury, that doesn't seem to stop daredevils.
In fact, some of these thrill seekers do far more than just swim. The rocks surrounding the swimming hole are seemingly great for climbing and jumping off into the waters. While these rocks aren't especially harmful, the very prominent aqueduct from the late 1800s, that stretches over the pool, is. Swimmers who are either very brave or very dumb have climbed to the top of the aqueduct and — despite barricades — jumped about 60 feet into Devil's Pool, a jump that is daunting enough without having to aim for the small area that is potentially deep enough.
It's not just jumpers who have been injured (or even met their demise) in this popular hangout spot, though. There have been drownings in the area as well. The spot has gained popularity on social mediaand large crowds can regularly be found there. This causes an even more dangerous environment, as jumps are frequent and loud music and chatter can easily allow those in peril to go unnoticed.
Alaska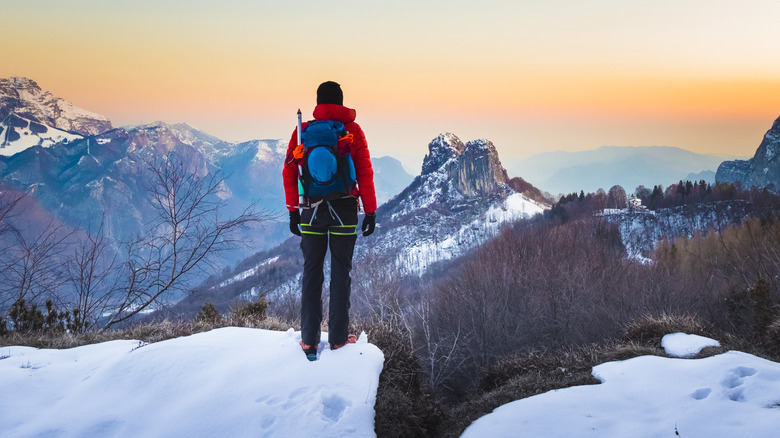 Deimagine/Getty Images
Okay, so maybe not the entirety of this gorgeous state should be on our list, but a great portion of Alaska is vast wilderness, and dangerous wilderness at that. Between an ice road that can't be traversed for part of the year, deadly wildlife, and difficult-to-navigate terrain, a trip to "The Last Frontier" could potentially be life threatening.
You've likely heard of the Bermuda Triangle, but are you aware of her icy sister the Alaska Triangle? While the mysterious area in Alaska is more of a conspiracy theory, there is no denying that people go missing in Alaska at a much higher rate than that of the national average. Mysteries of the triangle aside, this startling statistic could be due to how deadly the land is itself, with extreme temperatures and terrain making surviving in the wild here a challenge, even for travelers who come prepared for it.
Even the beautiful national parks, of which there are many in Alaska, are widely untouched. Some are even without roads or signage to help navigate the wilderness. The ferocity of the state is only reinforced by the deadly creatures who call the land home, like wolves, moose, and a whole slew of bear species. If you're set on witnessing the beauty of Alaska, you may want to stick to the more established areas with permanent communities.
New Orleans, Louisiana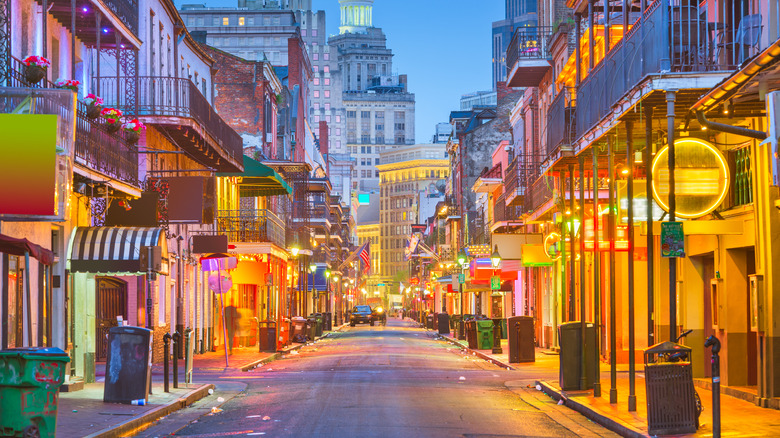 Sean Pavone/Shutterstock
Don't get us wrong, New Orleans will probably always make for an epic vacation. The culture in this southern city is utterly unique and nowhere else in the world has a similar feel. With that being said, the Big Easy can actually be quite dangerous if you happen to wander into the wrong areas, of which there are many.
Tourists typically stick to the French Quarter, Bourbon Street, and the Garden District, but straying to places like Seventh Ward, Pines Village, and St. Claude could bring you some misfortune as they have a higher concentration of crime within the city. The murder rate in the city was one of the highest in the country in 2022, as well as crime in general. Luckily, though, you will likely have no reason to leave the safer tourist areas, as this is where much of what makes the city such a wonderful and desirable destination lies.
For those who put credence in the spiritual, the spooky city is a hot spot for hauntings and the spiritual religions of hoodoo and voodoo, which are things that shouldn't be messed with by amateurs. Feel free to take one of the many New Orleans ghost tours or other fun spiritual attractions in the city, but be respectful of the spiritual practices of New Orleans as they are still very much alive, and showing disrespect could lead you down a dark path.
Lake Michigan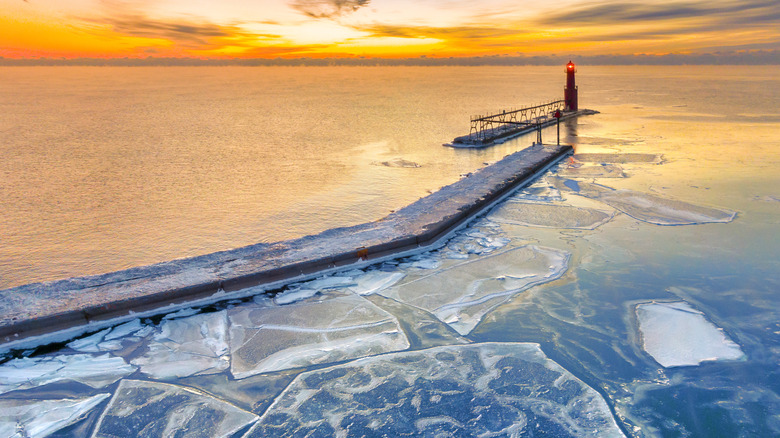 Jamesbrey/Getty Images
If you're hoping for a safe lake vacation, stay away from the Great Lakes. The high levels of pollution should be enough to keep you out, but drownings, dangerous animals, and rip currents are all additional factors that make the lakes an even bigger danger.
Almost half of all Great Lakes drownings happened at Lake Michigan in 2021, and the lake is widely considered the most deadly in America. The high winds the lake is known for result in rip currents that can easily set swimmers up for a dangerous situation. Additionally, the uneven bottom of the lake beneath the water has many sudden drop offs and holes, making it risky for children and weak swimmers.
If these very real and present dangers weren't enough to turn you away from the otherwise stunning and ocean-like Lake Michigan, you should know that the lake is also home to fish who have teeth and can certainly use them. Snakehead fish, sea lampreys, and even piranha-like fish are present in the waters, and a bite from one of these razor sharp mouths is not a box you want to check on your travel bingo card.
Million Dollar Highway in Colorado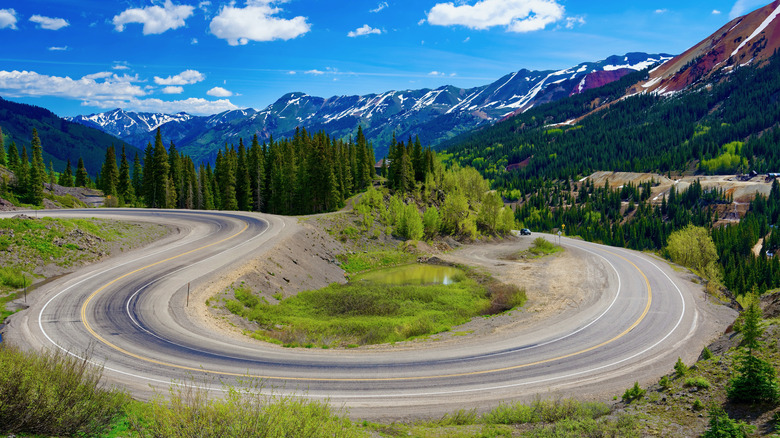 Tristanbnz/Getty Images
Supposedly named after a woman who claimed she wouldn't drive the highway even if she were paid a million dollars, the winding road in Colorado makes for a beautiful, yet hazardous joyride. The Million Dollar Highway is a small stretch of road between Silverton and Ouray that makes up about 25 miles of the San Juan Skyway and it is one of the most dangerous roads in America.
Not only does the Million Dollar Highway take travelers through sharp turns and continuous curves through mountainous terrain, the road does not have guardrails on its many cliffside drop-offs. This fun feature is made even more dangerous by the unfavorable weather conditions the area undergoes during the winter. A winding and icy road that navigates a mountain without guardrails sounds like a recipe for disaster, and said disaster has struck more than once. With an average of 40 crashes and seven deaths per year, this small chunk of American road is certainly a hot spot for destruction. When you add the possibility of a rock slide to the many odds stacked against drivers, the glorious distractions that are the views along the way just don't seem worth it.
Panama City Beach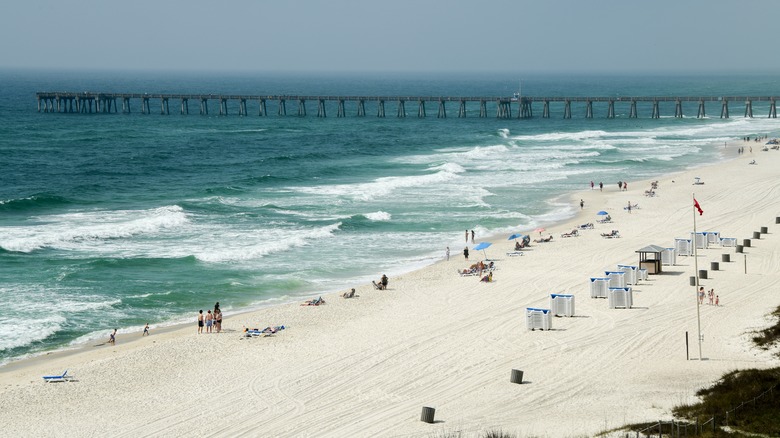 Mathew Risley/Shutterstock
Ranked as the deadliest beach in America in 2023, Panama City Beach has sadly had a large number of people drown in its waters. The rip currents that quickly move water away from the shore in a river-like flow are known for sweeping away unsuspecting swimmers, which has been the case here. Precautions and warnings have been in place to help prevent loss of life, the beachgoers all but ignore notices of dangerous swim conditions and risk their lives in the waters anyway.
Drowning is one of the leading causes of preventable or accidental death, and it really only takes seconds to drown. Knowing this, it's especially important to mitigate these risks for you and your family, especially if you have children. Panama City Beach may be one of the sunshine state's most popular coastal destinations, but Florida has no lack of sandy beaches or ideal surfing spots, and you may want to find one as an alternative to the deadly beach for your next beach getaway.
Mount Rainier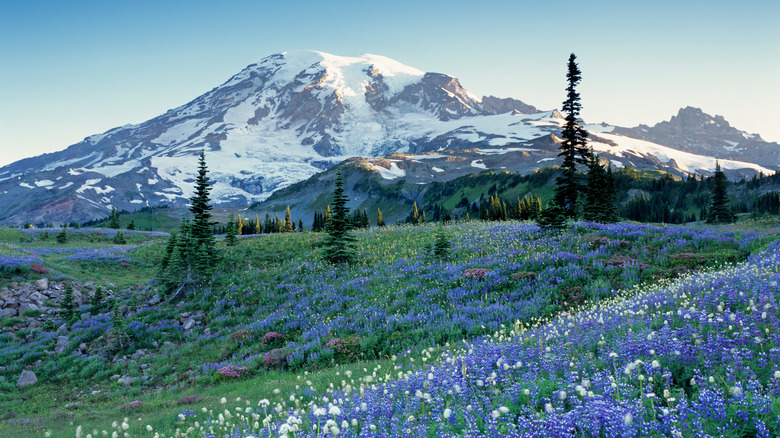 Danita Delimont/Shutterstock
Even without considering the active volcano that would cause significant damage to major cities if it were to erupt, Mount Rainier is a deadly mountain. Hundreds of people have met their fate here since the National Park Service started documenting significant events and fatalities in the late '80s.
Mount Rainier is massive, and on a clear day you can see the prominent landmark from almost anywhere in the western part of Washington state. While there has certainly been death on the mountain, what makes the natural wonder truly dangerous is that there are so many different ways you could meet your end here. Mountain climbers can fall, succumb to the elements, or get caught in an avalanche. Those more casual explorers could easily have a driving accident as they travel up or down the mountain, and the quickly changing weather patterns on the mountain can be risky to anyone who gets caught up in them.
Some of the risks that come with a trip to Mount Rainier can be lessened by traveling with a group, coming prepared, and training your body to withstand the physical demands of the mountain. However, the mammoth of a mountain almost seems to have a mind of its own, and the only way to stay totally safe from it is to skip seeing it up close — luckily the view from afar is quite beautiful.
Death Valley National Park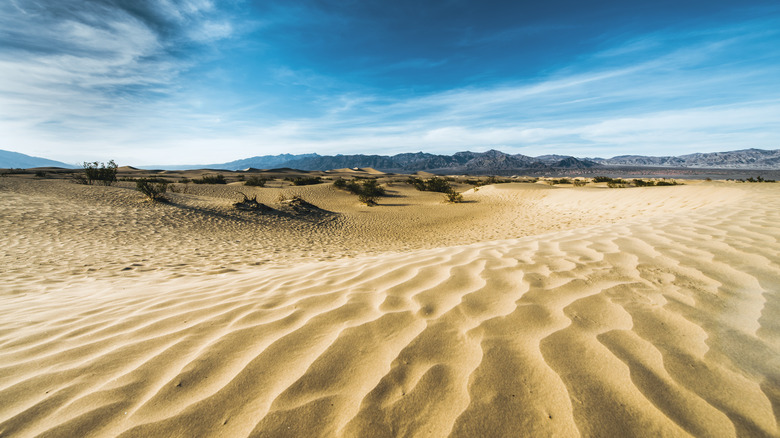 Tobiasjo/Getty Images
Death Valley National Park is one of the most gorgeous and otherworldly parks in the United States, but it's also one of the most dangerous. The park is the driest place in the country and with record-setting temperatures, deadly wildlife, and hazardous terrains, those who brave the ominously named park should come prepared.
Temperatures can reach around 120 degrees Fahrenheit in Death Valley, and even if you come well prepared, high heats such as this can effect your body as it becomes unable to regulate its own temperature. This has the potential to cause things like heat stroke and even affect the way your brain receives blood flow.
These heat concerns are only exacerbated by the challenging terrain that can be found throughout the park, including sand dunes and mountain peaks. On top of all that, you also have to watch out for venomous snakes, scorpions, and spiders as well as bobcats and coyotes. Basically, Death Valley is named appropriately. Although it can be quite beautiful, it can also be, well, deadly.
Grand Canyon National Park's Southern Rim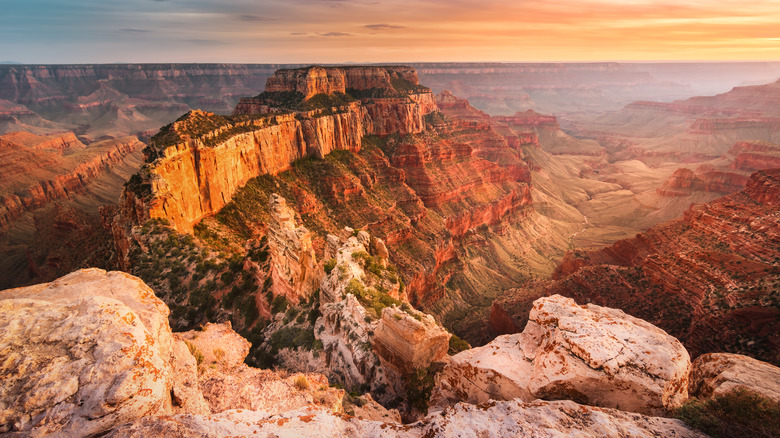 Pat Tr/Shutterstock
Frequently reported as one of the most dangerous national parks in the United States, the Grand Canyon is a bucket list vacation that you'll want to take with caution, with some areas in particular warranting more caution. The park is huge and death has been scattered throughout, but the highest concentration of non-aircraft related deaths has taken place close to the South Rim entrance.
While the southern rim is the most popular entrance (and its popularity could account for a higher concentration of death), the high number of fatalities and rescues that occur here shouldn't be written off. In fact, the large number of tourists who flock here could actually contribute to its rate of misfortune. Unprepared tourists could get a false sense of security in witnessing high numbers of travelers they see braving the trails and try it themselves, and you should never enter the canyon without plenty of water and the ability to get back out. Going down is a breeze, it's getting back up that will drain your resources.
Not only is the Grand Canyon dangerous for visitors, but it can also be deadly to rescuers. Parts of the canyon are so tight that helicopters can't easily maneuver, making crashes not uncommon. Please do not venture into the canyon if you are not confident in your ability to get out, as it's not just your own safety at risk.
Lake Mead in Nevada and Arizona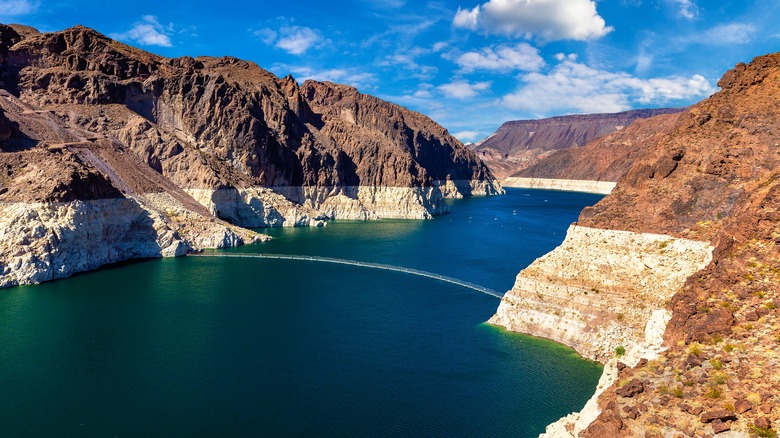 Sergii Figurnyi/Shutterstock
Although it is a desirable destination for locals and tourists who are visiting the Grand Canyon and the Hoover Dam, Lake Mead has a history of being a pretty dangerous spot to cool off. In fact, there are some areas of the reservoir where getting in the water is inadvisable and even banned due to the danger level being unmanageable. Muddy areas where the water has left the banks traps both people and vehicles, creating a difficult and unsafe situation for those involved.
One of the main safety risks is that while the surface of the reservoir looks calm and inviting to swimmers and boaters, like an oasis in the middle of a desert, underneath are potential threats that can quickly cause a boating joyride or swim to turn sideways. Fallen and submerged trees and debris could become tangled with individuals and bring them down into the water. There are various dangers in relation to drowning, which has contributed to Lake Mead being the site of more deaths than any other National Parks site for a number of years running.
Lake of the Ozarks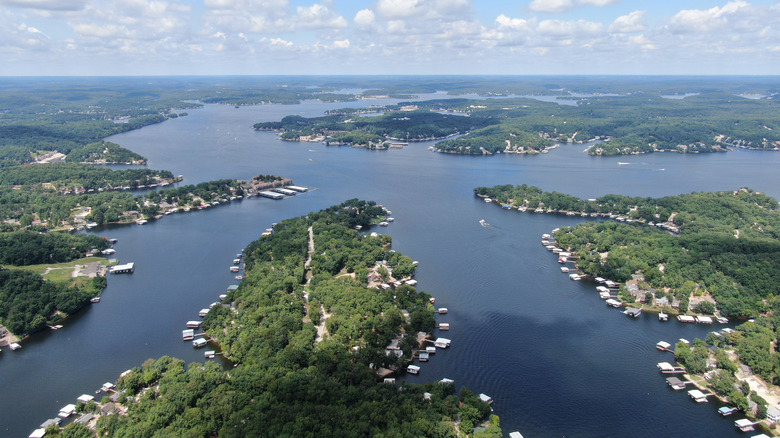 Colton lee garcia/Shutterstock
The Ozarks have brought in seasonal visitors for quite some time and the Lake of the Ozarks in particular has drawn in people wanting to get close to nature — but the summer vacation spot comes with its own set of risks. What makes the destination dangerous is its unique shape and the large amount of people out on a small area of water. Popular for pastimes like boating and water sports, the dragon-like shape of the lake makes high speed vessels likely to crash if they don't practice proper boat safety. There were over 60 boat crashes reported in 2022 here alone with each year collecting their fair share of similar incidents.
While you would think that the high rate of boat accidents here would keep those driving boats on their best behavior, warnings and numerous examples of unfortunate outcomes do little to deter boaters. In fact, arrests for boaters operating high speed water vehicles under the influence seem to be a steady problem.
It's not just the people who spend their time boating who have to worry about the dangers of the lake, as drownings are a relatively frequent occurrence here. Accidents seem to cling to the Lake of the Ozarks, so much so that you may want to head somewhere else on your next trip.