This US Amusement Park Is Home To Thousands Of Alligators And Crocodiles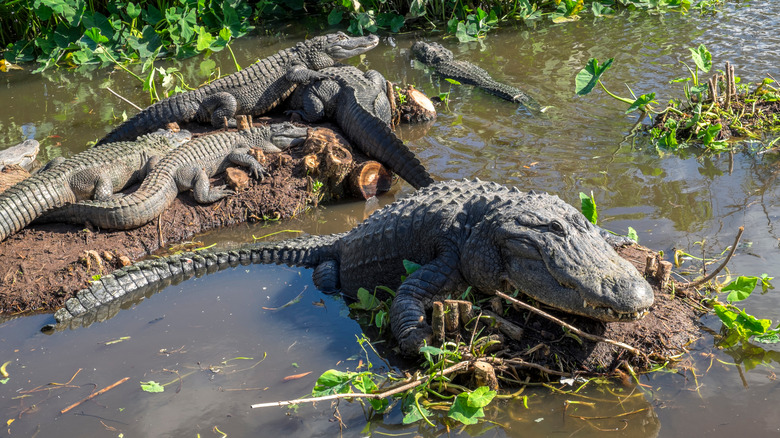 Danita Delimont/Shutterstock
Did you know there's a place in Central Florida where you can live out your own Indiana Jones adventure? We're not talking about Disney World, where the Indiana Jones Epic Stunt Spectacular famously chooses audience members to participate in the show as extras. This is a lesser-known theme park in Orlando where "Indiana Jones and the Temple of Doom" filmed alligators to substitute for crocodiles in a movie mistake that Floridians noticed immediately.
As they say on Disney rides, keep your hands, arms, feet, and legs inside the off-road vehicle at all times as we head to Gatorland. It's the theme park and wildlife preserve known as "The Alligator Capital of the World," and its reputation may have rubbed off on Florida itself. Years before the first alligator came to the University of Florida to serve as a live mascot for the college's football team, the Gators, Owen Godwin founded Gatorland, and his family continues to own the park to this day.
It was 1949, six years before Walt Disney opened the original Disneyland in California, and a full 22 years before Disney World came to Florida with the opening of the Magic Kingdom in 1971. UF had adopted the gator as its mascot decades prior, but according to FloridaGators.com, the manager of the Virginia company that designed the first Gators pennants in the early 1900s didn't even know what an alligator looked like. It was Gatorland that later helped put them and theme parks on the map in Florida.
Indiana Jones and the Gator Gauntlet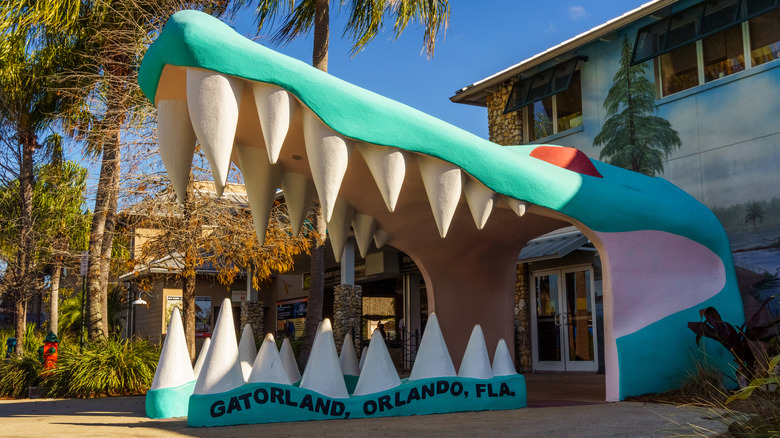 Nick Fox/Shutterstock
Gatorland wasn't Florida's first theme park; that would be Cypress Gardens, "the water ski capital of the world," founded in 1936 near Winter Haven. However, Cypress Gardens closed in 2009 and its botanical garden now forms part of Legoland Florida. Meanwhile, Gatorland is still going strong as a family-owned business, and with as much of a theme park destination as Central Florida has become, there's a certain amount of street cred (or swamp cred) that comes from it predating all these other major parks. That includes not only the Magic Kingdom and the rest of Disney World but all of Universal Orlando, along with SeaWorld Orlando and Busch Gardens in Tampa.
So, what does Gatorland offer in terms of experiences? Well, it doesn't have roller coasters, but here, you can board a vehicle with monster wheels and have a "Stompin' Off-Road Gator Adventure." You can also run the Gator Gauntlet, a zipline attraction that will put you 350 feet in the air over the park's Alligator Breeding Marsh. That's where the Indiana Jones shots were filmed, and in the absence of a real-life Temple of Doom, it's as close as you're likely to get to living the famous scene where Indy hacks through a rope bridge with a machete and then rides half of it to a cliff over crocodile-infested waters. Speaking of weapons, none of those of any kind are allowed inside Gatorland (even whips, though you could probably wear a Fedora hat).
Other experiences at Gatorland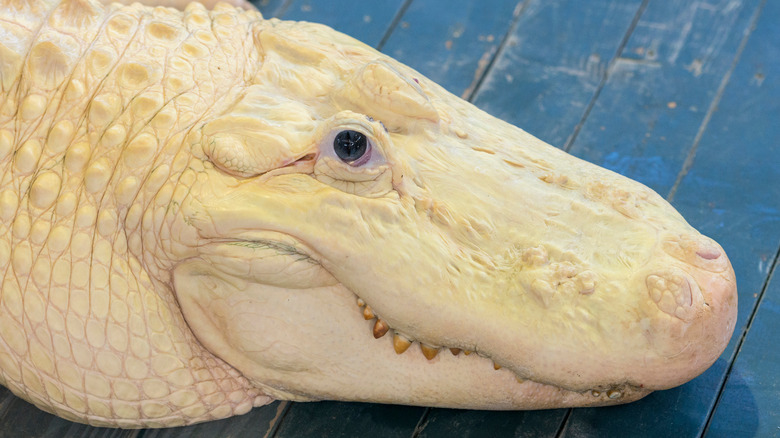 Danita Delimont/Shutterstock
Gatorland has regular shows like Gator Jumparoo, where gators leap straight up out of the water for food, and Up Close Encounters, where you can, per the official Gatorland site, "Befriend fascinating creatures from around the globe, including some of the most dangerous snakes alive." If you're afraid of snakes like Indiana Jones, this is your chance to confront that fear. At Gatorland, you can also see real crocodiles, tortoises, birds, wild cats, and other animals, not to mention visit a White Gator Swamp with albino alligators and rare leucistic alligators (two of only 12 known to exist).
Some sites wrongly claim that 10 to 15 people die annually at Gatorland, but that statistic seems to have evolved from an out-of-context citation where the park's media relations director was talking to the Orlando Sentinel and Chicago Tribune about the number of alligators — not people – that die in Gatorland each year. It's worth remembering, though, that this is not just a theme park but also a wildlife preserve. Nature, red in gator tooth and claw, should be respected.
In Florida, alligators are everywhere, from the football field to the canal behind your uncle's house. Gatorland didn't single-handedly link the state with gators in the public imagination, but we previously listed it as one of the best things to do in Orlando besides Disney World. So, if you're ready to give the anthropomorphic mice, ducks, and dogs a rest and see some real live gators, this is the theme park for you.