This US National Park Is The Largest In North America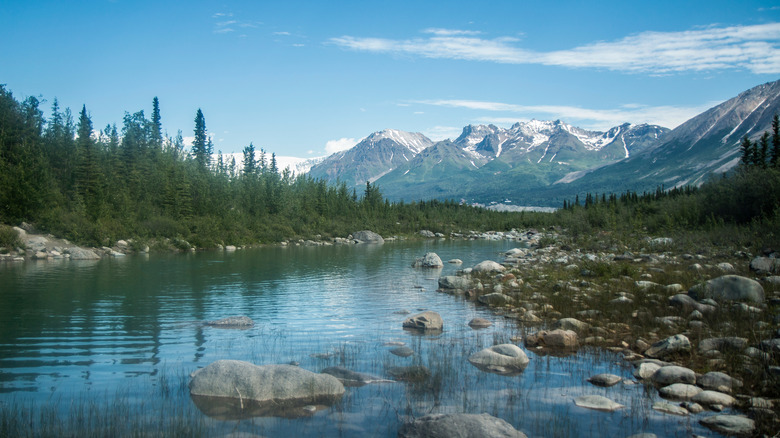 BlueBarronPhoto/Shutterstock
Correction 9/19/23: A previous version of this article misstated the kinds of North American bears found in Wrangell-St. Elias National Park and Preserve. Only black and grizzly bears can be found at the park, not polar bears.
Nestled in the southeastern part of Alaska is the largest and most enigmatic national park in the United States: Wrangell-St. Elias National Park and Preserve. It's probably not a name that comes to mind when you think of what could possibly be the largest park in the U.S., but that's right, it is. Spanning more than 13 million acres (larger than Switzerland!) or six Yellowstones put together, this park is a unique amalgamation of mountains, glaciers, and vast wilderness that remains relatively unexplored.
The park is named after the Wrangell and St. Elias mountain ranges that dominate its landscape. Within the park's boundaries lie four mountain ranges, nine of the 16 highest peaks in the U.S., including the second highest, Mount St. Elias, towering at 18,008 feet. These mountains aren't just sheer rock; they're also volcanic giants. Mount Wrangell, one of the largest volcanoes in the world by volume, is the only one currently active. The last eruption happened in 1930, but don't worry — it isn't showing signs of erupting again anytime soon. 
Wrangell-St. Elias' glaciers are a testament to nature's power and patience. Covering over a third of the park, glaciers like the Malaspina and Hubbard sprawl out in frozen splendor. Some of these glaciers are larger than entire countries! The Nabesna Glacier is the world's longest interior valley glacier at 53 miles. The park offers a range of experiences to witness these colossal ice flows, from flyovers to guided hikes, ensuring that everyone can marvel at their icy beauty.
Alaskan adventures in Wrangell-St. Elias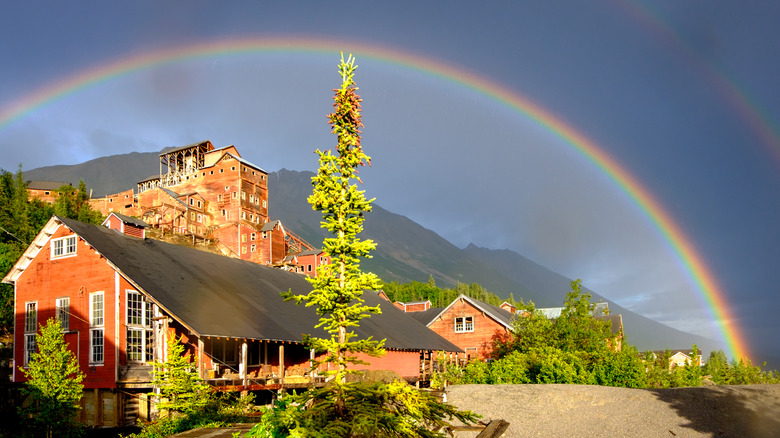 David_Pastyka/Shutterstock
The immense landscape provides refuge to a plethora of wildlife. The park teems with mammals like caribou, wolves, as well as black and grizzly bears. There are polar bears in Alaska, but only on the remote northernmost coast by the Chukchi Sea, Beaufort Sea, and Arctic Sea. Each species has carved its home in this vast land, from high alpine meadows to dense spruce forests. Bird enthusiasts can revel in the sights and sounds of countless migratory and nesting bird species, including the rare trumpeter swan and peregrine falcon.
Beyond its natural allure, Wrangell-St. Elias offers visitors a window into the history of Alaska. The Kennecott Mines, a national historic landmark within the park, is a well-preserved mining town from the early 20th century. It tells the tale of copper mining, industrial ambition, and the human endeavor to thrive in such an unforgiving environment. The mine closed in 1938, but at its peak, around 600 people worked in the mine or mine town, with miners extracting ore worth over $200 million at the time. Today, guided tours offer insights into the town's workings and the fascinating tales of its former inhabitants. 
While the vastness of Wrangell-St. Elias can be overwhelming, it's an adventurer's playground. Whether you prefer to take a scenic flight, raft down the untamed Copper River, stay at one of the rustic cabins, or camp under the vast Alaskan sky, there's something for every kind of explorer. The park's diverse terrain offers activities for all seasons, from ice climbing and skiing in the winter to backpacking and fishing in the warmer months.
Navigating uncharted terrain and wild weather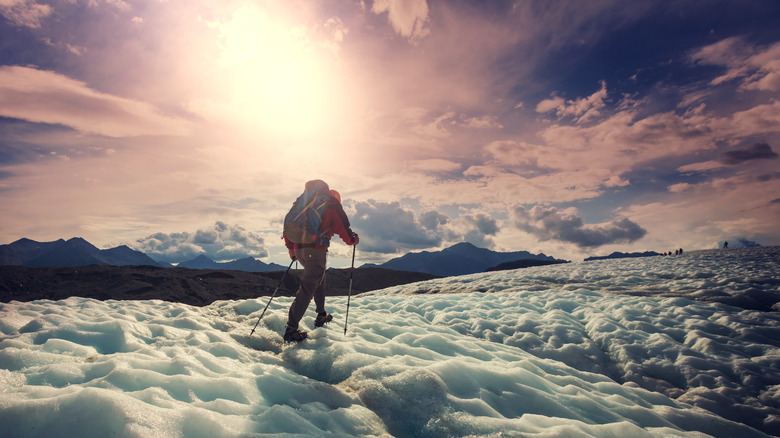 Photo Volcano/Shutterstock
Part of the allure of Wrangell-St. Elias is its unchartedness. With only two roads entering the park — the Nabesna and McCarthy roads — and no main highways bisecting it, it's one of the least visited national parks in the U.S. It's not uncommon to hike for days without encountering another soul. Visitors should note that the park's ruggedness requires preparation. Many areas lack established trails or roads, so prior research, proper gear, and respect for nature are paramount. For novice hikers, several guides operate within the park, ensuring a safe and immersive experience.
K'elt'aeni is the park's newspaper and trip-planning guide that includes a wealth of information for your visit. Entrance into the park is free. Wrangell-St. Elias has a range of weather conditions. Winters are long and dark, with nighttime temperatures of -50 and daytime highs of 5 degrees Fahrenheit. Summer lasts only two months and is Alaska's high tourist season, with maximum temperatures of 80 degrees. At any time, temperatures can vary by as much as 70 degrees across the park. 
Wrangell-St. Elias National Park and Preserve is an experience of vastness, of nature's grand designs, and of our small yet significant place within it. Thankfully, it is a protected UNESCO World Heritage Site, ensuring its preservation for future generations. It's a reminder of the wild places that still exist, beckoning adventurers and dreamers alike. If the call of the wild summons you, there's no place quite like this Alaskan behemoth to answer it.