Why You May Want To Skip The Coffee On Your Next Flight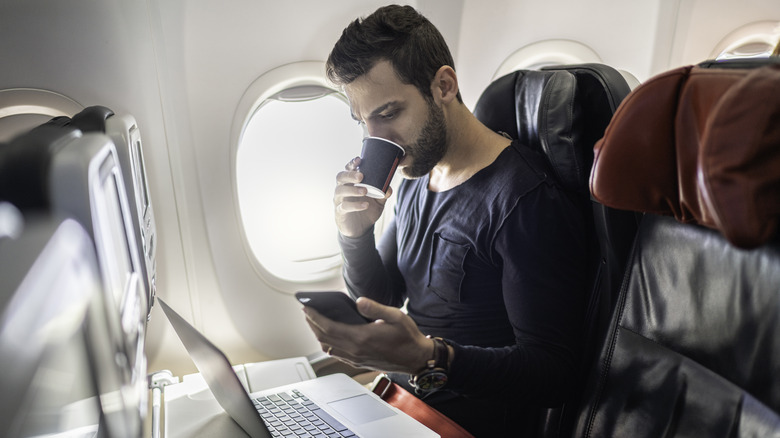 Fg Trade/Getty Images
Traveling can run someone into the ground, and on an early morning flight, it might be tempting to ask for a hot cup of coffee or tea. But this may not be the best idea. Flight attendants notice things about passengers, and you'll stand out if you order these beverages. The ultimate insiders, flight attendants have admitted that fliers should only drink canned or bottled beverages on planes. A 2021 viral video from TikTok user @katkamalani, a former flight attendant, discouraged fliers from drinking airplane coffee or tea. But what's wrong with airplane tap water? Unfortunately, it may be potentially dangerous.
In 2004, the Environmental Protection Agency (EPA) tested the drinking water from 158 airplanes with disastrous results. The EPA found that 20 of these planes had coliform bacteria in their water, with two also testing positive for E. coli. While coliform bacteria may not make you sick, its presence indicates that other pathogens may be in the water. E. coli, on the other hand, can cause nasty symptoms, including stomach pain, vomiting, and more. In 2011, the EPA enacted the Aircraft Drinking Water Rule (ADWR) to monitor the drinking water on planes further. However, the ADWR hasn't guaranteed water safety.
An airline water study made disturbing discoveries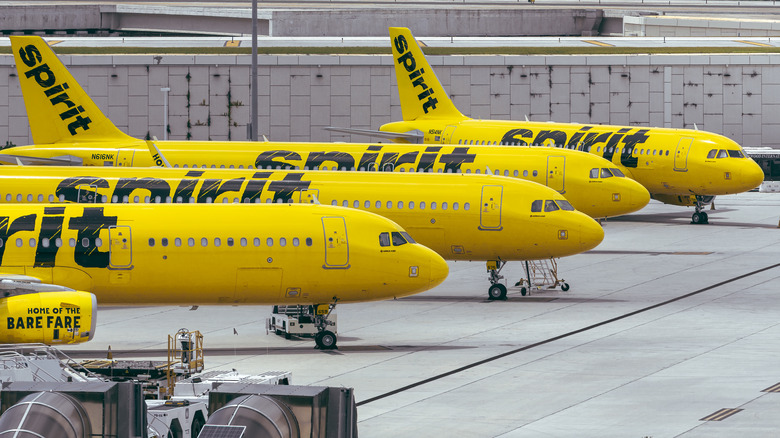 YES Market Media/Shutterstock
The EPA's Aircraft Drinking Water Rule asks airlines to clean their water tanks four times a year. Or, the airline can clean their water tank once a year but test their water monthly. Nevertheless, it didn't seem these efforts were being taken seriously. In 2019, Charles Platkin, Ph.D., the executive director of the Hunter College NYC Food Policy Center, conducted an Airline Water Study that concluded that water from certain airlines was still potentially hazardous. Some of the worst violators of the ADWR were Spirit, JetBlue, United, American, and Delta. 
Alaska Airlines and Allegiant received the highest ratings for their water. However, Dr. Platkin felt that the EPA did not reprimand airlines adequately for violating the ADWR. Ultimately, the Airline Water Study recommended against drinking coffee or tea on planes or water that was not pre-packaged.
Speaking to Well+Good in 2023, Dr. Platkin said that the cleanliness of airline water may depend on multiple factors, including the specific airline and route, when the airplane's water tanks were last cleaned, the location where the tanks were filled, and where the water was stored before it was loaded onto the plane. 
Not all experts agree that airline water is unsafe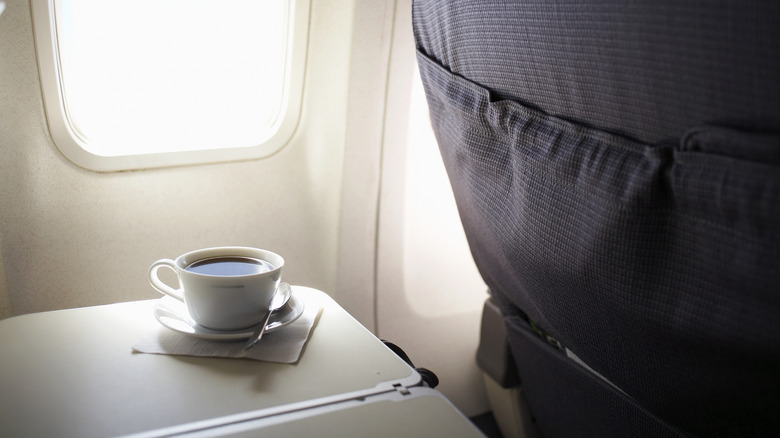 Stewart Sutton/Getty Images
In the Airline Water Study, Charles Platkin was adamant that the majority of airline water was poor quality, placing blame on the airlines and the EPA. He's not the only one who feels this way. Speaking to Business Insider in 2019, concerning the Aircraft Drinking Water Rule (ADWR), the Association of Flight Attendants-CWA, said, "The regulation gives broad discretion to airlines on how often they must test the water and flush the tanks. AFA does not believe this regulation goes far enough or is sufficiently enforced."
But others beg to differ. Vance Hilderman from Afuzion, a company that provides aviation engineering services, told USA Today that airline water is safe to consume, citing water tank cleaning procedures. He explained, "There's a chemical rinse they put in (the tanks). It's not toxic. It's not industrial hospital quality, but it's actually quite good. It's very doubtful that bacteria would survive. It's equivalent to air filtering systems, HEPA systems on aircraft."
While passengers might be hesitant to drink coffee and tea on airplanes due to the tap water, Platkin (via Well+Good) and Hilderman both said passengers can enjoy ice worry-free because it's not typically made from airplane's water — but you may want to bring your own water bottle on a plane.