This Lesser-Known National Park Is The Perfect Place To See Fall Foliage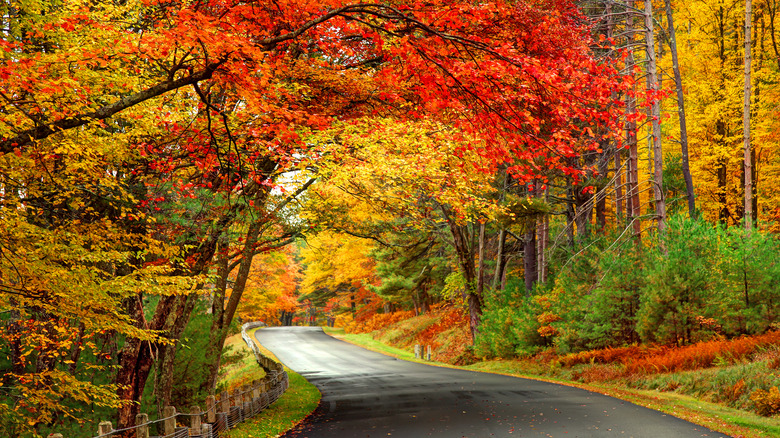 Denistangneyjr/Getty Images
What comes to mind when you think of fall foliage? Maybe it's the vibrant maple trees of Vermont or the colorful display on the Kancamagus Highway that winds through northern New Hampshire. New England is undeniably a prime spot for leaf-peeping. Unfortunately, everyone knows this — from late September through October, crowds descend on the Northeast. And while the leaf show is free, lodging and car rentals are not, and prices can be high. Peeping season is also peak season.
It's time to switch directions and head south. The Deep South. Congaree National Park sits in the heart of South Carolina and is relatively unknown when it comes to fall foliage. It welcomes far fewer visitors than many other parks. In 2022, just over 200,000 people visited Congaree; compare that to Acadia National Park in Maine (a favorite among foliage enthusiasts) that received almost four million in the same year. Congaree National Park promises peaceful autumnal bliss away from crowds.
What to see in Congaree in the fall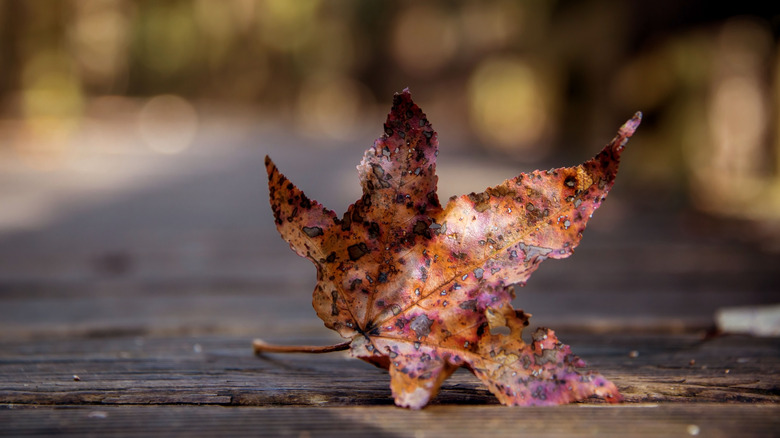 Serge Skiba/Shutterstock
While it might be lesser known, Congaree National Park boasts the largest old-growth bottomland hardwood forest in the southeast of the country. Imagine cypress trees delicately shedding their rust-colored leaves into the swamps below, or fiery tupelo trees painting streaks of red and gold against the blue skies.
Fall colors peak in late October to early November in Congaree, so foliage season happens later than in much of New England. However, unlike the Northeast, fall temperatures are pleasant in this South Carolina park. Visitors can expect daytime highs of around 70 degrees Fahrenheit.
The fall months are also an ideal time to go kayaking or canoeing in the park. Getting out on the water is one of Congaree's most popular activities. It can be a day trip or an overnight backpacking adventure. You'll get to paddle through the forest among the brightly colored trees that tower over the waterway, enjoying the fall colors as you go.
What else to do in and around Congaree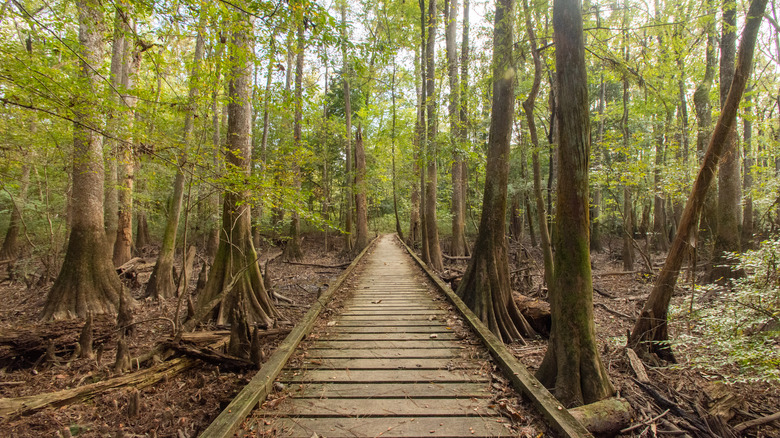 Michele Korfhage/Shutterstock
If you're more of a terrestrial adventurer, you'll enjoy some of the many hiking trails Congaree National Park has to offer. For an easy hike, try the Boardwalk Loop Trail, which leads past a huge variety of tree species that light up in the fall. The more challenging and aptly-named Oakridge Trail leads past many oak trees that grow along a gentle ridge. You're also likely to spot some of the park's wildlife on this trail, including deer and wild turkey. Most of the trails are fairly flat, with minimal elevation gain.
If one day isn't enough for you in the park, there are two frontcountry campgrounds you can stay at. Both are open year-round, and reservations are required. Sites at these campgrounds cost just $10 to $15 per night. You can also camp in the backcountry with a valid permit for a true wilderness experience. Congaree is only a 25-minute drive from Columbia, the state capital of South Carolina, so you can easily add an urban experience to your trip. If you're around during the Halloween season, you can combine your leaf-peeping in the park with a visit to a corn maze or one of the local haunted historical sites.