Why You Should Be Upfront About Special Occasions When Booking A Hotel Room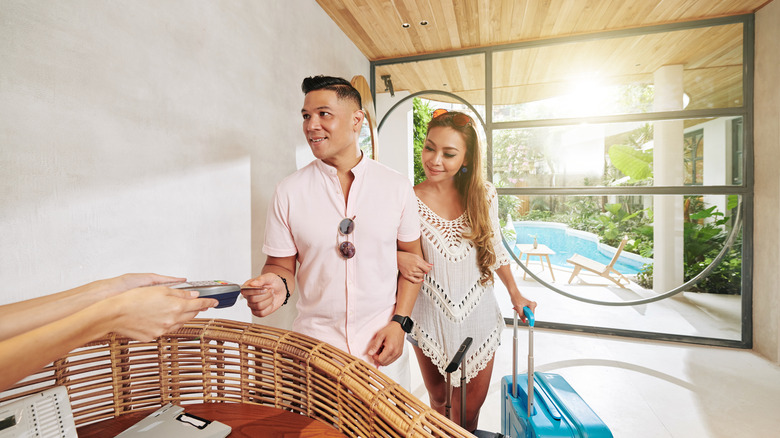 Dragon Images/Shutterstock
A birthday trip to Kyoto for some R&R, a deluxe hotel in the Maldives to relish your honeymoon, or an anniversary retreat in Bali — traveling and celebrating a special occasion is the ultimate two-for-one deal. Now imagine you could get extra perks for your hotel stay: a complementary birthday dessert at the ryokan, a discounted spa treatment for your honeymoon, or a deluxe room overlooking the Tegalalang rice fields. The only way to achieve these upgrades for your special stay is to be upfront about your celebration.
When planning a stay at a hotel, many of us are primarily focused on practical concerns such as price, location, and amenities. However, since you're celebrating a special occasion during your stay, you must play your cards right. Informing the hotel staff about a honeymoon, birthday, anniversary, or other significant event can lead to unexpected benefits, such as a free upgrade, discounted deals, or delightful surprises awaiting in your room.
As you're making the hotel reservation, make sure to add a note specifying the occasion. You can also call the hotel directly or send an email; but ultimately, the key is advance notice. But don't fret if you're arriving at the hotel and haven't let them know yet. Happily share the good news at check-in and politely ask the concierge if there is any possibility for an upgrade to make your special occasion extra special. Ask nicely and be appreciative — you just might get it! 
An opportunity for a memorable experience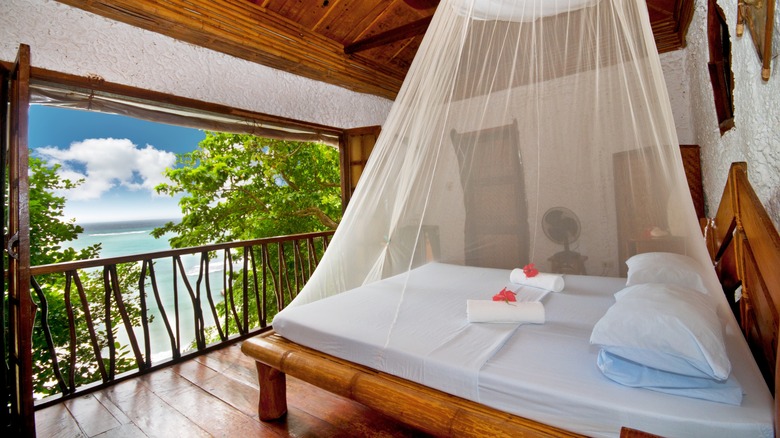 Vitaly Titov/Shutterstock
Hotels, especially ones that value customer service, often go out of their way to ensure guests have an unforgettable experience. When you share the reason for your stay, it offers them a chance to play a part in making your special occasion more memorable. Whether it's a free bottle of champagne by the beach or an anniversary room upgrade, these gestures add value to your stay and create lasting memories. It's a win-win situation — while you get a nice perk, the hotel earns a happy and potentially loyal customer.
By being open about your celebration, you might unlock exclusive deals or complimentary services. For example, at many hotels, honeymoon packages can include spa treatments, romantic dinners, or excursion discounts. If the hotel can't provide a complimentary upgrade or package, they may add a personal touch instead. This might be in the form of a handwritten note, curated recommendations, or a romantic table-side performance at dinner. By keeping your occasion a secret, you could be missing out on these exclusive opportunities.
If you're staying for a special occasion, be prepared to show some proof to enjoy those special perks. Many hotels are now making it mandatory for honeymooning couples to present either a marriage certificate or a copy of their wedding invitation at check-in time. Anniversary or birthday stays will likely require proof, too. Unfortunately, scam artists who lie about fake life events ruined this for those who are really there to celebrate in good faith. 
Building hospitality relationships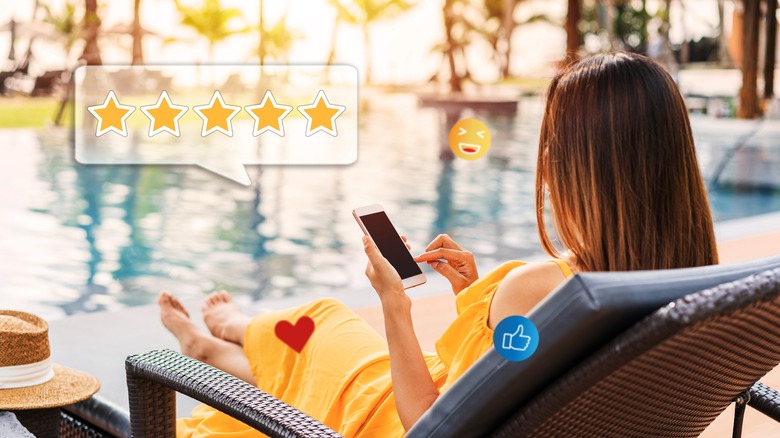 kitzcorner/Shutterstock
You can try other methods to ensure your special occasion is tended to during your stay. Booking directly through the hotel instead of a third-party platform, especially during the low or shoulder season when occupancy isn't full, can score you a higher chance of an upgrade. Staying at a new hotel or an independent boutique establishment can further increase your odds. Because the industry is so saturated, these lesser-known hotels want to build brand awareness by giving you an elevated stay. 
Good hotels value repeat business. When you're upfront about your special occasions, it helps the hotel remember you, laying the foundation for a relationship. The next time you book a room, staff may notice that you celebrated your anniversary there last year, further extending the special treatment. After all, if you're celebrating your birthday and the hotel upgrades you to its best suite, you're more likely to return or recommend the hotel to friends and family. Positive word-of-mouth and online reviews are invaluable in the hospitality industry.
Special occasions are milestones, marking significant moments in our lives. When choosing to spend these moments at a hotel, it's worth sharing your reasons with them. It gives hotels a chance to enhance your experience and opens the door to unexpected surprises and delightful upgrades for your stay. The next time you're booking a hotel for a special occasion, remember to be upfront — because a little sharing might just transform a regular hotel stay into an unforgettable one.