Feel Safer On A Long-Haul Road Trip With This Simple Tip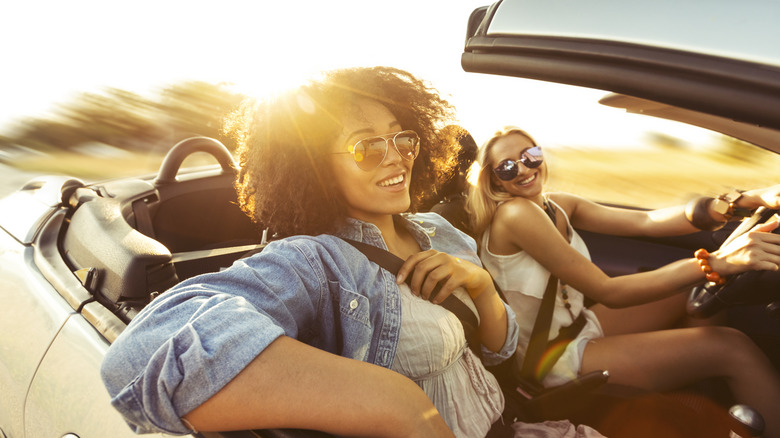 Vladimir Vladimirov/Getty Images
Life has a way of getting busier than most of us would like. When you're looking to leave the stress of daily life behind for a while, a long-haul road trip can feel like exactly the right solution. Getting out on the open road is as exciting and refreshing as it is inspiring. For many travelers, the appeal of a road trip comes along with some sense of getting off the grid. It can be invigorating to consider leaving the world far behind and setting your sights on unforeseen adventures. However, for all of the adventures you're looking to have on the road, it's just as important to build standard safety practices into the experience.
Your vehicle is your ticket to adventure on a road trip. It's also important to remember that it's a machine that can break down. According to Agero, around 69 million vehicle breakdowns are reported annually. This works out to about one in every three drivers encountering car trouble on the road. In response, AAA answers around 33 million calls for roadside assistance each year, as reported by NerdWallet, and that doesn't include the other towing companies that are putting in the work on behalf of drivers.
Things happen out on the road just as they do anywhere else. Engines fail, tires blow, batteries die, and oil issues occur. While you can't predict every possible scenario, a simple tip to making your journey safer is to always make sure you've let someone know your route in advance.
Gift yourself peace of mind by sharing your route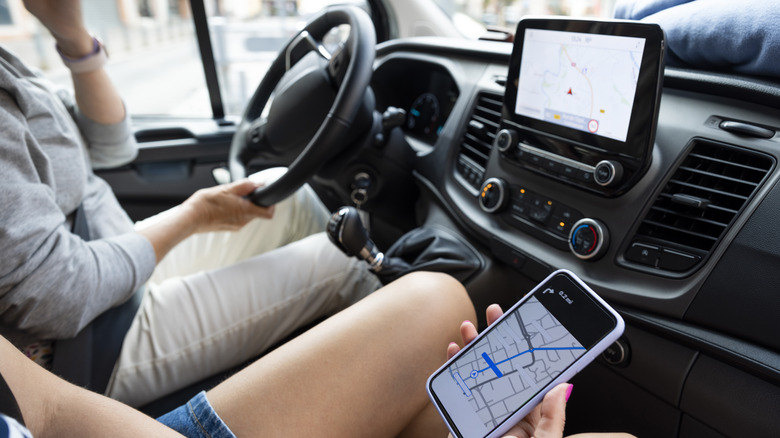 Solstock/Getty Images
Giving a friend or family member your road trip route before setting off on an adventure is a smart and safe strategy any way you spin it. While some travelers might worry this takes the shine off of that euphoric feeling of exploring independently, it's simply not the case. When you have the peace of mind that comes from knowing at least one other person is keeping tabs on your travels, there's less reason to worry when an emergency or unexpected situation arises. This means more time to fully focus on the road trip fun ahead.
Once you give your designated person a heads-up on your planned route, having options for getting in touch in the event of something unexpected is also important. You can consider using GPS technology that you would use for outings like backcountry hiking as a backup in your vehicle in case your phone battery happens to give out on you along the way. The same strategies for safely navigating remote trails during a backpacking adventure can help you orient yourself in the case of encountering severe weather or getting turned around on the road during a long-haul trip. Downloading road trip maps that are accessible offline is also a good idea, as is sharing those maps with your family and friends.
Map out checkpoints and sightseeing stops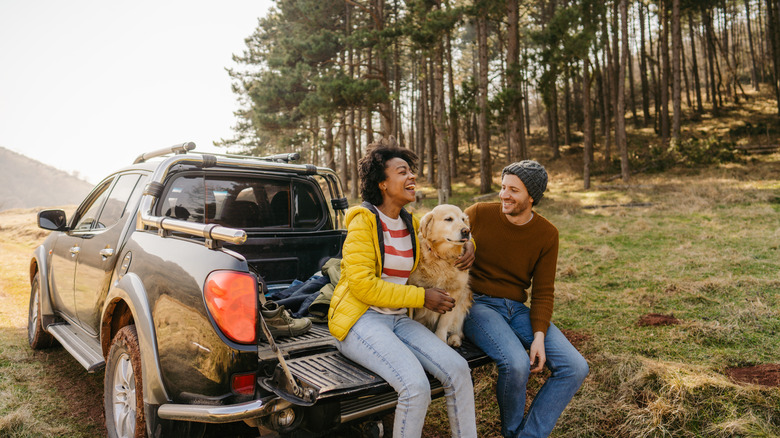 Aleksandarnakic/Getty Images
If you have a trusted person in your life that you feel comfortable enough to share your real-time location with at all times on your phone, you've already made your road trip that much safer. If you don't utilize this resource, consider setting up a phone-to-phone location-sharing option with at least one person specifically during your travels so that you can be more easily tracked in an emergency situation. Tracking apps typically work with both iPhones and Android phones so you can be covered no matter what type of device you own.
Another important point to consider when it comes to sharing your long-haul road trip plans with family and friends is the stops you're going to make along the way. It's always a good idea to map out both your checkpoints and your sightseeing experiences ahead of time. Sharing these planned stops with a family member or a friend will ensure someone in the world knows how long you'll be off-road. This could make a huge difference if you run into trouble during any of these stops and someone can see in real time that you haven't yet returned to the road trip route as planned.