The One Item You Need To Feel Prepared For Any Weather On Your Next Backpacking Adventure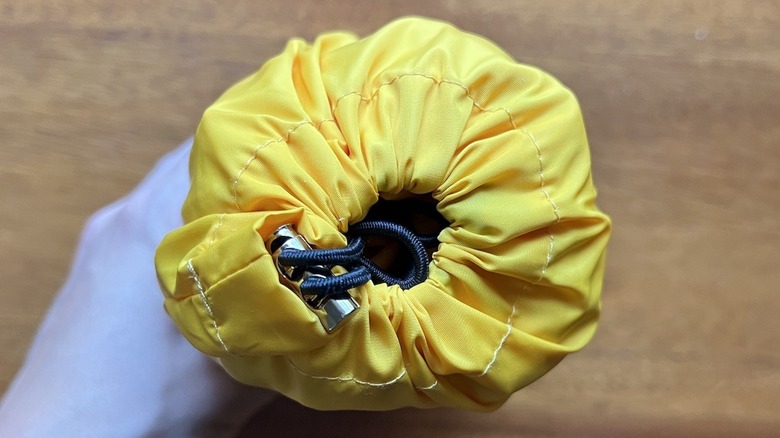 Author/Lexi Kassler
We may receive a commission on purchases made from links.
Unless you're Ryan Gosling or Rachel McAdams, no one wants to see you running around soaking wet in the rain. As such, a raincoat is really a must-have for any travel or backpacking adventure where rain is in the forecast. What is not a "must-have" is the said coat taking up a bunch of precious space in your carry-on or backpack, forcing you to choose between a practical shirt or a cute skirt. As a result, this is one piece of clothing that doesn't typically spark a lot of joy when packing.
So, what's the alternative? It might just be the packable, lightweight raincoat sold by Avoogue on Amazon. The company claims the coat is not only breathable, provides sun protection, and is wind and waterproof but also lightweight and small enough to smush into the leftover space in your carry-on bag or backpack before heading out for a hike. A potentially perfect solution to a perennially perplexing problem.
Alliteration aside, we really wanted to put these claims to the test to see if this coat can hold up on both sides of its claims — that it is both packable and actually waterproof.
You're spoiled for choice with the Avoogue Raincoat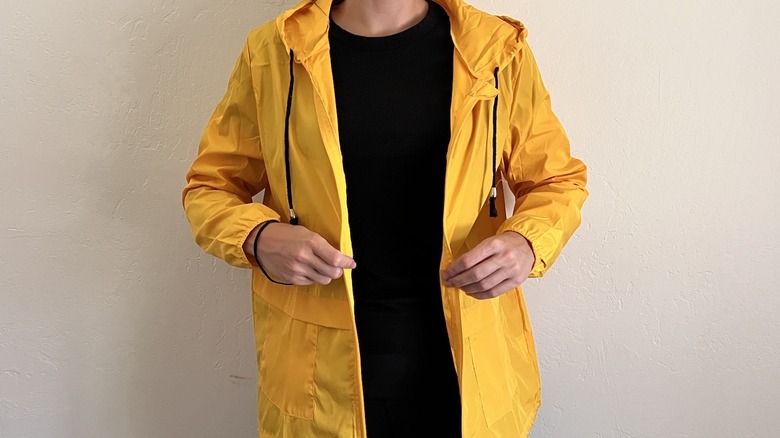 Author/Lexi Kassler
If you have Amazon Prime, you can have this coat delivered to you in a couple days or less. So if you're packing at the last minute and need a raincoat, this is a great option. Though it seems they primarily cater to female travelers, Avoogue does sell both men's and women's jackets. Their raincoats come in all different styles and colors, and they also have a clothing section dedicated to packable and lightweight raincoats.
The particular coat we tested is a full-zip with two front pockets and a hood and currently sells for $31.99. It comes in your basic colors like black and white as well as brighter options like yellow, pink, and blue, and a couple of camo patterns, too. The material is 100% polyester and feels very lightweight. We think if you threw this in a larger purse, you would hardly be able to tell the difference in weight.
When it came to actually testing the coat, our product tester had to get a little creative since they are located in Phoenix, Arizona, where it is currently 110 degrees Fahrenheit with zero rain in the forecast. However, with the help of a hose and a willing partner, they successfully found a way to test all of the coat's features. The tester also did some mock packing with a small carry-on to test its packability.
Testing the raincoat's waterproof and packability claims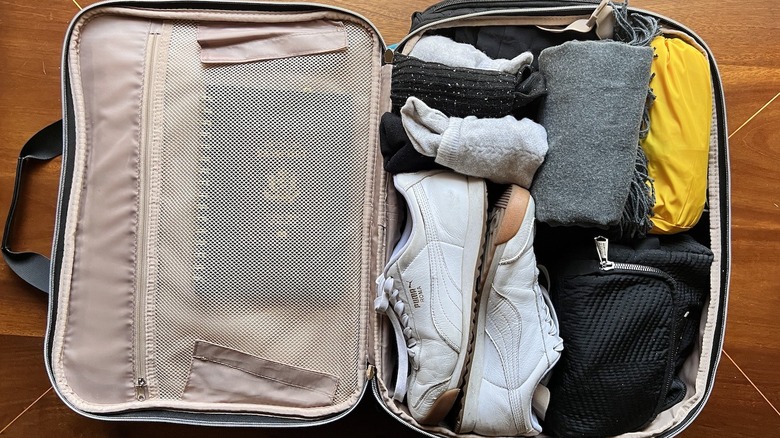 Author/Lexi Kassler
Starting with the easiest part of this product testing — the packability — we really faced no issues with this at all. The coat comes un-stuffed and folded flat in a plastic bag alongside its carrying pouch. The material is slippery and smooth but keeps its shape when rolled up, making it easy to slip inside the pouch. The drawstring and the pull tab are good quality for the price, and the pouch stays tightly closed.
When testing the packing, we used a carry-on bag packed with enough clothes for a three-day weekend traveling around a cold, rainy city. This included a couple long sleeve shirts, a hefty scarf, thick socks, two pairs of pants, walking shoes, a small toiletry bag, and a notebook. The tester placed the raincoat in several different places in the bag's main compartment, as well as slim side pockets and front pockets.
To test the claims that the jacket is waterproof, our product tester hopped outside in the blazing sun for a quick and refreshing hose-down. Using a garden hose, they tried to mimic rain coming down both vertically and horizontally. The tester was sprayed from both the front and the back to test if the zipper is waterproof, too.
In short -- we're impressed with the versatility of this coat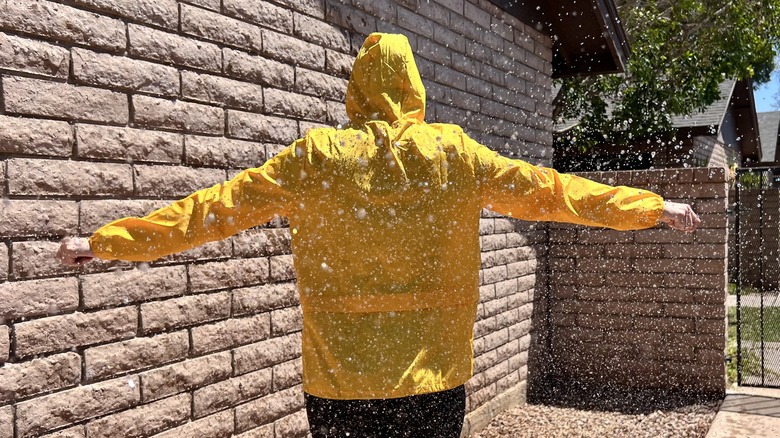 Author/Lexi Kassler
As far as packability goes, this raincoat couldn't be a better fit. The coat folds up small and is malleable enough that it can be crammed into tight spaces. If you want to be able to use the coat on the move, it can also fit into larger front pouches. It's not quite small enough to fit into slim side pockets but would likely fit into a side pocket or mesh pouch made for water bottles.
The coat's waterproof claims were solid. The coat does not allow any water through either the fabric or the zipper. If there is extremely heavy rain, the hood and the bottom of the coat come with drawstrings to pull these openings tighter. However, since the pockets open upwards instead of to the side like many raincoats, if you put your hands in your pockets, you might get some rain in there.
The only downside is that the coat is not breathable. Even sitting inside with air conditioning, our tester felt hot and began to perspire. This does mean the coat will keep you fairly warm in mild to cool weather.
Overall, the coat definitely satisfies its most important claims for travelers and backpackers in inclement weather — it packs small, can be whipped out at a moment's notice, and it kept us bone dry. Well, at least our upper body.