Why You May Want To Reconsider Using A Backpack For Your Travels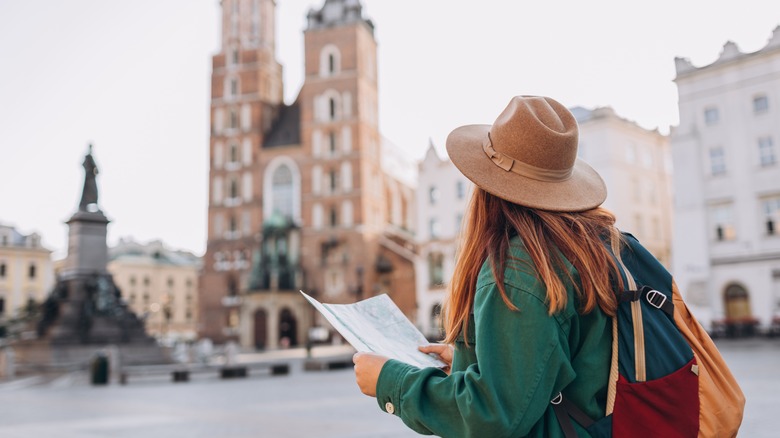 phM2019/Shutterstock
Whether you're a backpacking fiend who swears by their favorite Osprey rucksack, or a vacationer who loves to take adventurous day trips, at some point, you will most likely whip out a small daypack for your daily excursions. The daypack is a traveling staple for so many people: The small backpack, not unlike the one you might have carried to school, is great for holding your snacks, sunscreen, phone chargers, a towel, and a guidebook for a variety of activities. Whether you're venturing out into Edinburgh or the Appalachian Trail for the day, you may not even question the daypack necessity.
But now, some people are raising a red flag on the daypack, and it's related to this viral catchphrase: "Attenzione, borseggiatrici! (Attenzione, pickpocket!)" On TikTok and Instagram, viral videos of a lone woman screaming this to alleged pickpockets on the streets of Venice, Italy are taking the platforms by storm. From the @cittadininondistratti account, we see this woman — who, according to a New York Times profile is named Monica Poli – thwarting possible pickpockets who tend to prey on tourists. Her tactics have been so successful, that The Economist reported in 2019 that the Cittadini non Distratti (CND) movement (which translates from Italian to "Citizens Not Distracted") and its 60 or so members are "behind a third of pickpocket arrests in Venice." But if you pay attention to the videos, you'll see the alleged thieves love to target people carrying — you guessed it — daypacks. So, should you ditch the daypack altogether to feel safer while traveling? 
Thieves use ingenious ways to steal valuables from your backpack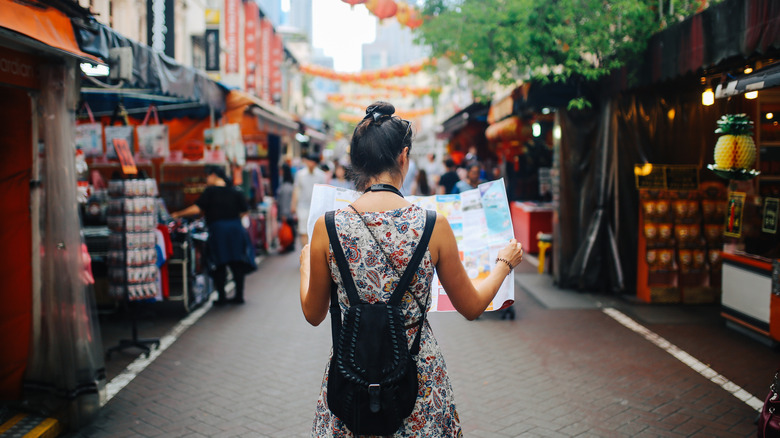 Lechatnoir/Getty Images
It's not just Venice, Italy where thieves are targeting backpacks; it's happening in some major tourist locations, like India. The Times of India spoke to Mumbai police about the issue, who noted, "This is a new method of theft coming to light. Earlier, thieves would prefer running away with bags." Now, they said, they're just unzipping the bags, reaching their hands in, and taking whatever they can find. The police also found that daypack thieves don't always operate alone — they sometimes work in groups. 
Former British military intelligence officer Lewis Sage-Passant, director of travel security firm How Safe Is My Trip, told Reader's Digest that thieves can even go beyond just unzipping a target's daypack, "sometimes going so far as to cut through the material of bags to access the contents."
So, does that mean you should ditch the daypack? Not exactly. It turns out there are myriad of ways you can protect yourself from backpack thieves, and they involve everything from being alert and aware of your surroundings to making sure you carry the "right" backpack to thwart thieves.
Keep your daypack safe with these tips and tricks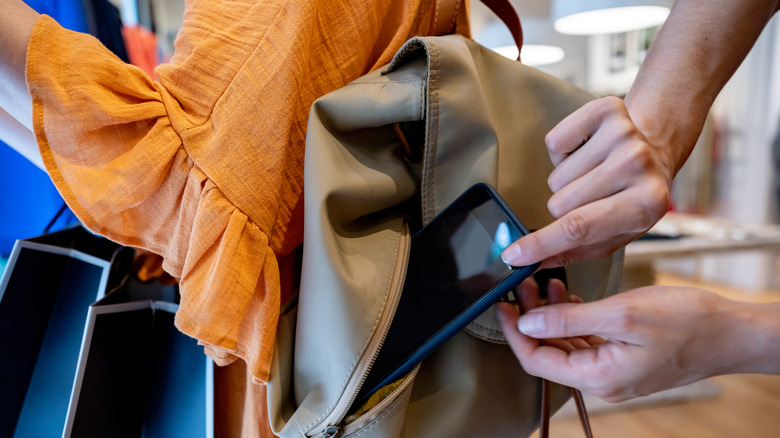 Hispanolistic/Getty Images
If you want your daypack to be a pickpocket's worst nightmare, then you need to invest in a bag that comes with anti-theft designs. Standard Luggage Company, which makes backpacks, packing cubes, and more, advises on their blog to buy a pack with lockable zippers. Sometimes, a daypack will come with its own zipper lock. Other times, you may have to buy a small lock to fit. In either case, if a thief tries to unzip your bag when it's behind your back, they'll be in for a rough time. Pacsafe, a company that sells a myriad of travel items designed to keep your valuables safe, offers an anti-theft daypack that includes an "exomesh slashguard," which prevents thieves from slashing your bag to steal your stuff.
On top of all the fun daypacks you can buy, sometimes just being alert and aware of your surroundings can thwart a thief. Some tried and true tips include not carrying large amounts of cash with you, not being flashy with your wardrobe or jewelry, and if you suspect something, raise your voice. Just like Monica Poli of Cittadini non Distratti, if you yell and shout and cause a public ruckus, that is most likely to scare off thieves and send them running. You should also carry a money belt under your clothes, out of reach of pickpockets, and leave your valuables in the hotel safe if there is one.