Stay Safe When Walking Down RV Stairs At Night With This Simple Hack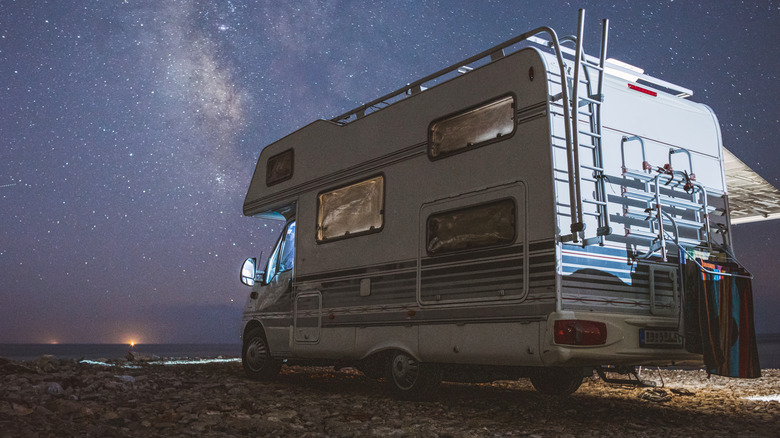 Milan Markovic/Getty Images
There's nothing like time in the great outdoors to unwind and relax, except when you can't see at night. Granted, we love the chance to pull away from the hustle and bustle, and part of this perk comes with the sacrifice of letting go of some modern conveniences, like outdoor lighting. In some cases, however, safety comes first, which is why it's important to use a little ingenuity to make RV stairs safe and visible in the night with some glow-in-the-dark tape.
It's worthwhile tending to these safety concerns while road-tripping and camping in order to be able to spend your days focusing on the real reasons for your trip. Just think of all the national parks you can explore, like the national parks in the Midwest or the stunning national parks in the South. While you're at it, you can check out the most bizarre tourist attractions in your state. Hey, there's something for everyone. 
It's important to focus first on safety in your RV so that you can fully enjoy all of the quintessential parts of a superb road trip. Glow-in-the-dark tape keeps your RV stairs illuminated at night to make sure no one falls and gets injured on your big adventure. Heck, you have too many cool things to see to get slowed down like that.
Glow-in-the-dark tape is your new RV superpower
It's such a simple hack, but such a good one. If you're worried about falling on your RV stairs at night — or have relatives that you're worried about – opt for some glow-in-the-dark tape. The tape is usually pretty affordable, with some rolls selling for under $10, so it's worth the investment. Simply cut strips to outline each step so that once the sun sets, you know that you'll be able to enter and exit fall-free. In fact, the product also works well if you're traveling with an older dog who might have a hard time seeing the steps at night, so it can work for four-legged family members too.
The tape emits a bright light after exposure to natural light, so you'll want to make sure that any surfaces with tape see some sunshine throughout the day. Or you can shine a flashlight on the tape to "activate" the brightness. The good news is that the tape is typically waterproof too, so if it rains, you're not going to lose your nighttime guides. In fact, you might find the tape so helpful that you'll want to stick it on other places around your RV and campsite to create some helpful guides at night.