The Best US Destination For Swimming With Sharks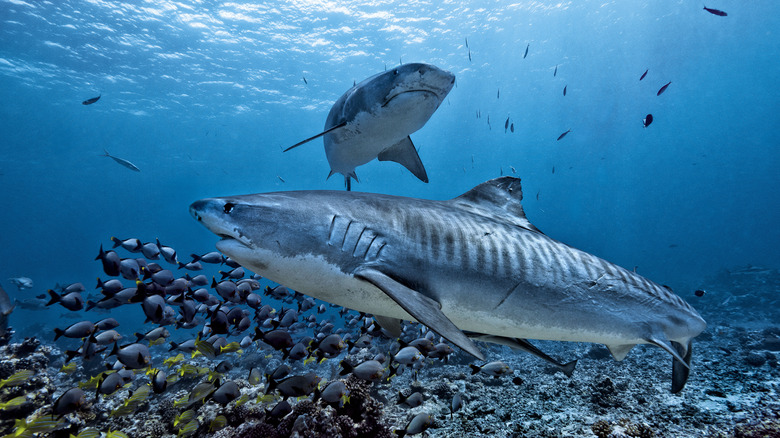 le bouil baptiste/Shutterstock
Thrill-seekers and marine enthusiasts likely share one major bucket-list item: swimming with sharks. While not for the faint of heart, if you're feeling bold and adventurous, swimming with sharks can be an unforgettable experience that will give you bragging rights for years to come.
From coast to coast, there are plenty of spots to interact with sharks throughout the United States. However, if you're looking for the ultimate thrill, there's no better place to experience this unique adventure than the sparkling waters of Oahu, Hawaii, where tour companies offer shark sightings and the chance to swim with a wide variety of shark species, from reef sharks to hammerheads.
Sharks are ferocious marine predators, and they've garnered a bad reputation over the years, but they're actually nowhere near as bloodthirsty as cult classic films like "Jaws" tend to portray. In fact, sharks are often relatively shy creatures, and professional shark swimming tours in Oahu, Hawaii take every precaution to ensure your comfort and safety. Alongside sharks in their natural habitat, you'll likely find a new appreciation for how graceful and majestic they are as they glide through the water just a short distance away. So, whether you're looking to face your fears or just want to experience the ultimate hair-raising adventure during your trip to Oahu, Hawaii, carve out some time in your itinerary to swim with some of nature's most miraculous creatures.
Close encounters from the cage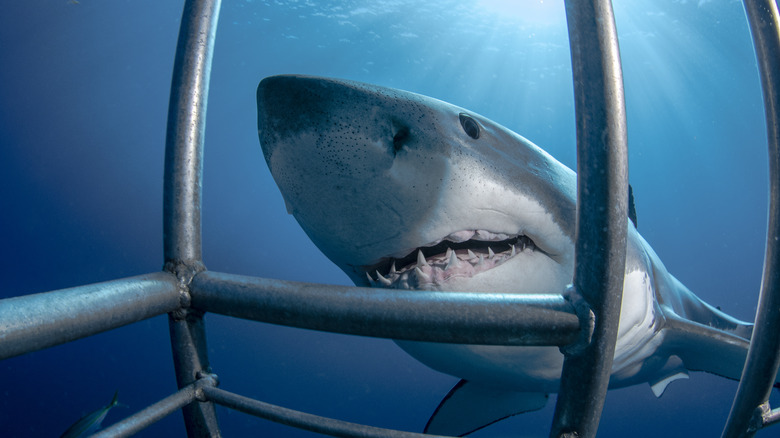 Atese/Getty Images
On a trip to Oahu, you can get up close and personal with various species of sharks, some of the oldest creatures on Earth. Since there isn't much difference between the sharks you can visit in Hawaii today and the ones that roamed the seas at the same time dinosaurs roamed the Earth, they are sometimes referred to as "living fossils" by scientists — though you can find actual shark fossils as ancient as 400 million years old.
Lurking in the waters off the coast of Hawaii today are more than 40 different species of sharks, according to the State of Hawaii. Common species you might encounter during your adventure include gray reef, Galapagos, sandbar, and hammerhead sharks — some of which can reach sizes of more than 12 feet long.
Tour companies operate safe and exciting excursions into the waters off the coast of Oahu, where you'll get to swim with sharks from the safety of a metal cage. Most tours last a couple of hours and offer some stunning views of the coast of Hawaii along the way, plus plenty of opportunities to relax and soak up the sun on the boat before your swim. For reference, prices at the popular North Shore Shark Adventures start at about $104 per adult for cage diving. If you'd rather come along for the ride without getting in the water with sharks, you can hop on the boat for $80 per adult.
Is swimming with sharks in Oahu, Hawaii safe?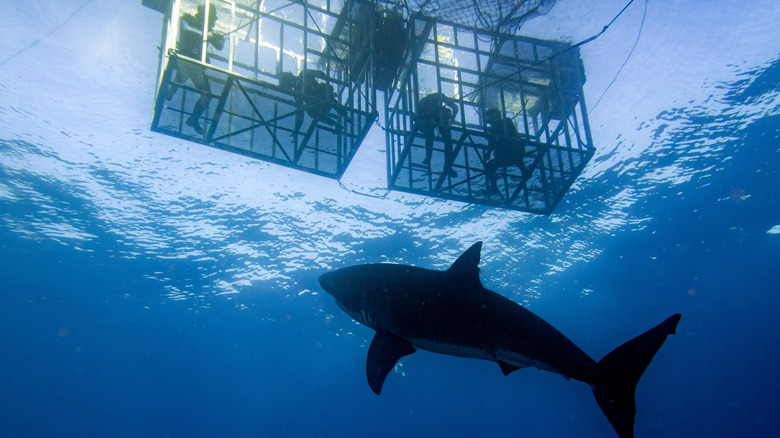 Andrea Izzotti/Shutterstock
Submerging yourself with sharks in the bright blue waters of Oahu, Hawaii will undoubtedly get your adrenaline pumping, and you may be wondering how you could possibly be safe while swimming inches away from some of the ocean's most aggressive predators. To put it into perspective, though, you're more at risk of dying from a fall, or even a lightning strike, than from a shark attack, based on 2021 calculations by the Florida Museum of Natural History; the chances of being killed by a shark are only one in over 4 million. In fact, more people die each year from something as everyday as sun exposure than from shark attacks. So, if you've dreamed of swimming with sharks, don't let fear hold you back!
You'll embark, typically after a safety presentation, with expert guides, and viewing the sharks from the security of a metal cage allows the breathtaking creatures to circle with no need to worry about an attack. The sturdy metal cage floats on the water's surface with space to come up for air, so there is no need to worry about complicated scuba gear; a mask and snorkel do the job just fine. Swimming with sharks is perfectly safe when precautions are taken — especially on a cage dive in Oahu, Hawaii. Countless tourists enjoy shark diving during their visits to Hawaii each year, and for many, it can become the highlight of the entire vacation.