The European Country That Is A Must-Visit For All Wine-Lovers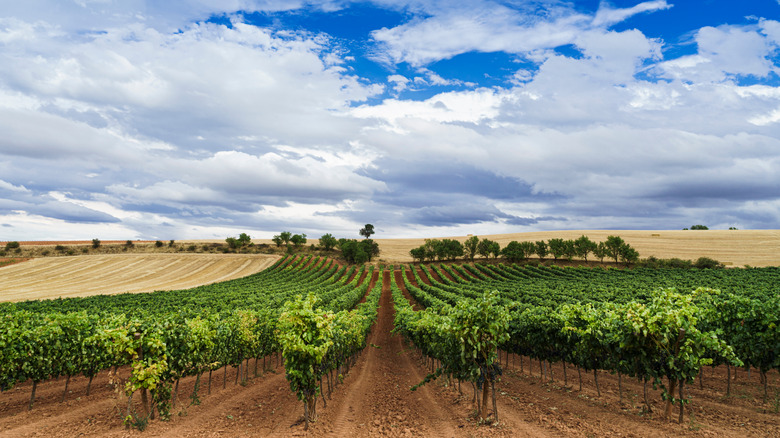 Carlos Sanchez Benayas/Shutterstock
Calling all wine-lovers! If you've explored the finest wine cities in the US and are a wine enthusiast seeking new experiences, one European country that should be at the top of your must-visit list is Spain. 
With over 4,000 different wineries to explore, Spain is the world's leading country in the number of wineries. It's also the second biggest country to export wine all over the world, so clearly they are doing something right (via Statista). The grape varieties of Spain contribute to the vast and exciting world of Spanish wines, offering a wide range of styles and flavors for wine enthusiasts to enjoy. Whether you're into reds, whites, rosés, or sparkling wines, Spain has something to please every palate. From the iconic Tempranillo-based reds of Rioja and Ribera del Duero to the refreshing Albariño whites of Rías Baixas, Spain boasts its distinct character and flavors through its labels.
There are also numerous wine regions in Spain for you to explore while participating in unforgettable experiences, from wine tastings to festivals. The fabulous country promises an enriching and memorable wine journey, making it the perfect destination for your next adventure.
Discovering the diverse grape varieties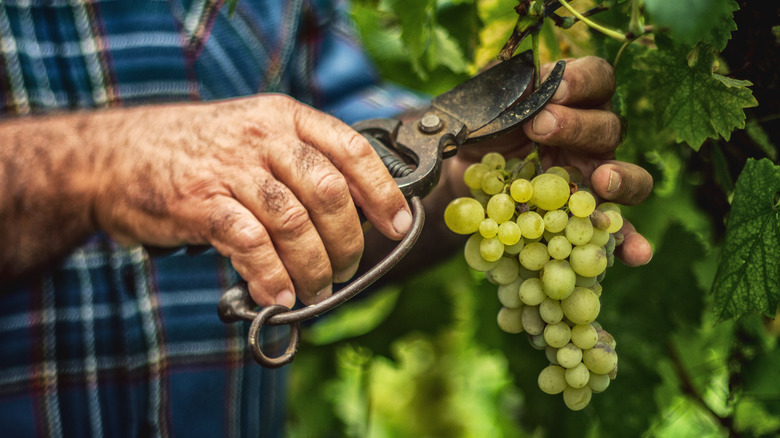 Piola666/Getty Images
Spain's grape varieties are what contribute to the diversity and richness of Spanish wines, making Spain a treasure trove for wine enthusiasts seeking new and exciting tasting experiences. Each grape variety brings its own unique characteristics to the wines, allowing wine-lovers to explore a wide spectrum of flavors and styles across the various regions of Spain.
The country is home to more than 230 astounding grape varieties, some of which have gained a lot of traction and attention. They include both indigenous and international grape types. Popular red wine varieties include Tempranillo, which is the best-known and most planted variety, Garnacha (Grenache), Carignan, and Bobal. White wine grapes include Verdejo, Albariño, Muscat, and Malvasía, as well as plenty of other great-tasting options. From fruity to oaky, the spectrum of wines is unmatched and that is one of the factors that makes Spain the perfect destination for wine-lovers.
Unveiling the gems of Spain's wine regions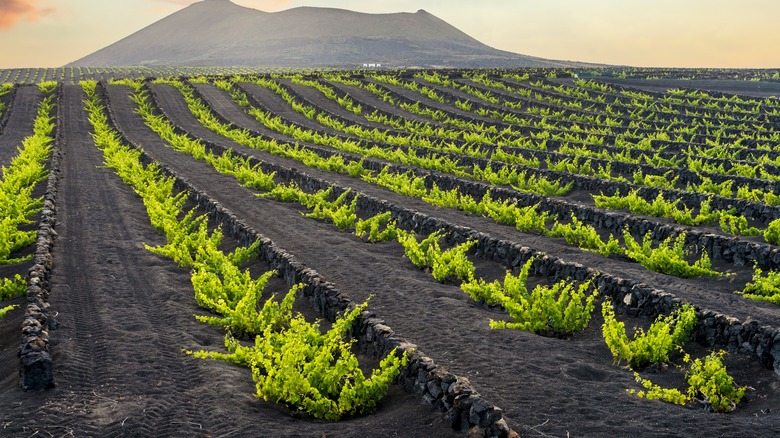 Sopotnicki/Shutterstock
You're spoiled for choice when it comes to exploring the best Spanish wine regions. Areas like Rías Baixis, Jerez, and Penedès not only produce excellent wines, but also offer stunning landscapes, historic vineyards, and a vibrant wine culture that welcomes visitors to taste and explore their local treasures. Traditional vineyards, stylish and modern wineries, and everything in between, are waiting to be discovered. 
With over 130 different wine regions, there are currently 69 major Spanish wine regions that are known as "Designation of Origin." A popular gem that should be on your bucket list is Lanzarote, an island off the coast of Spain which is known for its vineyards that grow in volcanic soil. This beauty produces mainly white wines, but also some reds and rosés. Each region offers its own unique terroir, grape varieties, and winemaking techniques.
Unforgettable wine experiences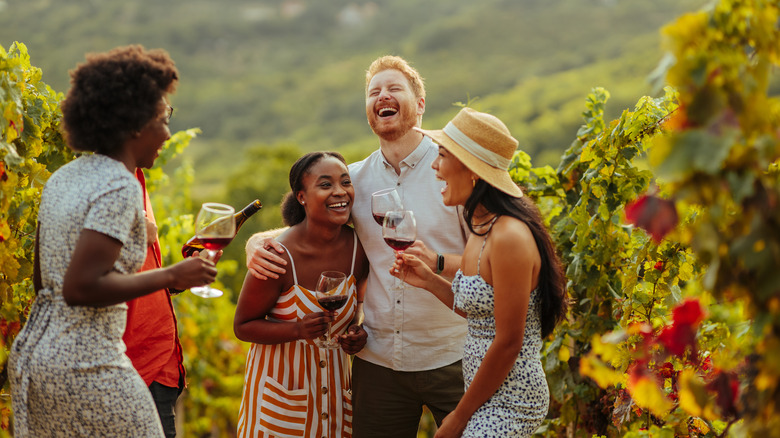 Dimensions/Getty Images
Winery tours and tastings are among the best ways to savor the diverse and exceptional wines that Spain has to offer. The combination of wines and delicious Spanish dishes creates a symphony of flavors that delight the palate and provide a deeper understanding of the local culture that you cannot experience anywhere else. Tapas are a Spanish specialty and with their small, flavorful bites, they are particularly well-suited for wine tastings, allowing you to try different wines alongside various dishes.
You can also opt-in to explore captivating wine museums or even partake in lively wine festivals. Watch the community come together for both the Spain Wine Tour as well as the Rioja Wine Harvest Festival held in the month of September. Deep in the cities of Spain, you'll find fascinating classes and workshops available to tourists, so that you can learn valuable insights about the traditional wine-making process that's unique to Spain. 
So, if you're looking for a wine adventure like no other, pack your bags and head to Spain to taste the remarkable labels and immerse yourself in its vibrant wine culture. Cheers! Or better yet, salud!