This Middle Eastern Nation Has Some Of The World's Most Remarkable Natural Beauty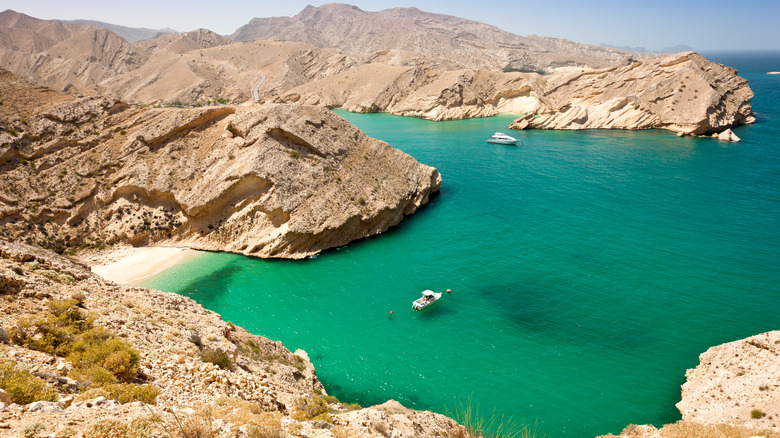 Mlenny/Getty Images
The Middle East is commonly perceived as all camels and deserts, with dry, scorching heat and longwinded sandy dunes. While that is true for parts of the region, there are 18 total countries that make up the Middle East expanding over a vast array of diverse landscapes. Of all 18 Middle Eastern nations, there's one that stands out as having some of the world's most remarkable natural beauty.
Oman is a nation located in the southeastern Arabian peninsula bordering Saudi Arabia, Yemen, and the United Arab Emirates. With approximately a whopping 2,000 miles of coastline, Oman quickly shatters the stereotype that the Middle East is nothing but dry desserts with its warm, sandy beaches. While people might travel from all over the world to scuba dive in Dubai's Aquarium and Underwater Zoo, if they hop on over to nearby Oman, they can scuba dive in the Gulf of Oman (which can be reached on a one-hour flight from Dubai to Muscat) and expect to see plenty of turtles, dolphins, reef fish, and stunning coral that will bluntly reinstate that the landscape of the Middle East is anything but bland.
Beaches aside, there's a wide variety of natural wonders across Oman, from sandy desserts to natural swimming holes over limestone cliffs. This Middle Eastern nation remains one of the best-underrated destinations in Asia.
Some of Oman's best natural wonders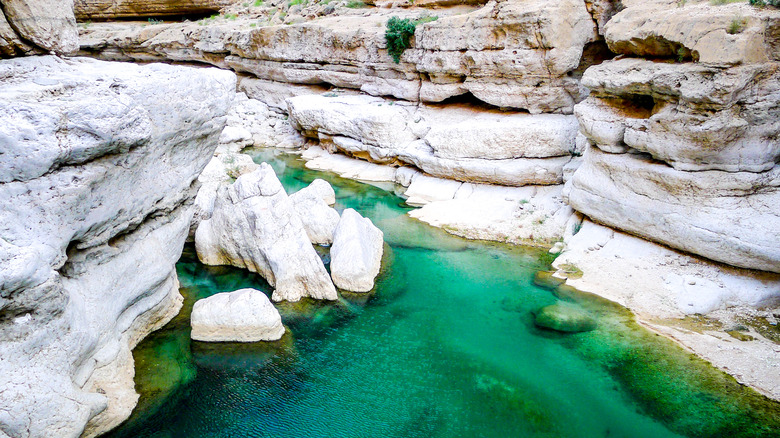 Kylie Nicholson/Shutterstock
Oman is full of natural wonders that make for an ideal getaway for those who want to be at one with nature. One of the most popular destinations in Oman is Wadi Shab, located less than two hours from Muscat by car. It's a great way to spend the day and soak in all of the beauty Oman has to offer. It is filled with hikes, one of which leads to a waterfall inside a cave (which can only be reached after a 40-minute hike and after swimming in a couple of bodies of water to get there). 
If you want to get your stereotypical (but totally worth it) Middle Eastern fix, head out to Wahiba Sands, a desert filled with golden-orange sand, and home to many Bedouins. For a real treat-yourself experience, try glamping at Arabian Nights Resort & Spa.
Bimmah Sinkhole, located approximately 1.5 hours from Muscat, is one of the most Instagrammable spots in Oman. Better yet, it's a natural swimming hole that's aesthetically pleasing due to the bright vibrant hues of the blue water against the milky white surrounding limestone.
While many might associate the infamous baobab trees with Madagascar, even they can be found in certain parts of Oman. Baobabs in Oman are primarily found in the Dhofar region close to the Yemeni border. These trees are jarring natural phenomena that only exist in a few regions of the world.
What to expect when visiting Oman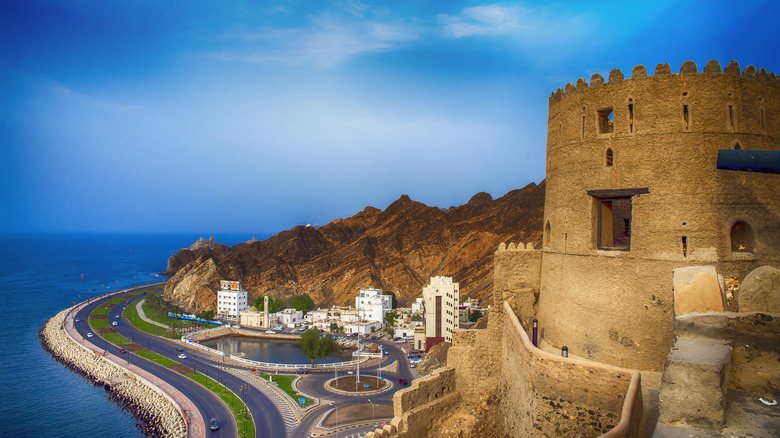 J4h1ds/Getty Images
You might be wondering how to adhere to local customs when visiting a Middle Eastern nation such as Oman. While Oman leans on the conservative side, it is overall, much more relaxed compared to some strict rules of other nations in the area. Despite your misconceptions of what you might think visiting the Middle East is like, Oman has never experienced a terrorist attack and is frequently called the Switzerland of the Middle East. While there are some nations in the Middle East that completely refrain from serving alcohol, Oman is not one of them, and booze can be found at most hotels and resorts. Regarding dress codes, women should wear respectful clothing where their knees, shoulders, and cleavage are covered. Covering your hair while visiting a mosque, such as the Sultan Qaboos Grand Mosque in Muscat (which is a must-see for any visitor to Oman) is necessary. Men shouldn't necessarily be walking around in speedos, but they can essentially wear anything within reason.
The best times to visit Oman are between October and April. June, July, and August can be sweltering, so if you can handle the heat, those are not terrible times to visit. Note that during Ramadan, which takes place during the ninth month of the Islamic calendar, many businesses in Oman will be closed during the day, so you might want to take that into consideration when planning. To best determine when Ramadan might fall, note important Islamic dates.