This Unexpected Middle Eastern Nation Is Great For Solo Travelers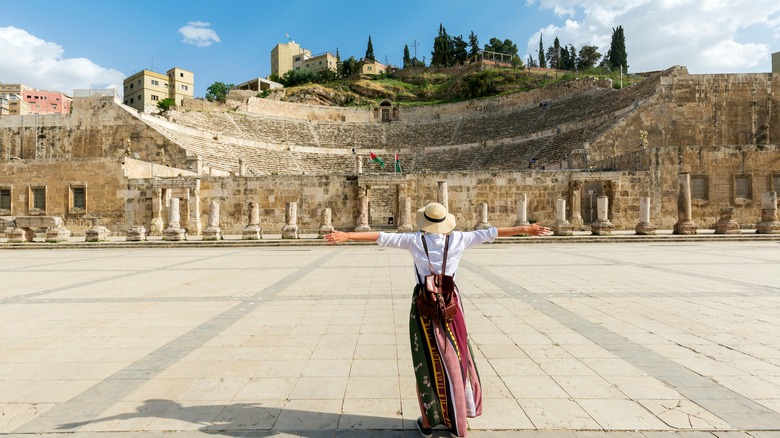 xamnesiacx84/Shutterstock
When many think of the Middle East, they automatically assume it's dangerous. While safety is subjective and depends on various factors, including but not limited to gender, race, and circumstances that are completely out of any traveler's control (like war and natural disasters), some destinations simply have better statistics when it comes to safety. Solo travelers are always looking for their next haunt, and safety is a factor many solo travelers need to take into consideration. While solo traveling to the Middle East might get some questionable stares from your friends and family, there's one nation that proves stereotypes are simply just stereotypes.
Jordan is a tiny Middle Eastern nation known for its natural, rugged beauty. It might be small, but it's mighty: in Jordan you can see a world wonder, float in the Dead Sea, and sleep under the stars. The best part is you can do all of it on a solo trip. Shatter some stereotypes about traveling in the Middle East, and come visit this enchanting country any time of the year with a party of one.
What makes Jordan so safe?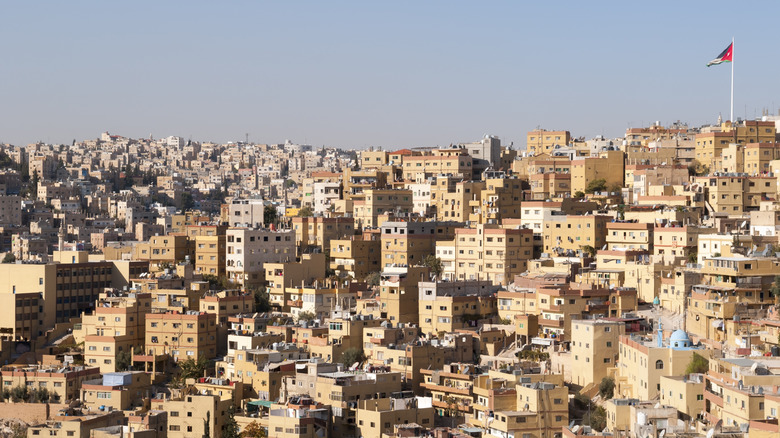 Joel Carillet/Getty Images
Despite misconceptions about traveling throughout the Middle East, Jordan remains tourist-friendly and locals are extremely hospitable and welcoming. Statistically speaking, Jordan has low crime rates (about 45% lower than the U.S., per NationMaster).
Solo female travelers are likely to enjoy Jordan without any issue, which is thought of as one of the Middle East's most progressive nations. However, like anywhere else in the world, it's advisable to take necessary precautions, such as avoiding remote areas at night, and most importantly, trusting your gut. A great way to blend in and to minimize unwanted attention is by dressing modestly. Women will want to dress somewhat conservatively, but as long as your shoulders, cleavage, and knees are not exposed, you can pretty much wear what you want within those rules. Covering your hair is not required.
LGBTQIA+ travelers can also consider Jordan as their next solo getaway. Homosexuality has been decriminalized in the country since 1951. However, there is still some social stigma around being a part of the queer community in Jordan as the country is still overall quite conservative.
Overall, Jordan is a desirable destination, not only for its unspoiled beauty, but for its inclusivity and safety measures for travelers. This is why so many tourists choose to come here solo.
Tips for visiting Jordan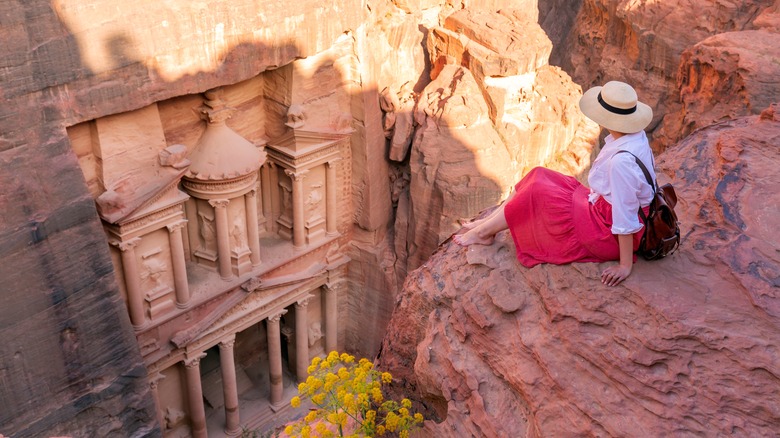 xamnesiacx84/Shutterstock
The most sought-after tourist attraction in Jordan is Petra, one of the new seven Wonders of the World. Note that to properly prepare for Petra, you'll want to wear sneakers or some equivalent of hiking shoes since it's rocky, and those stunning views overlooking the monastery require a hike.
If you want to go glamping, Wadi Rum is a must. Stay in a dome-shaped tent under the starry skies at Hasan Zawaideh Camp, and during the day, explore the sandstone and granite surroundings. You also won't want to miss out on the capital, Amman, where you can enjoy the Roman Theater and the Amman Citadel.
Despite all that Jordan has to offer, public transit is not great. Buses don't run on a schedule, and they don't come too frequently, so though it's possible to travel around relying on a company such as JETT, it can be tricky. Many choose to rent a car in Jordan, and while the roads are generally well-paved and straightforward, drivers can be aggressive. You can also hire a driver to get you to where you're going via Jordan Taxi, but the country is generally expensive, so this is not a budget-friendly option.
If you're hesitant to travel here alone but can't find anyone to join you, an organized group tour with a company such as Explore Worldwide is a great option. That way, you won't have to worry about planning, and you might even make some friends along the way.