How To Know If Your Car Seat Is Airline Approved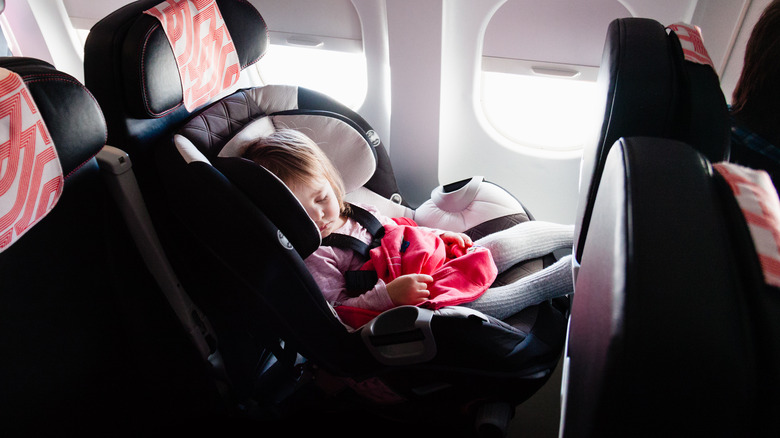 Alina Reynbakh/Shutterstock
Traveling with kids via plane, especially infants and toddlers, is admittedly not the easiest thing in the world. Because they require special assistance, not only will you have to haul around strollers, but you also have to bring car seats. The American Academy of Pediatrics recommends that when flying, children weighing less than 40 pounds must be in car seats for enhanced comfort and safety. When small children are properly restrained in the car seat, they are more protected mid-flight and during takeoff and landing.
It's also recommended that you bring your own car seat as opposed to renting, as most companies charge exorbitant fees for rental — it can cost around $13 per day — and you're not even guaranteed that you'll get a car seat that is appropriate for your little one. A father who had experience renting a car seat told Today that he ended up receiving one that was dirty and had missing parts. "We weren't expecting a luxury seat, but we were expecting something made within the last few years, still serviceable, and clean," he recalled.
You can't just bring any car seat, though. It's also vital that it's designed for flights, and as it turns out, one way to ensure that is by looking for a specific sticker.
Look for a specific label from the FAA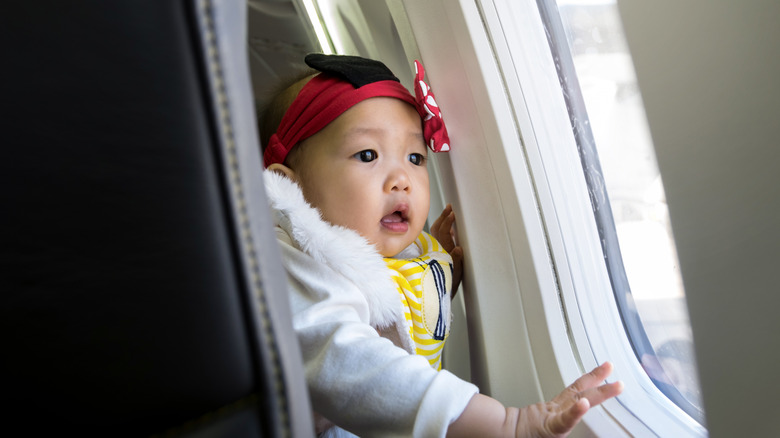 TZIDO SUN/Shutterstock
Not all car seats are created equal, and definitely not all can be brought onto flights. If you are going to bring one for your child, the Federal Aviation Administration notes that it should have a label that clearly indicates that it's safe for air travel. As stated on the FAA website, it's important that the car seat has a sticker that reads "this restraint is certified for use in motor vehicles and aircraft," because it explicitly implies that it's been vetted by the United States government to be safe for kids to use on flights.
Additionally, it's also a must that you do your due diligence and check if the car seat can actually fit the seat on the plane. "Airlines with a website are required to publish the weight of the narrowest and widest seats in each class," noted Rachel Rothman, chief technologist in the Good Housekeeping Institute.
Thinking of leaving your car seat at home altogether? Think again. Although parents are allowed to hold kids below two years old on their laps during flights, the National Transportation Safety Board is staunchly against it. "Turbulence-related accidents have occurred with children under the age of 2 in which caregivers have been unable to hold infants securely during turbulence encounters," explained Emily Gibson, NTSB survival factors investigator, to The Atlanta Journal-Constitution. The last thing you want is to harm your child because of a lack of a car seat.
Other tips for traveling with a car seat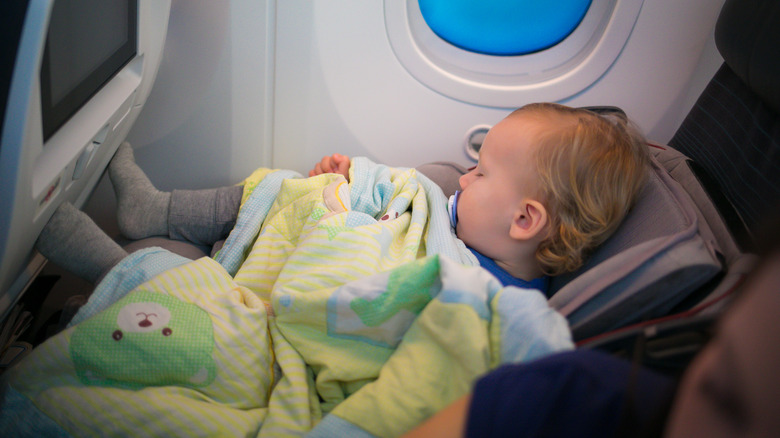 Michael Brin/Shutterstock
To make flying more bearable for you and your child, you may want to consider pre-boarding, too. Family travel expert Corinne McDermott told The Bump that doing so gives you ample time to prep your child for the flight ahead. "I prefer pre-boarding because it gives me the opportunity to get organized and settle the kids in their seat," she said. "You want to make sure you have access to a close overhead bin as well as have time to install a car seat if you brought one."
In the event that you can't spring for an additional seat for your kid under two years of age, and may therefore be unable to bring the car seat on board, it's worth checking with the flight attendants or gate agents if the flight isn't full. That way, they may be able to assign you a seat with no occupant next to it, allowing you to install the car seat and have your kid sit for free. If there's none, the flight crew will still gate-check your car seat at no additional cost. Alternatively, if it's your choice to check in the car seat with the rest of your luggage, you may do so without paying extra fees. Just be sure to wrap it in a car seat bag to ensure that it will remain intact.