Why This Popular City Was One Of Anthony Bourdain's Favorite Places To Visit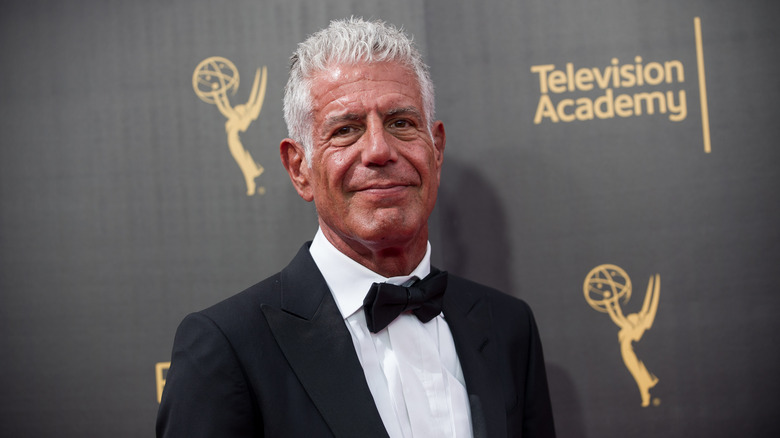 Emma Mcintyre/Getty Images
In the field notes for his CNN travel show, "Parts Unknown," the late Anthony Bourdain wrote, "If I had to eat only in one city for the rest of my life, Tokyo would be it." As a chef-turned-travel host, Bourdain was a citizen of the world who visited over 80 countries. Yet, in a 2017 Maxim interview, he reiterated, "If I had to agree to live in one country, or even one city, for the rest of my life, never leaving it, I'd pick Tokyo in a second."
Bourdain called his first trip to Tokyo "a transformative experience." In the Tokyo episode of his earlier Travel Channel show, "No Reservations," he expressed admiration for Japanese culture's attention to detail and how focused people were on one simple pleasure when not busy working. For Bourdain, this was typified by the centuries-old art of flower arrangement, ikebana. "I've always felt that all of the things that I love most about Japanese culture seem to be expressed in a nonverbal way by traditional flower arranging," he says around the 21:37 mark.
Of course, local eateries kept Bourdain returning to Tokyo — also a top city for shopping — as much as the rich culture. To see what he loved so much, you can seek out some of the restaurants and bars he visited, many of which are still operating 15 years after that "No Reservations" episode — in basements, on backstreets, and in towers high above the city. Here is Anthony Bourdain's Tokyo.
Where Anthony Bourdain ate in Tokyo on No Reservations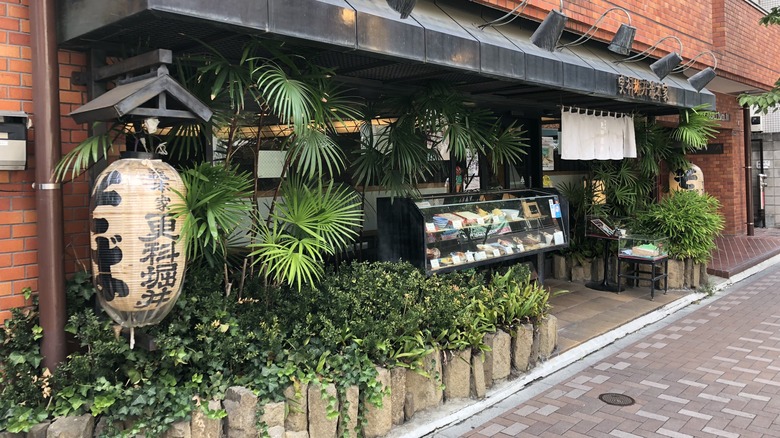 Joshua Meyer
Anthony Bourdain starts off his Tokyo episode of "No Reservations" by meeting his local guide, Masaharu Morimoto (known for his TV appearances on "Iron Chef America"), at Sarashina-Horii, a soba noodle restaurant near Azabu-Juban Station. The historic restaurant, founded in 1789, looks the same on the outside as it does in the episode (as seen in the photo above). Its specialty is white soba noodles, made from the buckwheat core. It's a more budget-friendly alternative to a sushi or teppanyaki meal at Morimoto's own flagship restaurant, Atelier Morimoto XEX, where he cooks an array of monkfish dishes for Bourdain later in the episode.
Bourdain describes XEX as a "high-end dining experience" (around the 15:58 mark), reflected by the steep prices. Contrary to the title of his show, it does take online reservations, as does Bar Ishinohana, the Shibuya establishment where Bourdain enjoys a fancy cocktail. At the end, he returns to Shibuya for drinks at Bar Piano on Drunkard's Alley (Nonbei Yokocho), located directly across from the new shopping complex, Miyashita Park. Both bars are within walking distance of Shibuya Station and its famous scramble crossing.
Bourdain also has yakitori at a place called Toriki in Shinagawa, and he observes kendo master Tadao Todo training students at the Nippon Budokan martial arts hall. Budokan doubles as a world-renowned concert venue, where bands including The Beatles and Cheap Trick have made live recordings. In 2023, it hosted Eric Clapton's five-night Tokyo residency.
Where Anthony Bourdain ate in Tokyo on Parts Unknown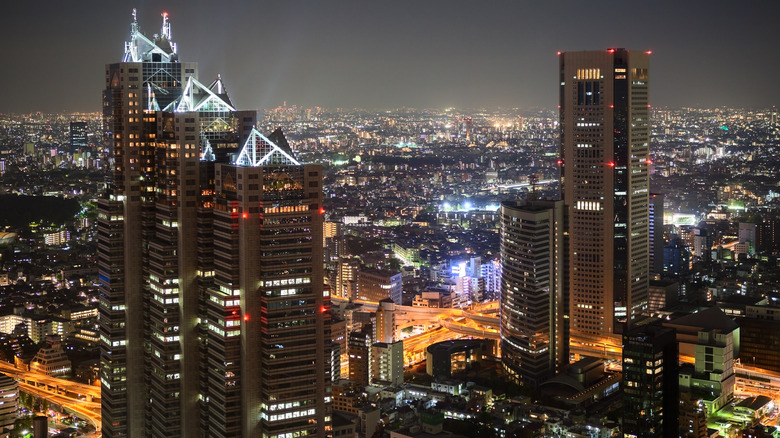 Kekyalyaynen/Shutterstock
In "Parts Unknown," Anthony Bourdain sips beer at the New York Bar on the 52nd floor of the Park Hyatt Tokyo, then walks through the hotel on his way out to experience the nightlife of the Kabukicho district, including the hole-in-the-wall Bar Albatross. Anyone can visit the hotel bar without booking a room, but if you can afford it, the Park Hyatt is where the movie "Lost in Translation" was filmed. It's worth at least a one-night stay if only for the amazing views of Shinjuku and Shibuya, Tokyo, from its three tower blocks (and your room).
The well-known tourist attraction Robot Restaurant impresses Bourdain, but, unfortunately, it closed permanently during the pandemic. The same goes for Sushi Bar Yasuda, the Minato restaurant run by karate practitioner and chef Naomichi Yasuda. Famed for its tuna auctions, the Tsukiji Market where Yasuda got his fish has also since relocated within Toyosu.
Under the train tracks outside Ueno Station, just off the shopping street of Ameyoko, you can still find Daitoryo, the place where Bourdain eats intestine stew. Tomato nabe at Mienoumi (in Koto) and kushiage and okonomiyaki at Mahakala (in Meguro) round out his culinary tour of Tokyo. However, he professes a singular love for the Japanese convenience store chain Lawson's egg salad sandwiches. So, even if you're not able to visit any of these other places, you can always pop into Lawson and grab a bite of Bourdain's Tokyo.