Yes, You Can Bring Food Into Universal Orlando, But There Are Some Exceptions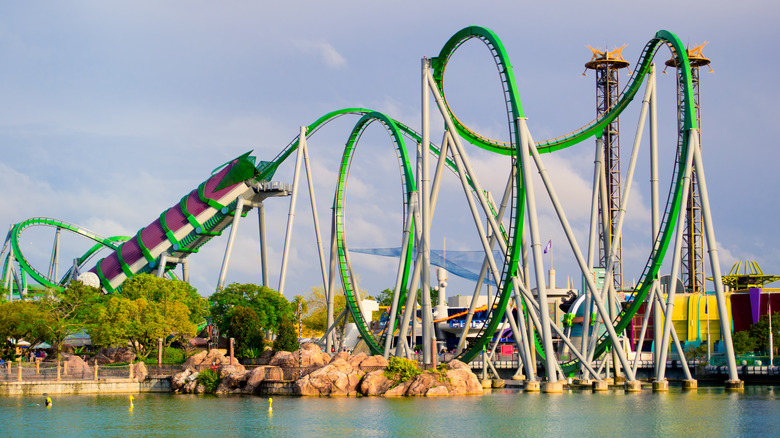 dmitro2009/Shutterstock
While all vacations require at least some planning, trips to major amusement parks tend to need some extra attention. After all, no one wants to end up like the Griswold family in "National Lampoon's Vacation" who drive for days to reach Walley World, only to find it closed for renovations. Universal Studios, for example, is a monster of a theme park. It's actually one of three at Universal Orlando Resort in Orlando, Florida, along with Islands of Adventure and Volcano Bay.
A trip to any of the parks at Universal Orlando Resort is an all-day adventure, if not more than one day. Therefore, each theme park includes multiple dining options — from the Leaky Cauldron in Diagon Alley to Thunder Falls Terrace in Jurassic Park. Add food to the cost of admission, souvenirs, and transportation, and your trip's total could get pricey. Even parking at Universal Studios can make a dent in your wallet. However, there are tips and tricks to help bring the cost of your trip down. One of these is to bring your own food — but some rules apply.
Universal Studios does not allow foods that need heating or refrigerating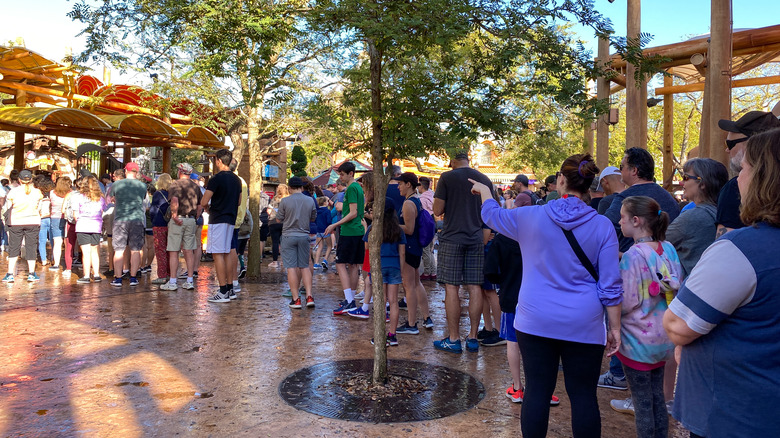 Joni Hanebutt/Shutterstock
As with most major public spaces, bags are subject to security checks prior to park entry. Drugs, alcohol, and weapons will not pass these checks. Surprisingly, Universal Orlando does allow park guests to bring in outside food. Per Universal Orlando policy, what is and what is not allowed mostly comes down to how it needs to be stored. Foods that need to be heated up or refrigerated are not allowed. This means that ready-to-eat snack items are your best bet. However, what Universal Orlando calls "picnic lunches" are not allowed.
No glass containers or hard-sided coolers are allowed, but small soft-sided bags are, as long as they are no larger than 8.5 inches wide and 6 inches deep. Most park visitors likely do not want to carry around a large cooler anyway, as a day at Universal Orlando means covering quite a bit of ground either on foot or motorized scooters. Additionally, rides often will not allow a large carry-on item. Low-maintenance food makes for lighter travel and easier access to park rides.
Universal Studios wants to accommodate guests with dietary needs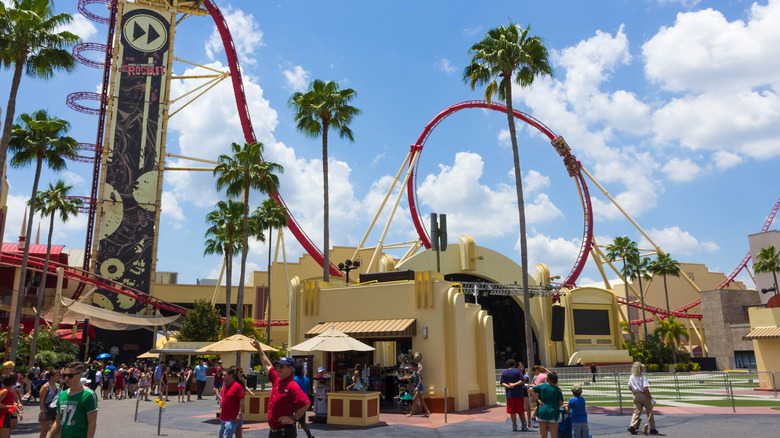 Solarisys/Shutterstock
For some visitors to Universal Orlando, cost is a concern, which might make them forego restaurants at the parks. For others, bringing food from outside of the park could be for medical reasons. Universal Orlando wants the parks to be enjoyable and as accessible for as many people as possible. This means that those with dietary restrictions, food allergies, or specific nutritional needs are allowed to bring foods that are necessary for such medical needs. Baby formula is allowed as well.
Florida is the southernmost state in the contiguous United States, which means it gets warm. Luckily, park guests at Universal Orlando can bring two liters of water per person, as long as it is in a sealed container. Bringing your own water can also help cut down on plastic waste. Everyone can help Universal Orlando reduce its environmental footprint by bringing reusable water bottles and using the recycling bins located throughout the park.