These States Follow Nevada In The Number Of Casinos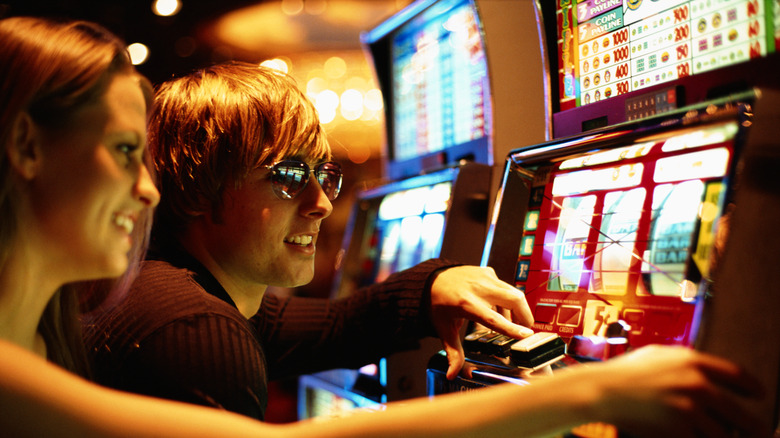 Hitoshi Nishimura/Getty Images
When one mentions casinos or gambling in the United States, most people probably first think of Las Vegas, Nevada. With its blaring neon lights, the colorfully costumed showgirls that traipse along the Strip, and the revelers that flock to casinos and nightclubs year-round for a night or two of unmitigated indulgence, the city is an icon of hedonistic fun and debauchery. It's not just Las Vegas, though. The entire state of Nevada has hundreds of casinos. However, this isn't the only state where partiers can get their gambling groove on in the U.S.
In the U.S., federal law permits Native American tribes to operate gambling facilities on tribal land through the Indian Gaming Regulatory Act. However, things are changing as state governments realize the massive potential for tax revenue these establishments can generate. For example, sports gambling, or sports betting, is starting to catch on in many states such as Georgia, Kentucky, Vermont, Kansas, Missouri, and Maine. However, these certainly aren't the first states to allow gambling operations within their borders. There are several states across the lower 48 where you can try your hand at poker, take a chance at the roulette table, or even score big on slots. You just need to know where to find them.
Montana, the Treasure State, lives up to its name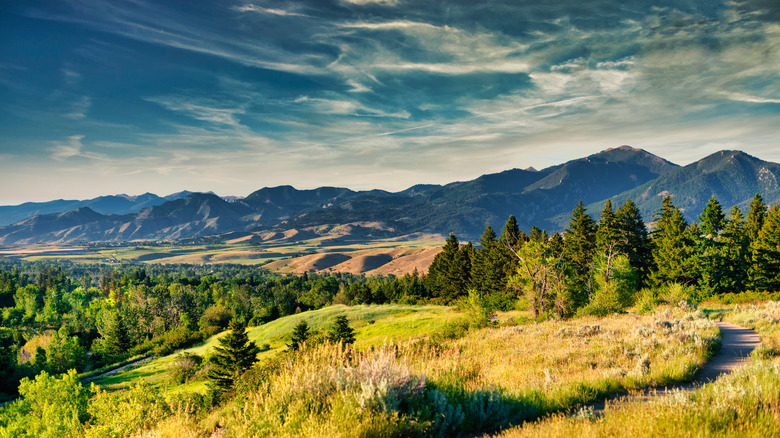 Lisa5201/Getty Images
Fittingly known as the Treasure State, Montana is not only home to part of the amazing Yellowstone National Park and some of the most amazing landscapes in the United States, but it is also the runner-up to Nevada in the number of casinos. There are lots of locations around the state where you can take your chances and maybe even score big winnings to take home.
Like many casinos outside of Nevada, several of Montana's casinos operate on tribal land. However, be aware that only some of these casinos allow what are called class III games, such as slots and table games. For the most part, gambling takes place at bars and taverns throughout the state at video gambling machines.
Per Discovering Montana, some of the best casinos in the state are Glacier Peaks Casino in Browning, the Jackpot Casino in Bozeman, and the Montana Nugget Casino, one of the oldest casinos in the state, which has locations in Helena, Billings, and Kalispell. All of these locations offer slot machines, video machines for poker, and even bingo.
Find your winnings on the bayous of Louisiana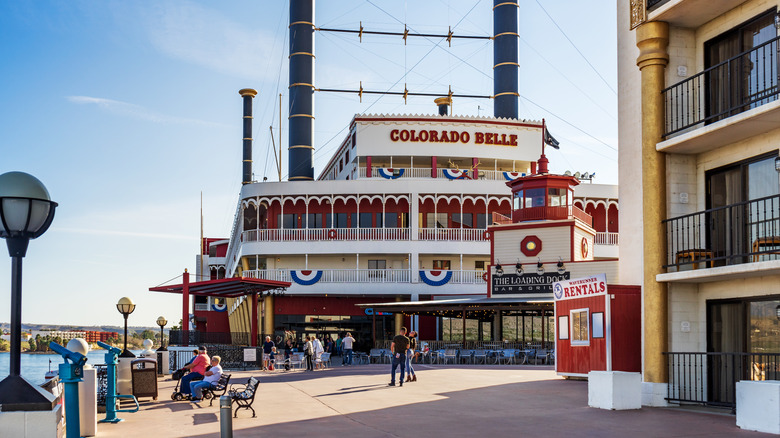 Felipe Sanchez/Shutterstock
It's no surprise that the home of some of the world's best Mardi Gras celebrations and the birthplace of American Poker is also one of the best places to test your luck and do a bit of gambling. In fact, there are many places where you can throw some dice, bluff to win, and bet against the slots in the Bayou State. Today, the casino scene is changing rapidly to accommodate a more liberal view of gambling in Louisiana, with the famous riverboat casinos now being allowed to move off the river and remain permanently docked, with some entirely moving to dry land.
Today, you can visit the famous Harrah's New Orleans casino on Canal Street, the most hustling and bustling street in the city right next to the French Quarter. There are also casinos throughout the state that you can visit, including the Margaritaville Resort Casino in Bossier City, the perfect place to visit for die-hard Jimmy Buffet fans. To see the largest casino resort in the state, head to the Coushatta Casino Resort in Kinder, which has table games and local specialties like Cajun Stud.
You'll be swimming in slots in Oklahoma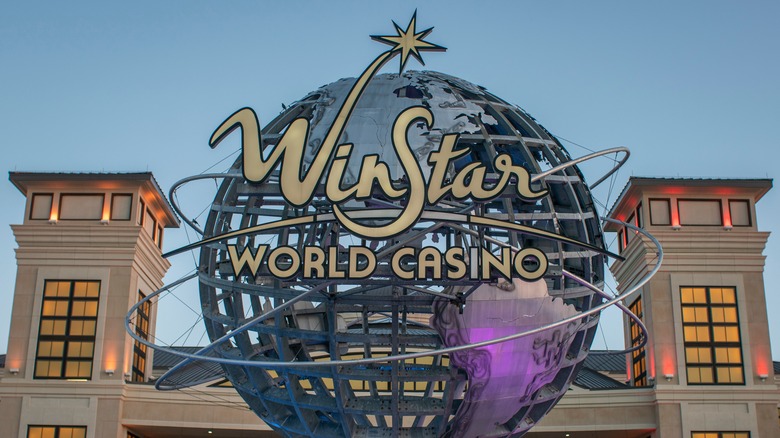 University of College/Shutterstock
Oklahoma is still in its youth when it comes to legalized gambling, but that doesn't mean the casino scene isn't impressive. It first made horse racing legal back in 1982 and gradually permitted other types of gambling, such as bingo in 1992, the lottery in 2003, and casinos the same year. We can only assume 2004 must have been an exciting year for Sooner State residents as they were permitted to engage in many different types of gambling by this point.
If you want to check out the OK gambling scene, you have to visit one of the best casinos in Oklahoma, WinStar World Casino and Resort. This casino's claim to fame is that it's the largest casino in the world. Yes, you read that right. The WinStar has a casino complex that's nearly 400,000 square feet in size, packed with slot machines, poker tables, table games, and a large bingo hall. If you get lost in this place, you certainly won't starve as there are many restaurants that can fix any craving you might have.
California is the Wild West of gambling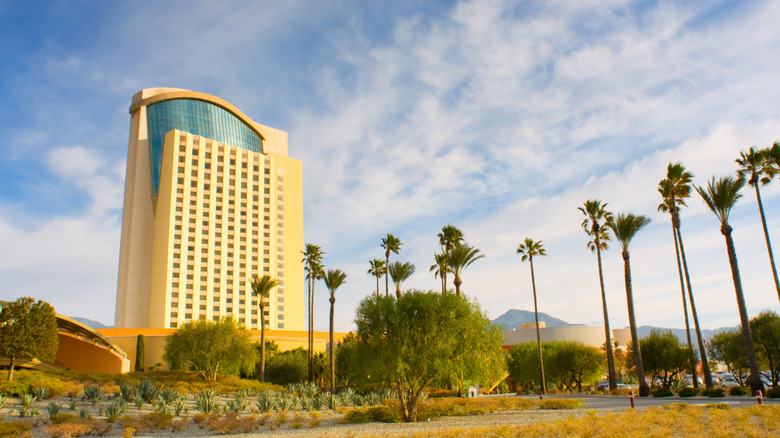 Byronwmoore/Getty Images
The Wild West of California and gambling go together like poker chips and aces. Gambling in California has existed since the Gold Rush and persisted through the establishment of its statehood and into the modern day. Poker rooms, casinos, and horse tracks are woven into the fabric of this coastal colossus. However, California isn't all that different from other high-stakes states on this list. The gambling industry is highly regulated and a major source of state tax revenue.
As with many states in the U.S., gambling has found a substantial backdoor through tribal land, allowing Native Americans to own and operate casinos throughout the state. However, the state has control over the games played. For example, craps isn't played with dice here, it's played with cards.
If you make your way to the West Coast, you can find some of the best casinos in Temecula, namely the Pechanga Resort and Casino. Head up to Cabazon, just northwest of Palm Springs, and you'll find the Morongo Casino Resort and Spa. There is also a sprawling outlet mall here where you can spend your winnings with haste. If you prefer the cooler temperatures of Northern California, head to Thunder Valley Casino Resort in Lincoln, just outside of the state capital of Sacramento.
Get your Hard Rock on in Florida's best casinos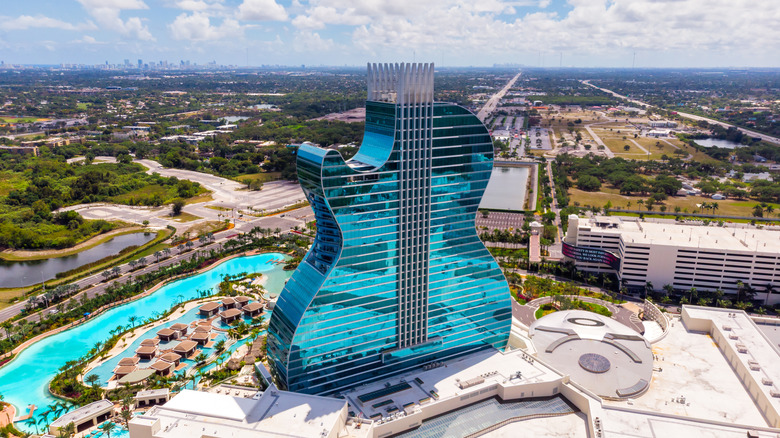 YES Market Media/Shutterstock
Gambling and other such debauchery in Florida is as natural as an alligator in a swimming pool — it's the home state of the native and unpredictable "Florida Man," after all. Florida falls sixth on the list of states with the most casinos. The Seminole Tribe has exclusive rights to class III games (slots and table games like blackjack), making them an incredibly powerful player in the casino scene. To give you an idea of how powerful, this tribe owns the Hard Rock brand, which has casinos, hotels, resorts, and cafes all over the world.
As you can imagine, Hard Rock dominates throughout the state since they are among the only casinos that have table games and slot machines. The Seminole Hard Rock Hotel & Casino in Hollywood, north of Miami, is probably one of the best and least forgettable with its 450-foot-tall guitar-shaped hotel and sprawling pool that overlooks a man-made lagoon.