This Middle Eastern Nation Is A Foodie's Dream Destination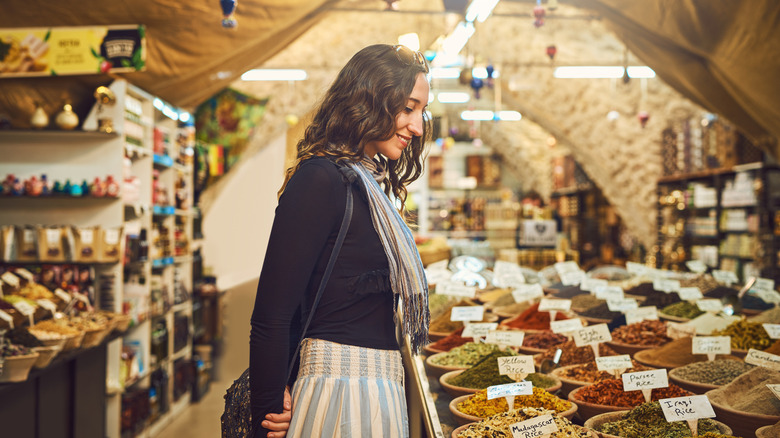 Charday Penn/Getty Images
Middle Eastern cuisine covers a wide array of flavors. From bursts of fresh pomegranate and the warm flavors of the Mediterranean to the use of humble ingredients like rice and chickpeas, Middle Eastern food, generally speaking, knows no limits when it comes to producing some seriously delicious eats. While the Middle East as a region covers 18 countries, there's one nation in particular that pumps out some of the best bites in the region.
Israel is a small country located on the Mediterranean Sea, east of Egypt. It is widely regarded as the biblical Holy Land, with Jerusalem being considered the holiest city. While many flock to Israel to learn about the country's rich culture and history, they are left pleasantly surprised when they discover just how incredible Israeli cuisine is. All food in the Middle East is overall stellar, but if eating well is a priority in your travels, Israel simply needs to be added to your bucket list.
What to order in Israel
Chzu/Shutterstock
If you're going to head to Israel specifically to try the best food, you'll need to know what the must-try dishes are. You've probably heard of falafel, a popular street food around the globe, but there are fewer better places in the world to try falafel in than Israel.
Israel has no shortage of breads and baked goods. You'll need to try beigeleh, a round bread with a hole in it that is similar to a bagel but a bit crunchier, Bourekas, which are a phyllo-dough stuffed pastry (typically with cheese), challah (the most well-known Jewish bread), and lepeshka, a crispy round bread that has origins in Central Asian nations like Uzbekistan.
Israeli salad, sabich, and rugelach are among the most popular bites you can order in Israel. But don't skip out on labneh, a soft-cheese made from strained yogurt, and charoset, an apple-walnut spread with heaps of cinnamon throughout. 
If you want to enjoy a sit-down meal, head to some of the country's many fine-dining restaurants. Red Heifer Steakhouse in Jerusalem ought to do the trick for a great Kosher meal, and if you want a proper introductory meal upon landing in Tel Aviv, head to West Side for some of the city's best bites.
How many days to dedicate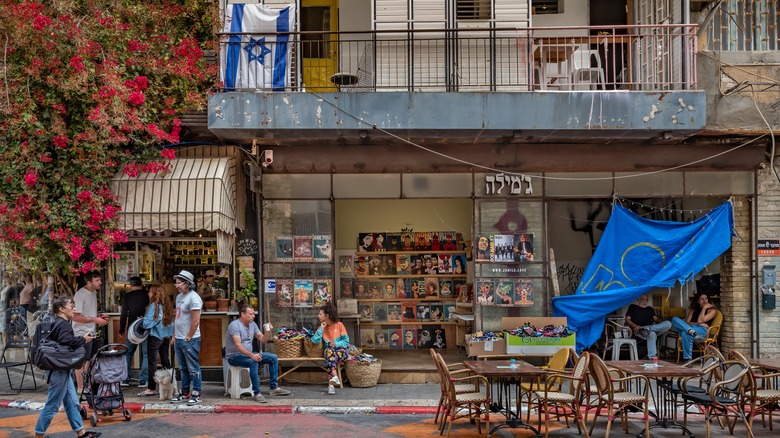 Boris-B/Shutterstock
Something to consider when visiting Israel is the amount of time needed to spend here. Israel might be a small nation, but you could spend months here and not see everything. The country holds so much fascinating history and covers a wide array of landscape, so you'll want to plan accordingly to ensure you don't miss some of the most popular sights.
Most people who come to Israel fly into Tel Aviv, the country's capital. Tel Aviv is a metropolis located on the Mediterranean Sea, and is absolutely worth spending at least a day or two in. It's a vivid, fun city, and is even recognized as one of the best LGBTQIA+ cities around the globe. Certainly don't only stick to Tel Aviv when visiting Israel, but don't completely skip it.
Tel Aviv aside, you'll absolutely want to visit Jerusalem, best known for being the holiest city in the country. The city of Haifa is home to the impeccable Bahá'í Gardens, and no visit to Israel is complete without floating in the Dead Sea. A visit to nearby Palestine is also essential.
While you can rent a car or use guided tours to get around, Israel has a great train system that makes it easy to travel throughout the country. The best way to navigate your stay is by signing up for an Israel Pass, designed specifically to allow tourists to see several parts of this fascinating nation.