Why Tourists Are Calling This Country The Most Friendly In South America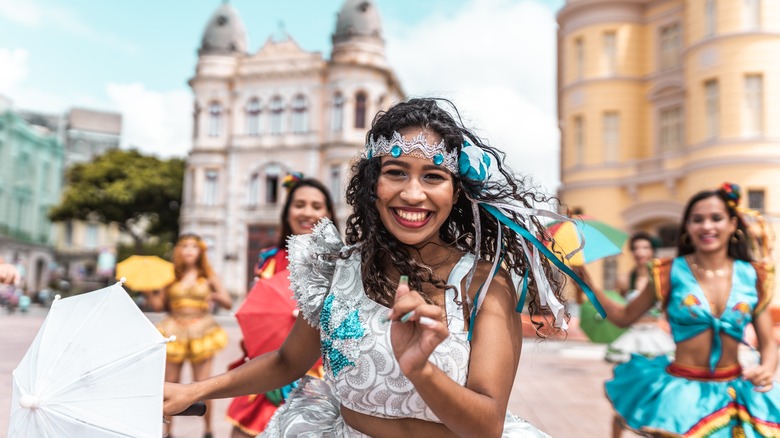 Brastock/Shutterstock
There are many things to take into account when choosing where to travel: cost, nature, museums, and food come to mind. Most travelers also want to experience the local culture and the best way to do that is to mingle with the locals. When people share their intel and hidden gems that you won't find in guidebooks, your vacation becomes that much better. So, it stands to reason that you'll want to go where the friendly locals are: and, according to tourists, in South America, you'll need to look no further than Brazil.
Brazil is best known for its beaches, rainforest, carnival, samba dance, and caipirinhas (cheers!). And based on what visitors to this beautiful country have to say, "friendly locals" should be added to the list. Blogger Backpacker Lee sang the praises of the seaside city of Rio de Janeiro, noting that it's full of Brazilians who love to have fun and are more than happy to include you in their festivities — especially when there's a carnival involved. He noted that further north in Manaus and Jericoacoara, the people were also very friendly.
Visitors get a warm reception in Brazil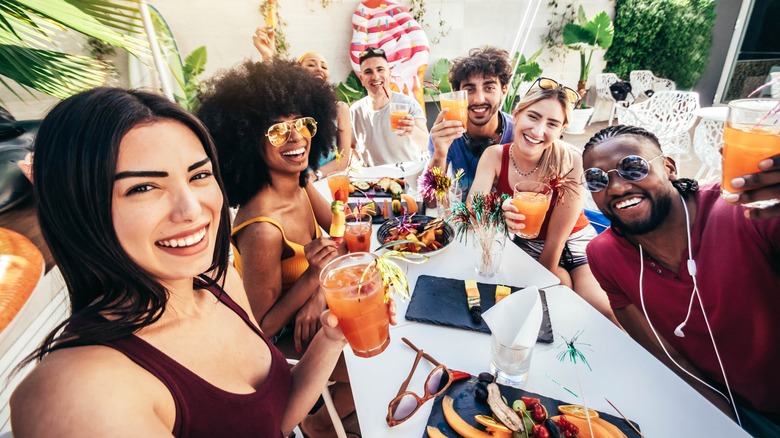 DavideAngelini/Shutterstock
Some cities and countries are known for not being huge fans of tourists or expats — but Brazil isn't one of them. "I've been in Brazil nearly 6 months now and I've never been treated so well in my life!" wrote Reddit user lumberjackabroad. "I've been to 40+ countries and the reception from Brazilians has been the warmest."
And according to one Brazilian who runs the blog What About Brazil, most locals indeed love to befriend foreigners — and they're more than happy to show them around or even invite visitors over for an authentic home-cooked meal. So if you're planning a trip to Brazil, be flexible with your itinerary in case an opportunity arises to spend time with locals — after all, there's no better way to learn about a new country than to spend time with the people who call it home. Plus, home-cooked feijoada sounds pretty darn appealing to us.
Friendly locals are just one reason to visit Brazil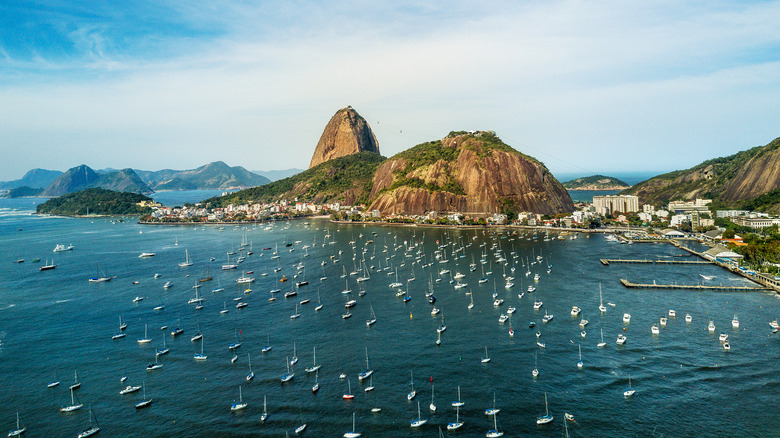 Nikada/Getty Images
When you're deciding where to take your next vacation, you can definitely add "friendly locals" to the "pro" list for Brazil. And although the people certainly make your experience that much more enjoyable and richer, there's already no shortage of reasons to visit Brazil.
In addition to some of the world's best beaches, like Copacabana and Ipanema, it's also home to a large, biodiverse stretch of the Amazon rainforest. In addition to beaches and hiking, it also offers a whole lot for history and culture buffs, like the Carandiru Prison Museum, Historic Centre of Salvador de Bahia, and of course the famous Christ the Redeemer statue. Traveling during the off-season? Fernando De Noronha is the perfect destination during cold-weather months.
Plus, Brazil has a lively nightlife and plenty of great entertainment. Go to the beach to watch the sunset, take in a samba performance (or get adventurous and take a class!), drink a caipirinha, or go to a soccer game. Regardless of what you decide to do, it sounds like you'll be met with friendly locals.