Adventure Enthusiasts Should Experience Rio De Janeiro From A Breathtaking Helicopter Tour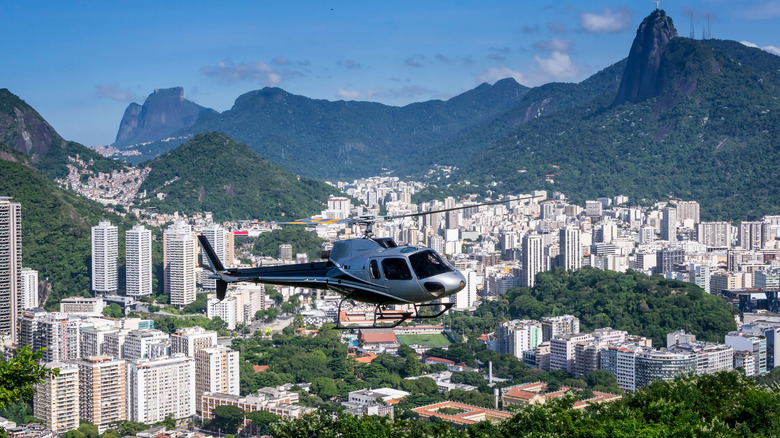 Dan Baciu/Shutterstock
Rio de Janeiro is a seaside city in Brazil, and it makes the perfect destination for anyone who is an adventure enthusiast. Rio de Janeiro is home to iconic monuments and beaches, including the Christ the Redeemer statue that overlooks the city, and Copacabana, one of the best beaches in the world. There is also the Tijuca National Park with its hiking trails, waterfalls, and over 200 bird species. If you're an adventure enthusiast, then Rio de Janeiro will also give you plenty of hiking and rock climbing options at Pedra da Gávea and Sugarloaf Mountain.
However, if you really want to take your adventure to the next level, then you must take a breathtaking helicopter tour of the city. From the air, you'll get to see the stunning views of Sugarloaf Mountain, Copacabana, the Christ the Redeemer statue, and so much more. Plus, a helicopter tour will not only provide you with a thrill but also stunning photographs and a unique experience for the whole family or group of friends.
Aerial views of Rio de Janeiro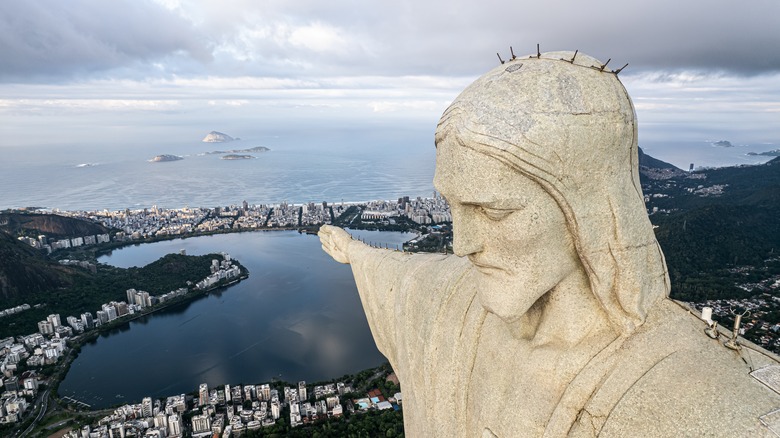 Brastock/Shutterstock
There is a multitude of reasons to take a helicopter tour in Rio de Janeiro. For starters, the aerial views of the city will be something you won't forget anytime soon and will provide you with plenty of photo opportunities. According to Helicopter Travels, helicopters are capable of moving quickly and easily, so the pilot can maneuver the flying machine at different angles to explore the city. Plus, helicopters can fly closer to the ground, giving you better views of the land below.
Nathalie from SeaBookings undertook a helicopter tour of Rio de Janeiro with her dad and during their experience, the pilot flew them right next to the head of the Christ the Redeemer statue, and along Copacabana. She describes the experience as unique and worth the money spent. We can argue that helicopter tours are quite popular in Rio de Janeiro due to the high amount of helicopter operators in the area. But not all tour operators are equal.
Helicopter tour operators in Rio de Janeiro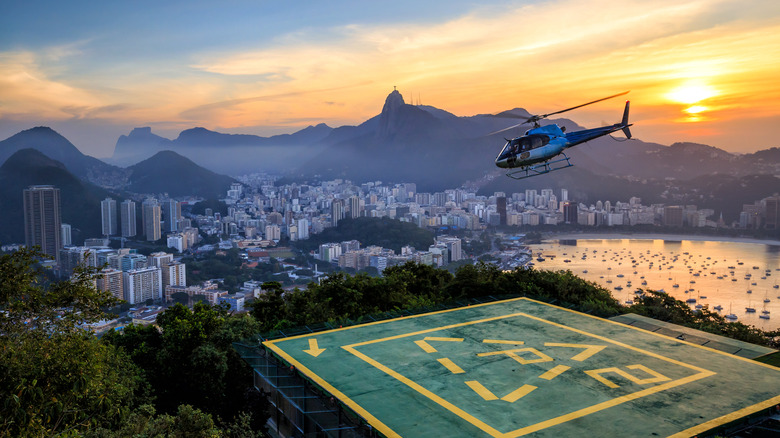 f11photo/Shutterstock
Helicopter tour operators include Helisul, which is recommended by Planet D. Helisul offers two take-off locations, one at the Lagoon and the other at Sugar Loaf. Meanwhile, adventure enthusiasts will find plenty of options with Rio Adventures and Rio Carioca, which both offer a variety of tours such as rafting, hang gliding, parachuting, and of course, helicopter tours. Riocopter specializes in helicopter tours specifically and offers tours that can last between 25 to 55 minutes, flying over many points of interest.
No matter which helicopter tour operator you choose, there are a few things to keep in mind. According to Independent Helicopters, the seating arrangement will likely be done by the pilot due to the impact of the height and weight of the passengers. You will also need to make sure to wear comfortable clothes and closed-toed shoes, and no hanging jewelry or scarves. Lastly, don't forget your camera! You will want to take some cool pictures and capture the amazing views of Rio de Janeiro.