The One Thing You Should Do After A Long Road Trip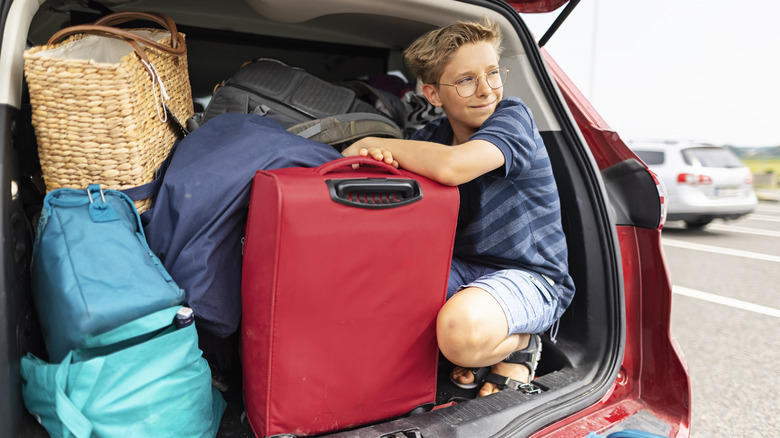 Imgorthand/Getty Images
Getting out on the open road and exploring the great unknown can be thrilling. There's something endlessly appealing about a road trip that keeps us jumping behind the wheel time and again. A recent survey by the team at The Vacationer reported that more than 80% of their respondents would be taking a road trip in 2022 with those numbers expected to rise in years to come.
Whether you're enjoying a road trip to the next state, or you're planning to travel across the country, there are fascinating stops to experience along the way. However, for all of the fun and adventure involved, road trips are also fairly hard on the vehicle you choose to use. From the many miles traveled and routes that take you through rugged terrain, it's no secret your vehicle looks different at the end of your road trip than at the beginning. Not to mention a vehicle's interior that finds itself on the receiving end of crumbs, toys, and sticky fingers when you're traveling with little ones.
Yes, messes are expected when it comes to road-tripping. That said, the prospect of having to immediately clean up your vehicle upon return home has a way of taking the shine off the experience before you've even set out. That's why the one thing you should definitely plan to do after your adventure is have it on the calendar to have your vehicle detailed.
Relax while professionals handle the cleaning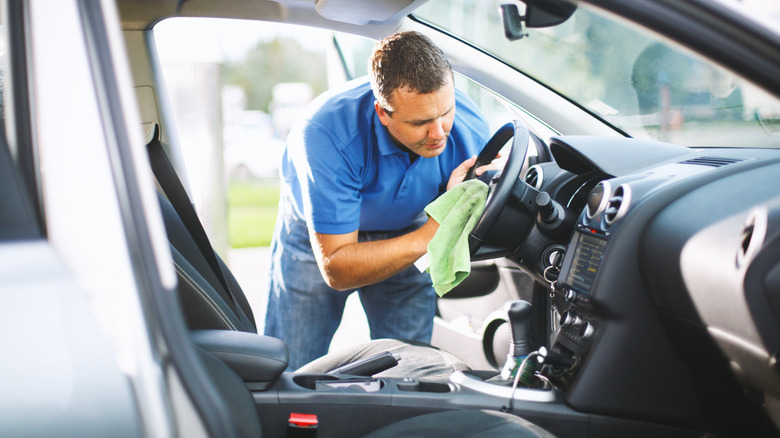 Gilaxia/Getty Images
Having your vehicle detailed after a road trip is a simple way to gift yourself some well-deserved peace of mind. Instead of worrying about the messes you'll have to deal with upon your return, you can focus exclusively on the travel fun ahead and leave the clean-up to the professionals. Detailing companies offer varying price points for different services which makes it easy to pick a solution that works with your budget. On average, a typical detailing experience will likely cost anywhere from $50 to $300 depending on how much cleaning you have done.
Standard auto detailing frequently focuses on meticulously cleaning the interior of a vehicle from top to bottom. It can also include exterior vehicle care upon request. You can expect interior services to range from glass cleaning and leather touch-ups to vacuuming everything from the trunk and seats to cargo spaces, air vents, and any other hard-to-reach areas one might generally overlook.
A thorough car detailing appointment will typically take between four and five hours. This can vary depending on the size of your vehicle and the number of services you're having done. If your road trip included time driving through rough terrain, having detailers take care of the exterior of your vehicle after a trip is always a good idea. This type of detailing option can include washing the vehicle, waxing the exterior, steam cleaning the engine, applying paint touch-ups, and attending to tire cleaning and treatments as well.
Make an investment in future road trips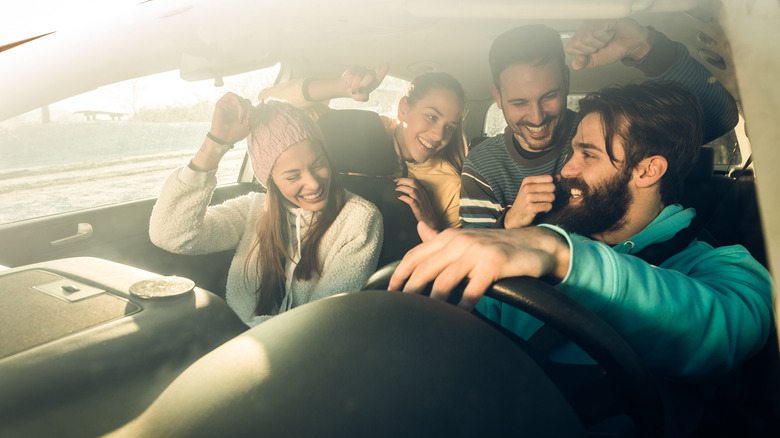 Skynesher/Getty Images
Having your vehicle detailed after a road trip offers more than just post-travel stress relief. It's also a great way to keep your vehicle in premium condition for longer. This makes detailing a valuable investment in your future travel plans.
Detailing can provide big benefits to your vehicle's overall lifespan. Interior cleaning protects upholstery thanks to stain removal being built into the detailing process. Detailing teams will also take time to completely remove grime, debris, and crumbs from your vehicle that can lead to foul odors over time. Having your vehicle's exterior detailed keeps paint in prime condition and scratches at bay thanks to durable wax applications.
The choice to have your vehicle detailed after a long road trip can contribute to enhanced safety and health standards on your next outing. A detailing team will thoroughly clean your air vents and filters during servicing. This reduces the number of pollutants and allergens you're circulating in your vehicle leading to cleaner air for passengers to breathe. Detailing that includes windshield and mirror cleanings helps improve driving visibility too.
When you know you have a detailing appointment scheduled after a road trip, you expand your options for traveling fun. There's no reason to panic about the mess the kids make in the back of the car or what the journey through a national park will do to your paint. Instead, you can relish the experience and leave the rest to the detailing experts.