One Thing You Should Do With Your Phone Before Leaving For Vacation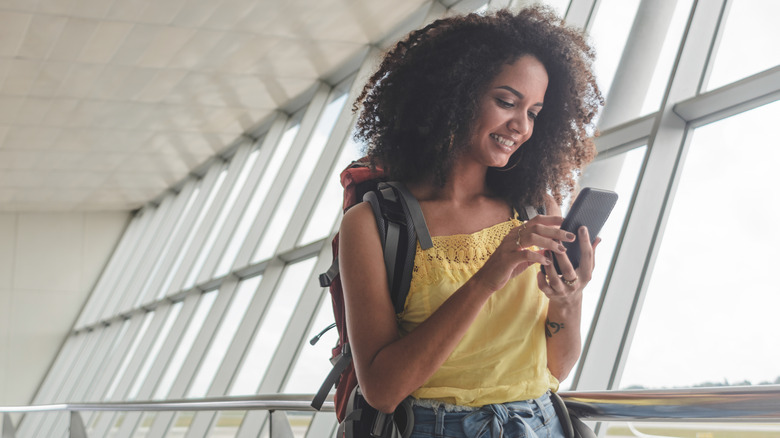 Wagnerokasaki/Getty Images
If you travel regularly, you may have already developed a pre-travel routine that helps ensure your upcoming trip goes as smoothly and stress-free as possible. This can include double-checking both your carry-on and check-in luggage to ascertain that you haven't overpacked, assembling your everyday bag, gathering the necessary documents, including passports and travel insurance, and contacting your bank to inform them that you'll be using your credit cards elsewhere.
A pre-travel routine may also involve doing additional research on your destination just to see if you've missed out on any hidden gems or must-visit sites when you first put together your itinerary, exchanging your money for the local currency, and planning your public transportation route. Of course, electronics are also included in this planning process, because — let's face it — can you really unplug for days at a time? Fine, you probably can, but we're pretty sure you don't want to. Before you fly, you presumably also pack adapters and power banks with you, as you don't want to run out of battery in the middle of an unfamiliar place.
You may be forgetting one thing, though, and that's prepping your phone, too. Your phone is likely one of the few things that never leaves your sight, as you use it to call, navigate, and — perhaps most importantly — take pictures. And so, before you even leave your home, it's crucial to make sure that your device actually has enough space to store your travel photos.
Don't forget to free up space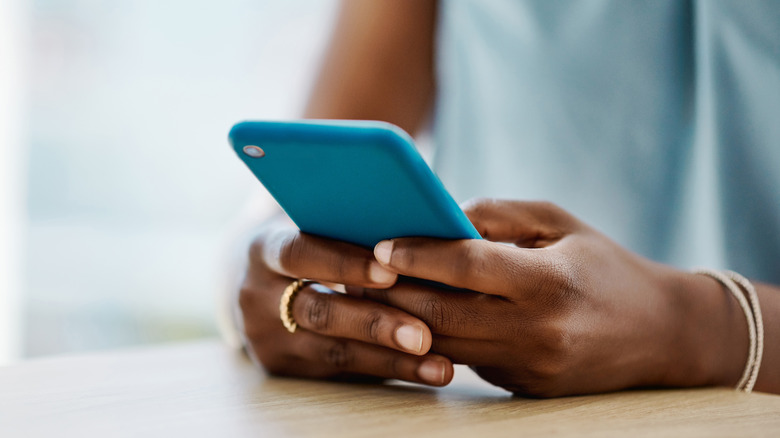 Delmaine Donson/Getty Images
Picture this: You finally arrive at the tourist spot you were most looking forward to the whole trip, and you're ready to immortalize the moment by taking as many pictures and videos as you can. But in the middle of your vlogging, your phone suddenly alerts you that you're short on space. You're left with no choice but to either delete the cutest pictures of your cat or simply stop documenting the trip altogether. You don't want to be stuck in that situation. And besides, who would ever want to delete photos of their precious cat? 
Prior to your vacation, you must see to it that your phone has enough digital real estate to document whatever you want during the trip. It's better to find out that you're short on space at home rather than midway through your vacation. That way, in case your memory is running low, you can easily transfer your media to a computer and hard drive instead of being forced to delete them on the spot. Prepping your phone means you get to preserve AND memorialize new experiences.
Now, depending on what type of phone you have, you also have the option to store some of your photos in the cloud, or simply switch memory cards if your device has expandable memory. Whatever you decide, just make sure in advance that you will have enough space to store new content.
Consider getting an eSIM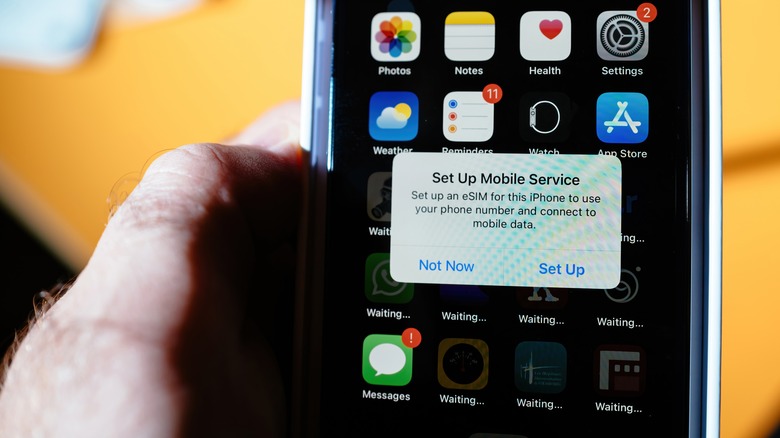 Hadrian/Shutterstock
If your trip is overseas, you may also consider securing an eSIM instead of buying data plans from your carrier. Plans typically cost around $10 per day for calls and data, and while that may seem like a lot, using your usual carrier could all quickly add up if you're away for an extended period of time. You definitely don't want to be slapped with a hefty phone bill when you return home.
An eSIM is ideal for travelers as it can help you bypass hefty roaming fees. It's pretty easy to install as well. You simply have to select your eSIM provider online, purchase a data package that suits your needs, and activate it once you reach your intended destination. eSIMs typically have worldwide coverage, so you won't have a hard time connecting to a network in another country. Data plans are also on the more inexpensive side, with prices based on how much data you need and not on how many days you'll use it. For instance, one eSIM provider offers a 10GB plan that you can use in Mexico for up to 30 days. If you do the usual route of relying on your carrier, data access can cost you $300.
The best part about eSIMs is you don't have to go through the hassle of switching SIM cards. When you're back home, all you need to do is deactivate it, switch to your usual SIM, and use your phone as you normally would.