How To Use The Budget-Friendly Public Transportation When Exploring Buenos Aires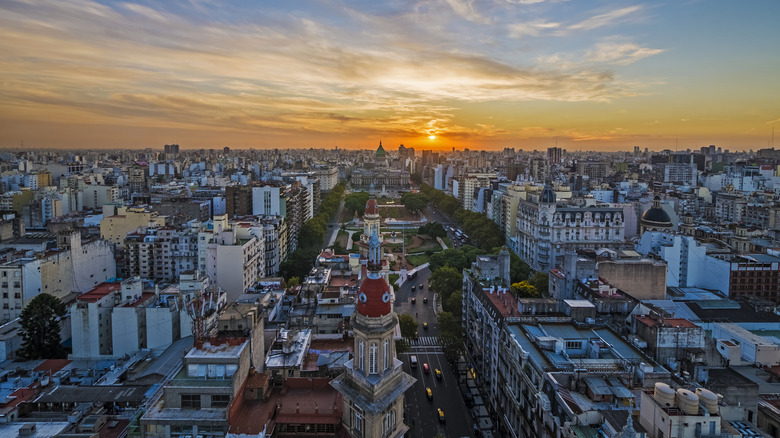 David Haykazyan/Shutterstock
Buenos Aires, Argentina is a huge, diverse city with tons of incredible sights, including blogger Nomadic Matt's favorites of the Recoleta Cemetery, San Telmo Market, and the National History Museum. To visit all of these places during your trip to the Paris of South America, you're going to need a way to get around.
Turismo Buenos Aires writes that the subway (subte) is the best way to travel around Buenos Aires. With six lines that connect most of the city together, it's the most efficient way to get around and will take you from sightseeing in the ornate Recoleta Cemetery to watching tango dancers in Belgrano seamlessly. However, be warned that the subway can get very crowded during rush hour, so plan to travel after 9.30 a.m. and outside of the hours of 5 – 7 p.m.
The buses (colectivos) are another great way to get around Buenos Aires, according to World Nomads. Buses here are, however, not for the faint of heart. You'll need to be nimble to get on and off quickly before the doors close on you, and you'll need to be able to tell the driver where you're going in the city when you get on.
Using a SUBE card in Buenos Aires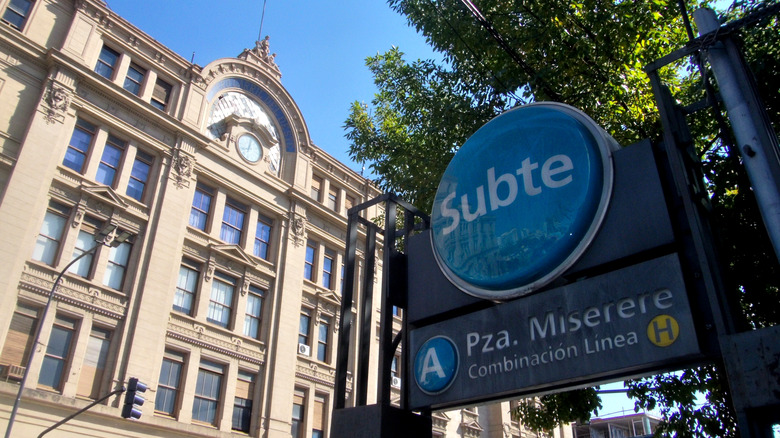 nesssss/Shutterstock
Before you can use the transportation in Buenos Aires, though, you're going to need to buy a SUBE card. The card covers the subway, buses, and local trains, according to Glenn from Secrets of Buenos Aires, who also points out that you can't pay in cash for these services anymore. So, the purchase of the card really isn't optional. You can buy them in subway stations and at street kiosks, and top them up using a machine (per Turismo Buenos Aires.)
The fares are incredibly cheap; Secrets of Buenos Aires recommends budgeting about USD 1.80 per day if you plan on using both the subways and buses. World Nomads have a couple of notes on your SUBE card. First, if you're traveling in a small group, you can buy one SUBE card and share it. And secondly, about the buses: the reason you need to tell the driver where you're going is that they will calculate the fare you need to pay before you tap your SUBE card, so get your map out before hopping on board. You don't need to tap your card when you get off.
Other ways to get around Buenos Aires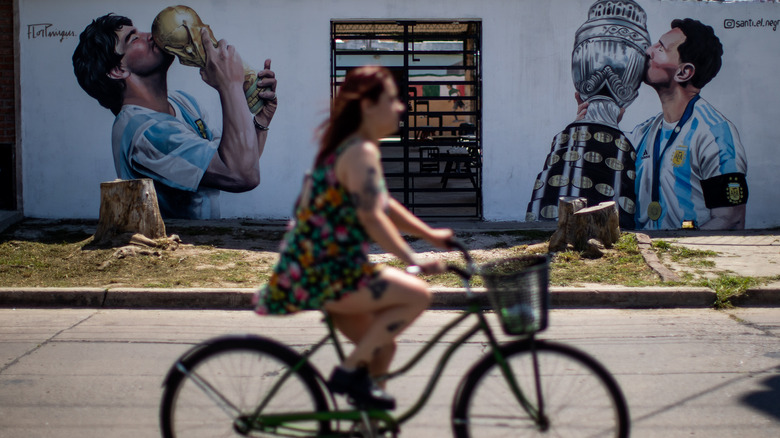 Tomas Cuesta/Getty Images
We can't forget about the most budget-friendly way to traverse the city: on foot, no SUBE required. Frommer's says that the center is pedestrian-friendly, and you can easily walk around some of the more touristy neighborhoods, reserving the subway for moving between areas. They do warn, however, that the sidewalks aren't very well maintained and, to put it plainly, you might step in dog poop. Leave your Gucci loafers at home. Another free way to get around the city is by bike –- yes, it's really free, thanks to the public bike-sharing scheme the city operates (per Turismo Buenos Aires.) There are almost 125 miles of cycle lanes to keep you out of harm's way, too.
If you're slightly less budget conscious, grab one of the city's plentiful taxis. Frommer's says a trip won't usually cost more than USD 10; just make sure you get in one with a plastic light box on the roof or, better yet, ask your hotel to call you a radio taxi. Finally, Frommer's says don't rent a car. The city is not car-friendly, at least for tourists.