Visit These US Destinations For A More Eco-Friendly Vacation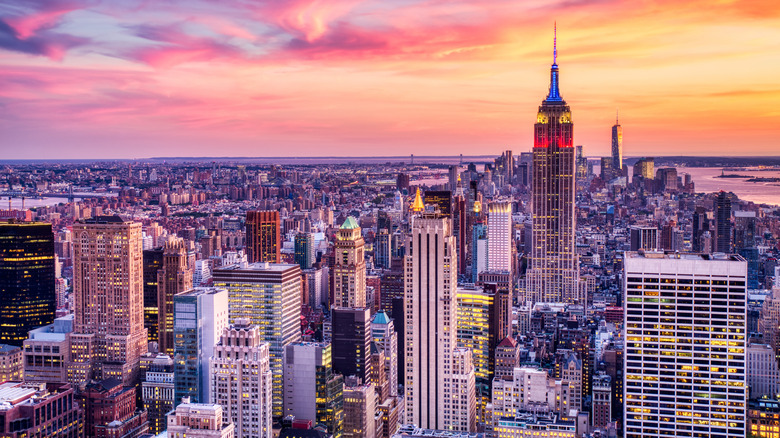 RomanSlavik.com/Shutterstock
In a world where environmental consciousness is no longer an option but a necessity, travelers are seeking destinations that not only captivate their senses but also align with their commitment to sustainability. As we yearn to connect with the world around us, the allure of venturing to eco-friendly destinations has gained momentum. Embracing a profound synergy between nature, culture, and sustainability, these destinations invite travelers to immerse themselves in experiences that not only rejuvenate the soul but also leave a gentle footprint on the planet. 
Urban adventures, often associated with bustling streets and towering skyscrapers, might not be the first thing that comes to mind when envisioning an eco-friendly vacation. However, a growing number of U.S. cities are redefining the narrative, showcasing how metropolitan areas can lead the charge in environmental conservation. The selection of these eco-friendly destinations was based on criteria aimed at identifying destinations that prioritize sustainability while offering an enriching travel experience. 
The cities were evaluated on their availability of public transportation systems, commitment to renewable energy sources, availability of green spaces, and support for local and organic businesses. Each city's efforts to reduce carbon emissions, promote eco-conscious initiatives, and integrate nature into the urban landscape played a pivotal role in their inclusion. From the historic streets of Boston to the vibrant energy of New York City, these urban landscapes demonstrate that the path to a greener future can be paved with innovation, practice, and a harmonious blend of culture and nature.
San Francisco, California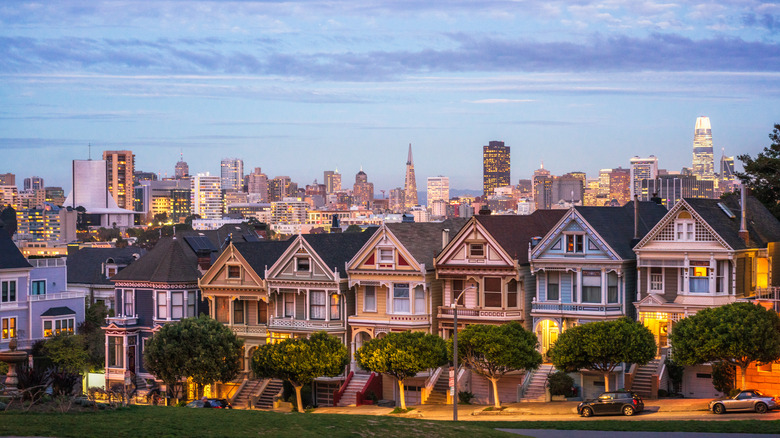 Georgeclerk/Getty Images
San Francisco welcomes you whether you're a first-time visitor or a returning Bay Area lover. This iconic city boasts an extensive public transportation system, making exploring without relying on cars easy. With a sprawling network of buses, trolleys, cable cars, and ferries, residents and visitors alike have a plethora of convenient and environmentally responsible options for navigating the city. Nature lovers can explore the iconic Golden Gate Park, which features sustainably-minded gardens and eco-friendly attractions. This sprawling oasis is more than a sanctuary within the city; it's a living testament to its dedication to sustainable practices. Stroll through the serene Japanese Tea Garden, rent a paddleboat on Stow Lake, or visit the enchanting Conservatory of Flowers. The park's sustainable gardens, thoughtfully designed with native plants and drought-resistant landscaping, not only enhance the aesthetic appeal but also conserve water resources and support local ecosystems.
Don't forget to visit the Ferry Building Marketplace, a haven for locally sourced, organic cuisine. Sample locally sourced and organic treats at the vibrant farmer's market, savor artisanal cheeses, and discover unique crafts. The marketplace's bustling energy and panoramic bay views make it a perfect spot to immerse yourself in San Francisco's vibrant culture and sustainable culinary scene. By embracing these initiatives, San Francisco has become a beacon of inspiration for other metropolises, demonstrating that a commitment to the environment can flourish alongside a dynamic and culturally rich urban experience.
Asheville, North Carolina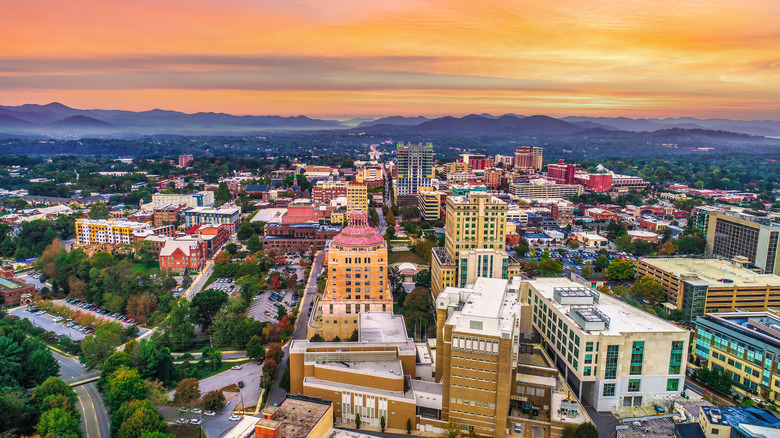 Kevin Ruck/Shutterstock
Nestled amid the scenic beauty of the Blue Ridge Mountains, Asheville stands as a testament to the intersection of artistic expression, natural splendor, and ecological mindfulness. Renowned for its vibrant arts scene, the city has seamlessly woven sustainability into its cultural tapestry, fostering an environment where sustainable tourism thrives.
At the heart of Asheville's eco-friendly ethos lies a culinary renaissance rooted in organic, seasonal dining. The city's restaurants proudly showcase local produce, creating a farm-to-fork movement that supports local farmers. This culinary philosophy also reinforces a deeper connection to the region's agricultural heritage, offering visitors an immersive experience that celebrates both sustainability and cultural richness. Asheville's dedication to sustainability also extends to its local craft markets, where artisans offer unique, hand-made products using eco-friendly materials and techniques. Exploring these markets is not only a chance to acquire one-of-a-kind treasures but also an opportunity to support a community of artisans who prioritize environmental consciousness in their creative endeavors.
Beyond its artistic and culinary allure, Asheville beckons outdoor enthusiasts with its abundant hiking trails and verdant landscapes. Whether traversing the Appalachian Trail or exploring the Great Smoky Mountains National Park, visitors have the chance to engage with the abundance of nature firsthand, cultivating a sense of appreciation and stewardship for the environment. The city's community-supported agriculture programs and CSA Fairs further deepen this connection, providing opportunities for visitors to actively engage in sustainable farming practices by purchasing locally grown produce, meeting farmers, and attending workshops.
Acadia National Park, Maine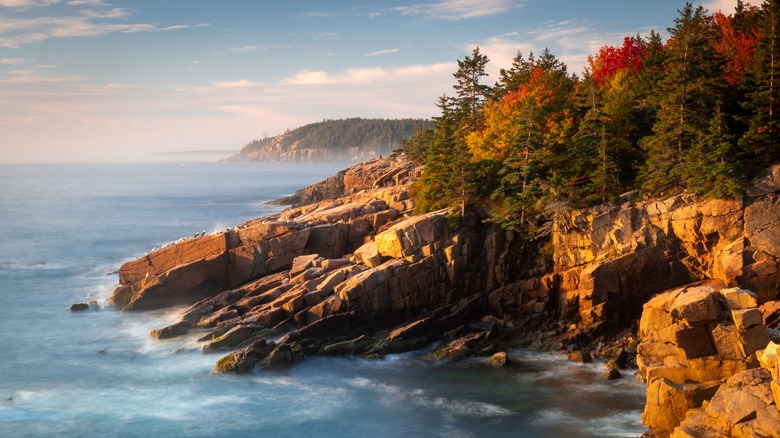 Brian Logan Photography/Shutterstock
Acadia National Park stands as a beacon of eco-friendliness, showcasing how human interaction with nature can be enriching and sustainable. With its enchanting landscapes along the rugged coastline of Maine, from the soaring granite peaks to the mirror-like pristine lakes, Acadia's allure lies not only in its breathtaking beauty but also in the park service's dedication to preserving the delicate ecosystems. The park's sheer beauty is a reminder of why sustainable tourism is important. 
Spanning over 47,000 acres,  Acadia National Park is a haven of diversity, boasting a multitude of ecosystems ranging from lush forests to vibrant tidal pools. The National Park Service's commitment to ecological preservation is palpable as visitors traverse over 120 miles of well-maintained trails that wind through this pristine wilderness. For visitors, these trails serve as a reminder of the importance of minimizing one's ecological impact. To embrace this, many visitors opt for hiking or biking instead of driving, reducing carbon emissions and contributing to the park's preservation.
To embrace the spirit of conscious dining, why not take it a step further and pack a delightful picnic to savor amidst the park's breathtaking landscapes? With open picnic areas and fire rings thoughtfully scattered throughout, Acadia National Park invites you to enjoy your meal surrounded by the park's natural splendor. Interpretive programs and ranger-led activities immerse visitors in the wonders of the natural world. Guided tours and ranger presentations help to foster a deep appreciation for the delicate intricacies of the park's ecosystems.
Boston, Massachusetts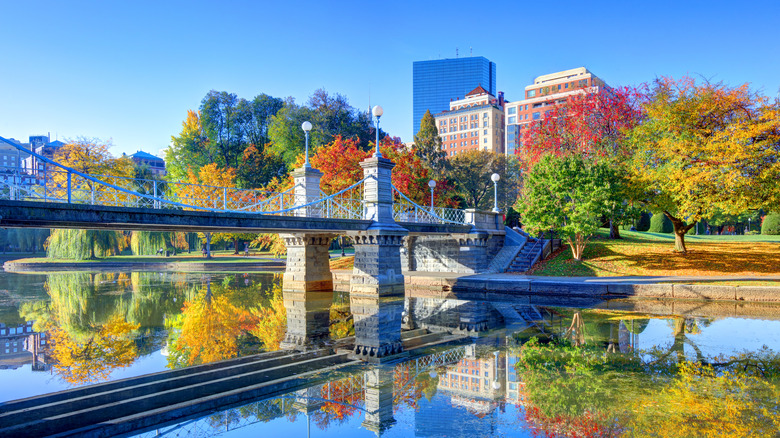 Denistangneyjr/Getty Images
Embracing a harmonious blend of historical legacy and contemporary sustainability, Boston emerges as a shining example of an eco-friendly city that seamlessly integrates responsible practices into its urban fabric.
The city's commitment to reducing its carbon footprint begins with its walkable neighborhoods, which not only invite exploration on foot but also drastically decrease the need for car travel. Beacon Hill's cobblestone streets lead to the Massachusetts State House and Boston Common. Back Bay features iconic brownstones, Newbury Street shopping, and the serene Public Garden. This pedestrian-friendly approach reduces traffic congestion, reduces air pollution, and fosters a sense of community engagement as residents and visitors meander through charming streets and historic districts. The city's comprehensive transit network, including buses, subways, and ferries, offers a reliable alternative to personal vehicles when a walk might be too far.
Amid the urban landscape, Boston offers verdant respites like the iconic Boston Common and Public Garden. Strolling through these lush oases, visitors can witness firsthand how Boston has integrated nature into its bustling metropolis. Boston's institutions also play an integral role in promoting eco-awareness. The Museum of Science, for instance, goes beyond traditional exhibits to educate visitors about environmental initiatives and the importance of sustainable practices. By engaging with these institutions, visitors gain valuable insights into the city's eco-initiatives and are inspired to incorporate similar practices into their lives. In essence, Boston's eco-friendly identity goes beyond surface-level efforts; it is deeply ingrained in the city's infrastructure, lifestyle, and cultural offerings.
Washington, D.C.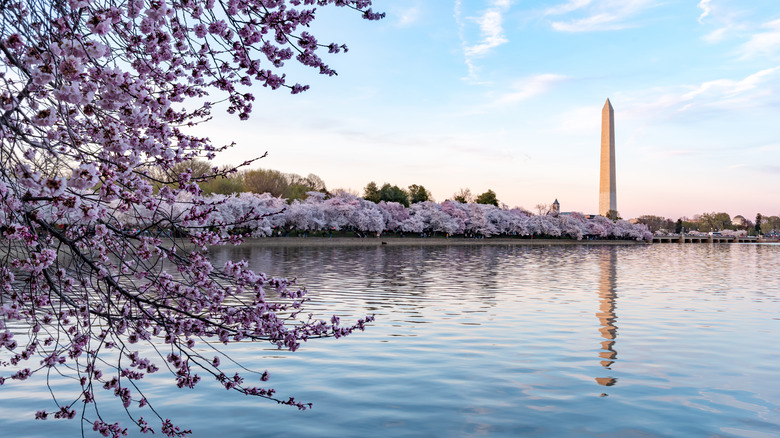 Jimfeng/Getty Images
Washington, D.C. is an inspiring city that recognizes the significance of its role as the epicenter of American democracy. In this city, the commitment to environmental responsibility is a driving force, even in the midst of significant influence and power.
A key pillar of its eco-conscious identity lies in its efficient and sustainable modes of transportation. A well-connected public transit system, including buses and the iconic Metrorail, provides visitors with an environmentally responsible way to navigate the city's iconic landmarks and neighborhoods. Complementing its public transit, D.C.'s forward-thinking bike-sharing programs offer an alternative mode of exploration that is health-conscious and reduces pollution. Visitors looking for a bit of guidance also have a plethora of captivating bike tours to choose from, each offering a unique perspective on the city's history, culture, and landmarks. Perhaps you'd like to embark on a guided bike tour of the National Mall, a revered space that artfully intertwines history and culture. Pedaling along its iconic pathways, you'll witness the grandeur of the Capitol Building, the solemnity of the Lincoln Memorial, and the towering presence of the Washington Monument. The significance of these monuments takes on new dimensions as you navigate their surroundings, absorbing the narratives and stories that have shaped the nation.
The city's proactive efforts in waste reduction, recycling, and water conservation also underscore its dedication to environmental stewardship. From green roofs to renewable energy, the city consistently seeks innovative ways to align urban development with sustainability, setting an example for other cities.
New York City, New York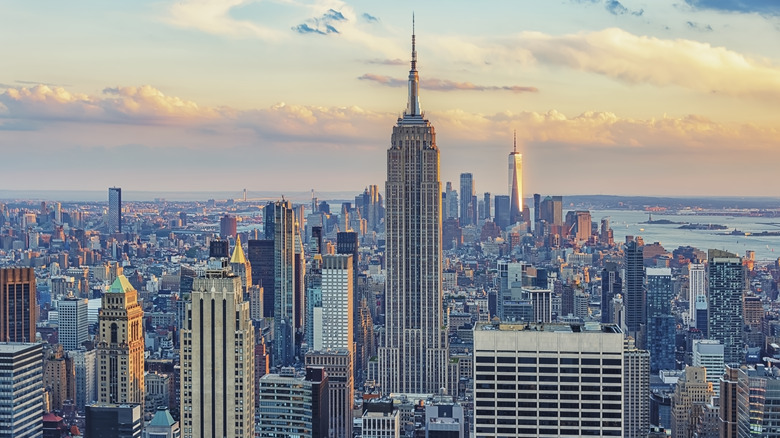 Stockbym/Getty Images
New York City, that vibrant whirlwind of activity and dreams, has a surprisingly green side that's worth exploring. Amid its towering skyscrapers and bustling streets, you'll find a genuine commitment to sustainability that's just as impressive as its iconic energy. 
The city's extensive public transportation system, with its buses and iconic subway, is all about encouraging eco-friendly travel choices. Pedal through the city's streets with the CitiBike program, then take a leisurely stroll through Central Park's Strawberry Fields — part of a verdant oasis in the heart of the urban landscape. For even more urban garden grandeur, check out High Line Park, where an old railway transforms it into a thriving garden, a true testament to the city's innovative spirit and commitment to sustainable urban living. You can learn about the park's ecological design and sustainable features by taking one of its seasonal tours.
Hungry? New York City's got you covered with farm-to-table dining options sprinkled across trendy neighborhoods. With locations in Greenwich Village and Pocantico Hills, Blue Hill is a pioneer of the farm-to-table movement. Their menus are inspired by the changing seasons and feature ingredients sourced directly from their own farms. The city that never sleeps is wide awake when it comes to a greener tomorrow. From its unexpected eco-conscious initiatives to its lively streets and iconic landmarks, New York City's larger-than-life energy isn't just a show — it's a real commitment to making the world a better, more sustainable place.
Seattle, Washington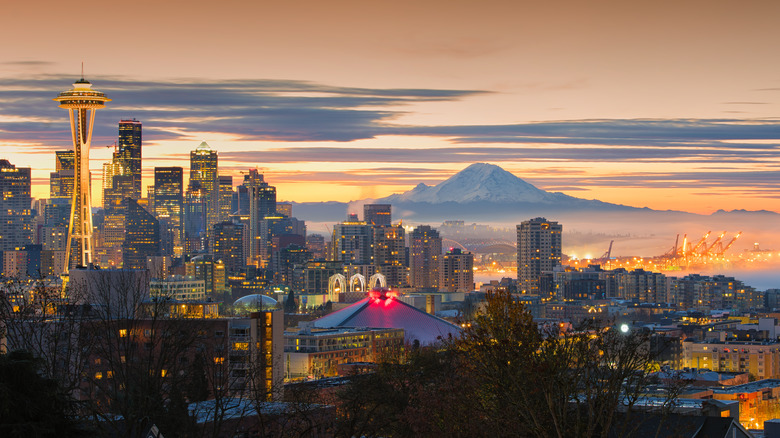 July7th/Getty Images
Whether you're a nature enthusiast, a foodie on the hunt for local flavors, or just someone who wants to do right by the environment while having a blast, Seattle's got you covered. Nestled between the serene Puget Sound and the majestic Cascade Mountains, you don't need to look far to see Seattle's eco-friendly vibe — it's everywhere you turn. With its chill yet proactive attitude, this city lets you make a positive impact, all while soaking up the stunning Pacific Northwest vibes.
Witness the awe-inspiring salmon spawning at Ballard Locks and consider staying at eco-friendly accommodations like the Thompson Seattle, Hyatt at Olive 8, or one of the Kimpton Hotels. For a scenic and environmentally conscious journey between Seattle and Tacoma, hop on the Sound Transit Light Rail, offering breathtaking views and an eco-friendly mode of transportation.
And if you're itching to explore beyond the cityscape, grab a kayak and paddle your way across the tranquil Lake Union, soaking in the city's skyline from a new angle. Popular rental spots include Northwest Outdoor Center, Moss Bay, and Agua Verde Paddle Club. You can paddle around Gas Works Park, marvel at the iconic Space Needle from the water, and even paddle beneath the scenic Lake Union Park Bridge. Or, if you're up for a bit of a trek, strap on those hiking boots and head to Mount Rainier National Park. It's like stepping into a postcard — lush forests, dramatic peaks, and pristine wilderness as far as the eye can see.
Sedona, Arizona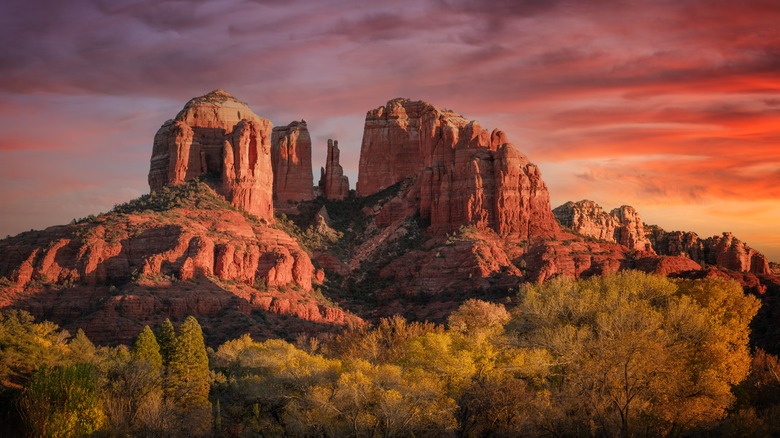 jdross75/Shutterstock
Sedona, that mesmerizing desert oasis you've probably seen in postcards, is a breathtaking, sustainable paradise. This enchanting oasis is more than just a pretty face; it's a place that encourages responsible practices from the moment you arrive.
As you seek a place to rest your head, you'll find a plethora of eco-conscious accommodations that go beyond the ordinary. Imagine staying at solar-powered resorts that harness the abundant Arizona sun to power your stay, or cozying up in locally-owned bed-and-breakfasts to contribute to the local community. But that's just the beginning of your eco-adventure in Sedona. The region's extensive network of Sedona's hiking trails beckons you to explore its rugged terrain and immerse yourself in the untouched wilderness. There's also a selection of eco-friendly spas that provide rejuvenating experiences while respecting the environment. Located steps from the Enchantment Resort, Mii amo Spa focuses on holistic wellness and offers a range of sustainable treatments inspired by Native American traditions. The spa incorporates natural, locally sourced ingredients and promotes environmental stewardship.
One of the most compelling ways to contribute to Sedona's eco-friendly ethos is by supporting its Native American artisans. The city takes great pride in preserving and celebrating its Native American heritage, and purchasing their crafts is a direct way to be a part of this cultural legacy. In Sedona, sustainability isn't a trend. It's a way of life that's intricately woven into the fabric of the community.
Portland, Oregon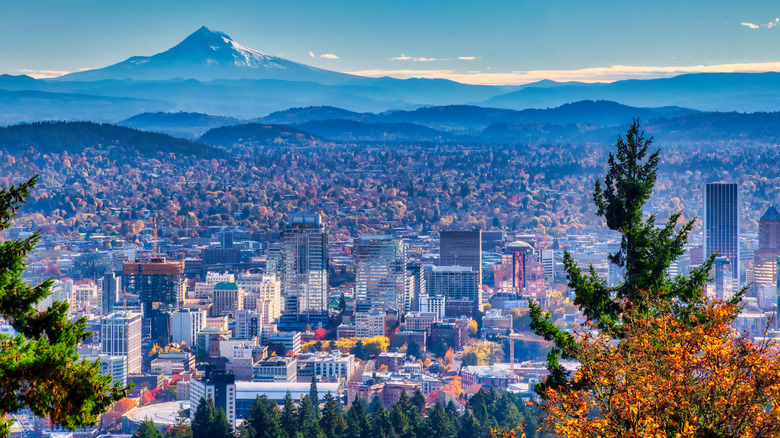 Bruceblock/Getty Images
In the heart of the enchanting Pacific Northwest, Portland stands as one of the most sustainable cities in the country, where a harmonious blend of eco-conscious practices and vibrant city life creates a unique and inspiring destination. And there's plenty to do at this eco-friendly destination near the Pacific coast. 
Embracing a "local-first" philosophy, Portland's fervor for local and organic products is evident in every corner. The city's markets and eateries proudly showcase a bounty of farm-fresh produce, artisanal goods, and culinary creations that reflect the region's agricultural richness. The city's farmers' markets are vibrant hubs where you can engage with local producers, indulge in organic delights, and connect with a community of like-minded individuals who champion sustainable living. Culinary enthusiasts are in for a treat as Portland's vegan restaurants redefine plant-based dining with innovative and delicious creations.
Renowned far and wide for its bike-friendly infrastructure, the city's streets are a colorful tapestry of cyclists pedaling their way through neighborhoods. From the MAX light rail to the extensive bus network, getting around the city is not only convenient but also an environmentally responsible choice. Eco-friendly boutiques line the streets, offering an array of thoughtfully curated products that prioritize ethical and environmentally conscious manufacturing practices. Exploring the world-renowned Washington Park offers a glimpse into Portland's commitment to green spaces, where the International Rose Test Garden flourishes alongside other eco-friendly attractions.
Maui, Hawaii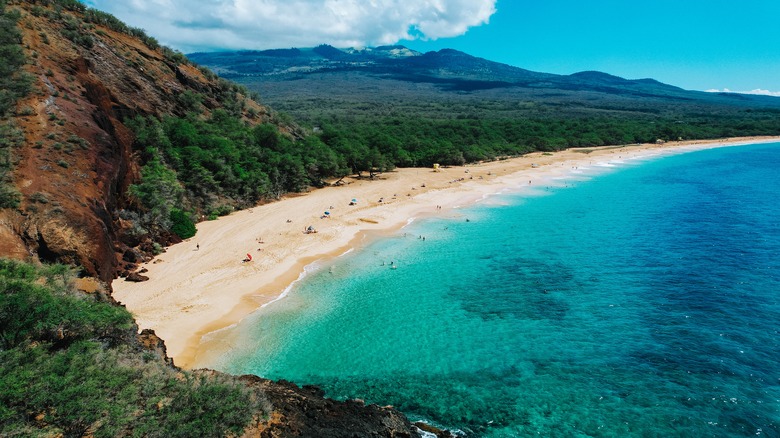 Aspects and Angles/Shutterstock
Maui is not just a sun-kissed paradise. While tourism is undeniably vital to the island's economy, Maui goes above and beyond to ensure that its treasures remain preserved for generations to come, encouraging travelers to be mindful stewards of its unique environment. By treading lightly on this island gem, as a respectful tourist in Hawaii, you become a guardian of its delicate ecosystems and rich heritage.
As you embark on your Maui journey, you'll find a treasure trove of activities that allow you to connect with the island's pristine ecosystems. Picture yourself snorkeling in the crystalline waters of Molokini Crater's marine sanctuary. Here, beneath the surface, a world of vibrant marine life and coral reefs invites you to immerse yourself in the wonders of the ocean while respecting its delicate balance. For those seeking a land-based adventure, the Pipiwai Trail offers a mesmerizing journey through a bamboo forest, leading to the awe-inspiring Waimoku Falls. This hike isn't just about conquering trails; it's about connecting with nature in a way that underscores Maui's dedication to preservation.
Supporting local artisans and farmers becomes a rewarding experience at the Maui Swap Meet, where you can peruse an array of handcrafted goods and local produce. You're not only bringing home unique souvenirs; you're contributing to the island's sustainable economy. When it comes to accommodations, Maui is also committed to offering eco-conscious lodging options. From solar-powered resorts to boutique eco-friendly lodges, you'll find a range of choices that prioritize sustainability without compromising on comfort.
Boulder, Colorado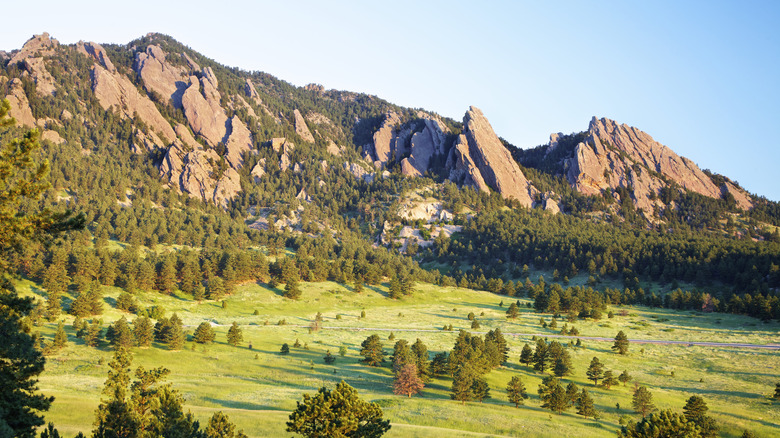 Beklaus/Getty Images
Boulder's love affair with the outdoors is palpable. Nestled at the foothills of the majestic Rocky Mountains, this city isn't just about stunning landscapes. From outdoor adventures to farm-fresh dining, from renewable energy to LEED-certified stays, Boulder invites you to be a part of a community that lives and breathes sustainability.
The heart of Boulder's eco-friendly identity lies in its fervor for outdoor activities. Explore Boulder's extensive network of biking and hiking trails, including the Boulder Creek Path and Chautauqua Park trails. Chautauqua Park, a National Historic Landmark nestled at the base of the Flatirons, offers hiking trails, open spaces, and cultural events, all while promoting the preservation of the natural environment. In the city, take a behind-the-scenes tour of the Celestial Seasonings tea factory, where you'll learn about sustainable tea production, renewable energy practices, and the company's commitment to environmental responsibility. Once you start craving a nosh, indulge in a farm-to-table dining experience at Boulder's many restaurants that prioritize locally sourced and organic ingredients, such as The Kitchen and Blackbelly Market.
As a visitor, you also have the unique opportunity to roll up your sleeves and actively participate in local efforts to preserve and enhance the city's natural beauty. Whether it's a riverbank clean-up or a park restoration project, these initiatives embody Boulder's collective dedication to leaving a positive mark on the environment.