Visit This Unique Wild West-Themed US Amusement Park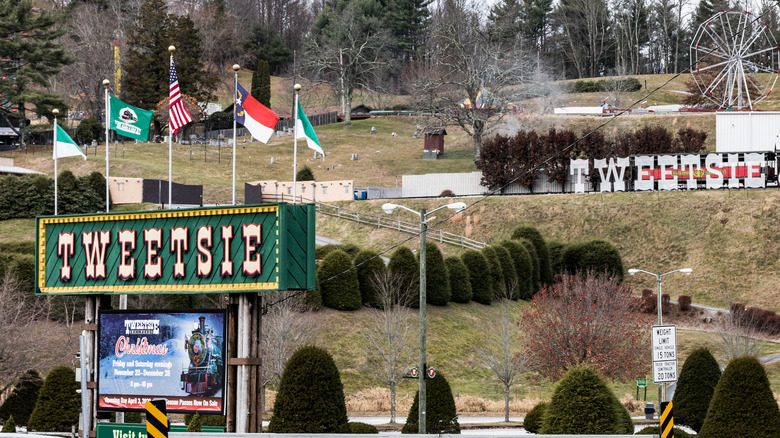 Nolichuckyjake/Shutterstock
The Southern United States has countless amusement parks, including Dolly Parton's Dollywood (which pays its employees' college tuition as an added bonus!) and, of course, Walt Disney World and Disneyland. However, a hidden gem exists in North Carolina: Tweetsie Railroad. Located in the quaint town of Blowing Rock, Tweetsie has fascinating origins. According to Tweetsie Railroad's website, the theme park exists thanks to the 1882 construction of a railroad traveling from Johnson City, Tennessee, to Cranberry and Boone, North Carolina. When the railroad was abandoned in the 1950s, the No. 12 locomotive was sent to Virginia before actor Gene Autry purchased it.
From there, a man from Blowing Rock named Grover Robbins Jr. purchased locomotive No. 12 from Autry. Robbins placed the locomotive in its current location near the Blue Ridge Mountains and began offering guests rides in 1957. Eventually, Tweetsie Railroad, which earned its name from the train's whistling sounds, became a full-blown western-style theme park. In fact, Tweetsie Railroad is even considered North Carolina's first amusement park. 
At the time of this publication, admission for Tweetsie costs $60 for adults and $40 for children ages 12 and under, while children 2 years old and younger are free. With rides that include a carousel, tilt-a-whirl, and lots more, the theme park offers the entire family nostalgia and adventure. Of course, guests can hop on locomotive No. 12 or locomotive No. 190 to enjoy a train adventure through the Wild West. However, this is not all Tweetsie Railroad offers.
Tweetsie Railroad has seasonal events
Guests can only visit Tweetsie Railroad from April until December. But, if you find yourself at the park, know there is plenty to do besides riding a train or a classic carnival ride. Tweetsie Railroad has can-can, magic, and clog-dancing shows. There is also a petting zoo where guests can feed and greet llamas, miniature horses, and more. North Carolina is known for its gold-mining history, and Tweetsie Railroad embraces this by allowing kids to pan for gold. Children can also try their luck at Tweetsie Railroad's arcade or burn off excess energy at the playground.
Like other larger theme parks, such as Walt Disney World, Tweetsie Railroad celebrates Halloween and Christmas in style with its Ghost Train and Tweetsie Christmas events. The former begins in late September and runs through the end of October. Ghost Train is a nighttime extravaganza that includes a haunted house, a spooky train ride, and more. While this is catered to older kids and adults, younger kids can enjoy trick-or-treating and a kid-friendly show.
Don't like being scared? Visit the park in November or December for Tweetsie Christmas. During this time, Tweetsie Railroad transforms into a winter wonderland with Christmas lights and a chance to meet Santa Claus. The theme park also holds Easter and Fourth of July celebrations.
Three new rides opened at Tweetsie Railroad in 2023
Tweetsie Railroad added three new rides to commemorate the park's 2023 season opening: a mini swing for children, a drop tower, and a spinning rollercoaster. Each ride offers distinct features. For example, the mini swing was painted in Italy. Moreover, the drop tower, known as the "Buckaroo Drop," is ideal for thrill seekers, as it spins and plunges guests 50 feet. The spinning coaster is aptly named "Barrels of Fun" because guests are seated in what appears to be a wooden barrel. As the name suggests, the barrels spin on the coaster tracks.
However, a visit to Tweetsie Railroad, or any amusement park for that matter, is incomplete without a filling meal. Guests have a plethora of western-themed dining options to choose from, including the Cowboy Cantina, the Feed & Seed, and the Miner's Diner. The menu for each establishment differs, but guests can expect hearty American fare such as pizza, burgers, and hot dogs, amongst other options. For souvenirs, check out the Western Mercantile or General Store.
Besides Tweetsie Railroad, Blowing Rock offers other attractions you won't want to miss, such as the Blowing Rock Art & History Museum and the Blue Ridge Parkway. You can also visit a winery or go zip lining.