The Unexpected Asian Country Solo Travelers Are Flocking To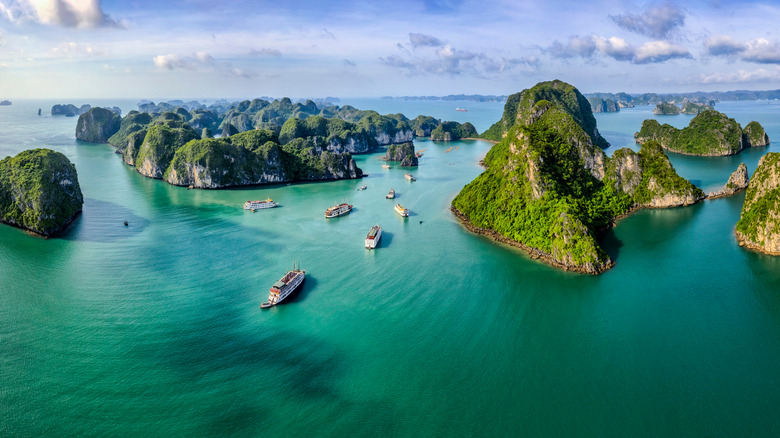 Nguyen Quang Ngoc Tonkin/Shutterstock
With its sprawling green landscapes in the north and the high-paced buzz of more than 7 million motorbikes in the south, Vietnam has become one of the most popular solo travel destinations. From an intriguing culture to gastronomic delights and a complex yet fascinating history, it's no secret that this incredible country has much to offer — and then some.
The perfect combination of adventure and relaxation, Vietnam has recently carved a solid niche for itself on the global tourism map. With more than 3.5 million international visitors in 2022 alone, and an estimated 10 million travelers visiting the country by the end of 2023, it's clear that Vietnam's ever-growing popularity isn't fading any time soon. On the contrary, it's estimated to grow.
In order to meet this demand, the number of flights into Vietnam has also increased. While Vietnam Airlines has been operating the only non-stop route from San Francisco to Ho Chi Minh City since late 2021, direct flights from Europe are available from most major cities. This, along with the flexibility of open-jaw tickets offered by local airlines — meaning travelers can fly into Hanoi and depart from Ho Chi Minh City or vice versa — caters perfectly to visitors hoping to explore the length of the country without backtracking. Plus, with a simple electronic visa application that's currently available for more than 80 countries — and visa waivers for an additional 45 countries —it's clear that Vietnam is making strides toward ensuring accessibility and convenience for all.
A blend of cuisine, history, and culture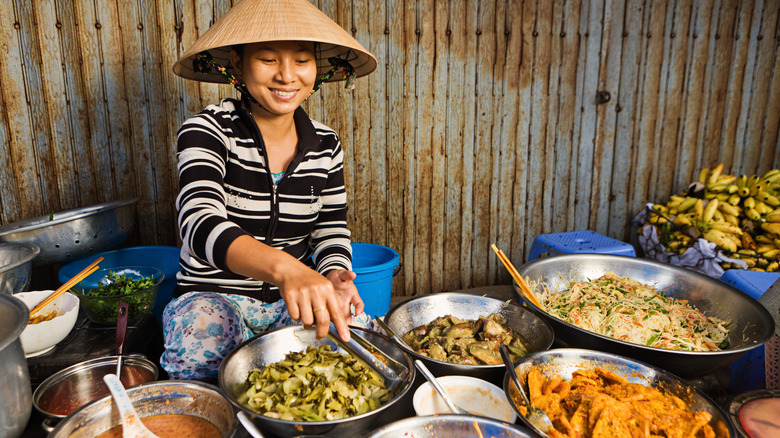 Hadynyah/Getty Images
The rising popularity of Vietnam can be attributed, in part, to its diverse attractions. From breathtaking landscapes — such as the world-renowned Halong Bay and the terraced fields of Sapa — to the vibrant energy of cities like Ho Chi Minh and the historical charm of destinations like Hue and Hội An, there are plenty of experiences to fill up an itinerary.
However, one of the key elements that make Vietnam stand out is its cuisine. A food lover's paradise preferred by world-class travelers like Anthony Bourdain, the country offers a rich and diverse culinary experience where each region brings its own unique dishes to the table. While the north is known for its robust stirfry meals like bún đậu mắm tôm (rice vermicelli noodles with fried tofu and shrimp paste) and bún chả (grilled pork meatballs with vermicelli noodles), the south tantalizes your taste buds with light, sweeter flavors like bánh mì trứng ốp la (a popular omelet sandwich) and gỏi cuốn (summer rolls).
On the other hand, another significant aspect of Vietnam's appeal is the story of its past. An opportunity to step back in time, there are plenty of museums and walking tours available that recount the era of the Vietnam War and the country's complicated history. Moreover, the country's French colonial past is also noticeable — especially in architecture, certain aspects of the language, and the local coffee culture.
A safe harbor for solo travelers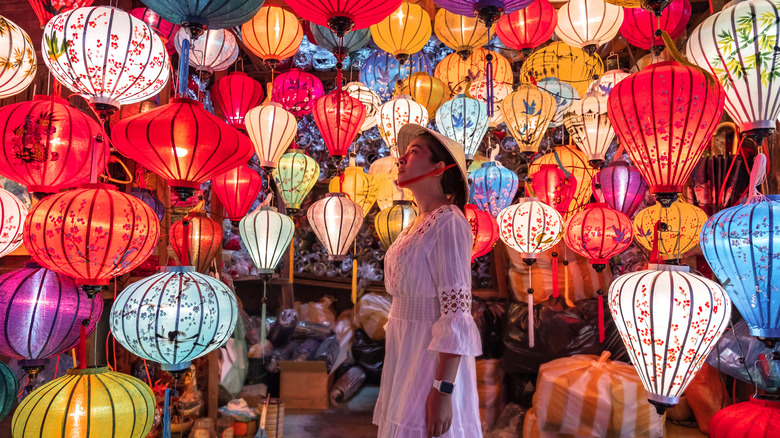 JomNicha/Shutterstock
At the end of the day, there's no doubt that safety is one of the most important things that people who are traveling solo look for in a destination. Luckily, Vietnam delivers. The country is well-known for being a safe and friendly destination — even for female solo travelers — that allows visitors to explore and move around confidently without having much to worry about.
In terms of money, Vietnam is also well-known as a budget-friendly destination — even if you're planning to travel alone and have no way to split costs. From local street food that costs just over a dollar to inexpensive public transportation, the cost of eating, living, and moving around is relatively low compared to other popular travel destinations in Southeast Asia. This affordability also extends to many of the country's attractions, which means that you can enjoy a front-row seat to its beauty without breaking the bank.
Accommodation in Vietnam also spans a wide range — making it easy to stay on a budget and still enjoy the level of comfort and safety you want. For the sociable and shoestring travelers, hostels provide a lively, communal atmosphere. Meanwhile, mid-range hotels and homestays are easy to find and offer comfortable amenities — coupled with a local experience — at very reasonable prices. And, if luxury is on the agenda, high-end resorts along the country typically deliver exceptional service and stunning views — all of which makes Vietnam a must-have on your adventure bucket list.