The Best Labor Day Weekend Getaway Destination In New England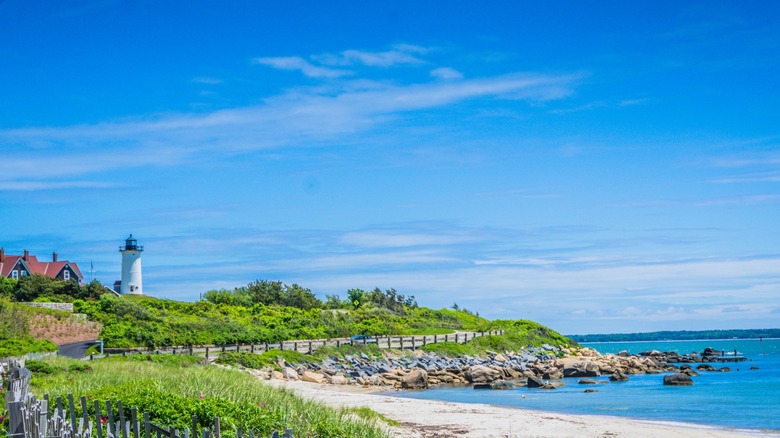 Exploring and Living/Shutterstock
As the last long summer weekend, Labor Day is a bittersweet bridge between lazy beach days and the embrace of fall — a final hurrah. For getaways in New England, there's one perfect destination: Chatham. Pronounced "chat-uhm", Chatham is a Massachusetts town of about 7,000 people, nestled on the elbow of Cape Cod. Chatham encapsulates the ideal blend of scenic beauty, cultural richness, and quintessential New England charm, making it the ultimate Labor Day weekend destination. 
Once called Monomoit, Chatham has historically been a fishing community. With its ideal maritime location, it boasts 66 miles of shoreline facing the expansive Atlantic Ocean. In fact, it is the only Cape Cod town surrounded by water on all three sides. Lighthouse Beach, named for the still-operating circa 1877 Chatham Lighthouse, offers panoramic views and gentle waves, perfect for relaxation and play. Meanwhile, the nearby Harding's Beach beckons everyone with its golden sands and ocean breeze.
Before any beachside quality time, a check-in would be in order. Chatham has a range of accommodations catering to various tastes and budgets. In the lap of luxury is Chatham Bars Inn, an iconic resort offering upscale accommodation, a private beach, and gourmet dining since 1914. Old Harbor Inn, a bed and breakfast conveniently located near Main Street, welcomes guests to a historic property with a Cape Cod aesthetic. If you prefer a more home-like environment or are traveling with a larger group, consider renting a cottage through Airbnb, Vrbo, or a local real estate agency.
History, culture, and eats in Chatham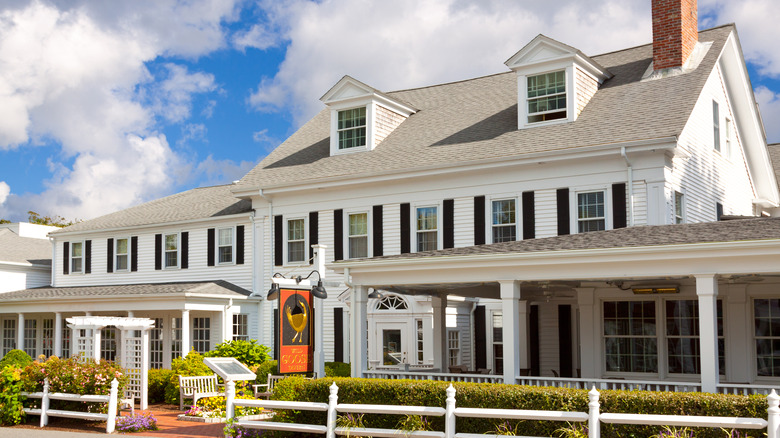 Olegalbinsky/Getty Images
Step back in time as you stroll through the streets of downtown Chatham. The town is a testament to colonial architecture, with buildings dating back to the 18th century. Explore the Chatham Railroad Museum, which pays homage to the town's railroading past, or visit Atwood Museum to delve into some local history. Something sure to spark curiosity is the Marconi-RCA Wireless Museum, dedicated to communication technology and maritime history — and yes, there are hands-on Morse code exhibits. 
As you meander, you'll also come across unique stores such as Maps of Antiquity and Chatham Village Market, art galleries including EXPRESSIONS Gallery, and old-fashioned candy stores like Chatham Candy Manor, adding a touch of nostalgia to your trip. Along Main Street, you'll find serene parks for some R&R, such as Gould Park and Chase Park, or take a nearby turn to admire the docked boats and yachts at Mill Pond and Oyster Pond.
No trip to Cape Cod is complete without indulging in fresh seafood, and Chatham is a pescatarian paradise. From the world-famous clam chowder at the Chatham Squire to lobster rolls and freshly-shucked oysters at the Impudent Oyster, local restaurants serve up the ocean's bounty with flair. Other top-rated restaurants include Wild Goose Tavern, Bluefins Sushi & Sake Bar, and Captain's Table. For a truly authentic experience, visit the Chatham Pier Fish Market and watch as fishermen haul in their daily catch — then dine right there for literally the freshest seafood meal imaginable.
Marine ecosystems and natural retreats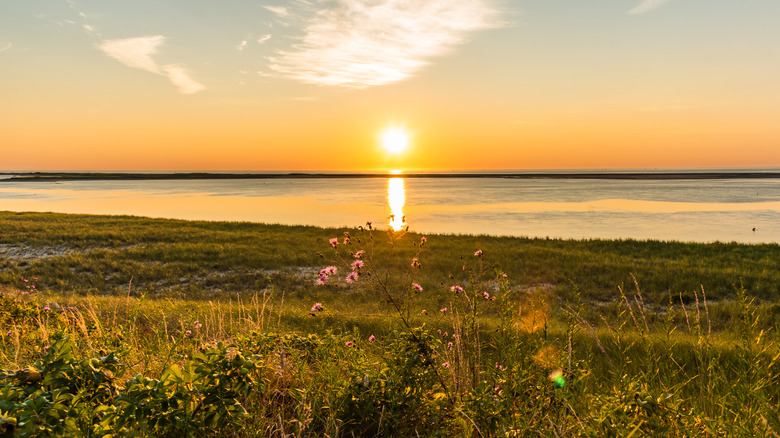 Braden Brothers/Shutterstock
The waters around Chatham are renowned for their seal colonies. Charter a boat or join a tour and cruise around Monomoy Island or Pleasant Bay to see these playful creatures in their natural habitat. It's an experience that both kids and adults will cherish, offering an insight into the rich marine ecosystem of Cape Cod. However, the seals are just the beginning. The waters around Chatham are teeming with various fish species, seabirds, and even the occasional sighting of a great white shark or whale.
For nature lovers, Chatham offers plenty of opportunities. The Monomoy National Wildlife Refuge, spanning several thousand acres, is a sanctuary for migratory birds and a birdwatcher's paradise. This would be the perfect place to catch an unobstructed sunrise beaming across the Atlantic with the early birds. Another outdoor adventure is the Cape Cod Rail Trail. Stretching for 25 miles, this trail was once a railway line and has now been transformed into a scenic pathway. Signposts along the trail share the region's story, making it a moving journey through time.
Chatham encapsulates the very essence of New England's charm, from its maritime heritage to its Colonial history and natural splendors. Labor Day weekend provides an opportune moment to embrace this magic, a fitting farewell to summer and a warm welcome to fall. Whether you're seeking relaxation on the beach, a gastronomic adventure, or a touch of history, Chatham promises a Labor Day weekend that you'll cherish for years to come.