The Best Way To Pack Makeup And Keep Your Toiletry Bag Mess-Free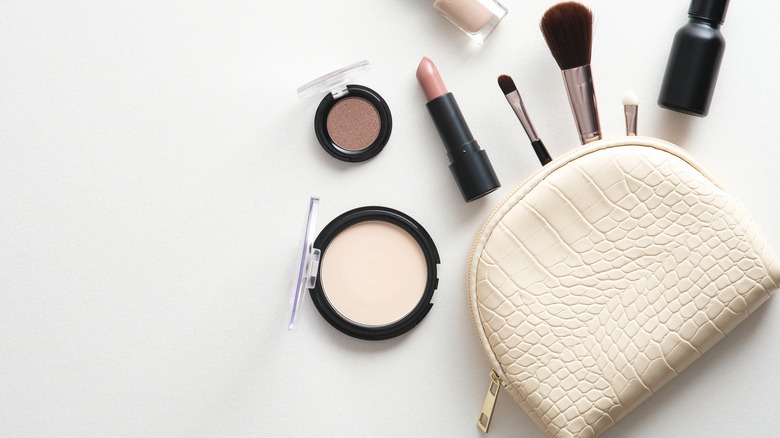 Savanevich Viktar/Shutterstock
Even if you're the type of traveler who packs your bag hours (minutes!) before you depart on a trip, spending some extra time organizing your makeup and cosmetics is essential, particularly if you're flying to your destination.
Strict regulations limit the quantity and size of liquids you can carry onboard an aircraft in most countries around the world. If you're careful with your packing, you can avoid having to throw away expensive products before you can pass through security — or facing the risk of missing your flight. If you plan on checking a bag, you'll have more flexibility on what products you can pack. However, you'll still run the risk of messy spills as the plane's pressurization changes during take-off and landing.
Whether you like to travel with the bare necessities or you're a fashionista who enjoys creating elaborate looks on your vacations, a well-packed makeup bag will keep your travels stress-free and mess-free.
Consider your mode of transportation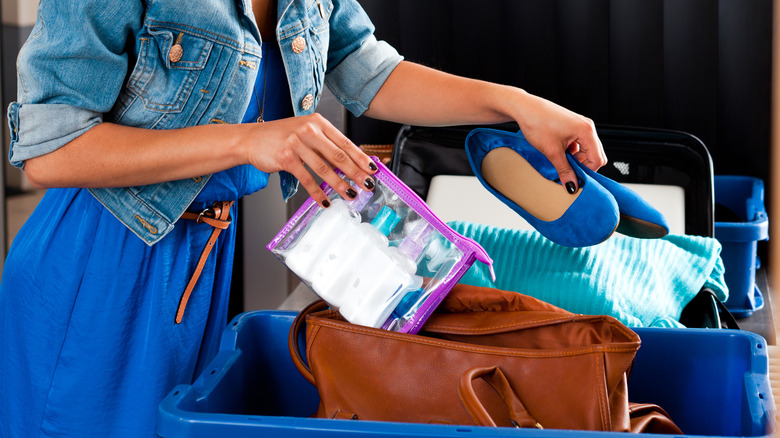 Izusek/Getty Images
If you're going on a short trip (or prefer to travel light), you will likely pack all your essentials into one carry-on suitcase to avoid lugging around extra bags. Limiting yourself to a carry-on bag will require you to narrow your makeup collection to the everyday essentials. Before you even begin packing, pay attention to which cosmetic products you use daily — the ones you can't live without.
According to the Transportation Security Administration (TSA), travelers can bring one quart-sized bag full of toiletries in their carry-on baggage. Any cosmetics or personal care products that are liquids, gels, aerosols, creams, or pastes must be in 3.4 ounces or less containers and fit within the clear quart-sized bag. Liquid foundations, lotions, shampoo, conditioner, toothpaste, and hairsprays are all examples of products that you'll need to ensure fit the 3.4 ounces or under requirements. Solid cosmetics like powder foundation or lipsticks won't be regulated. You can separate solids from liquids if your cosmetics and toiletries don't fit in the quart-sized bag.
If you're worried about space, consider swapping liquids for solid options. You can purchase solid toothpaste tablets that double as breath mints. You can also swap your hair care gels for solid shampoo and conditioner bars.
How to pack a makeup bag if you're checking luggage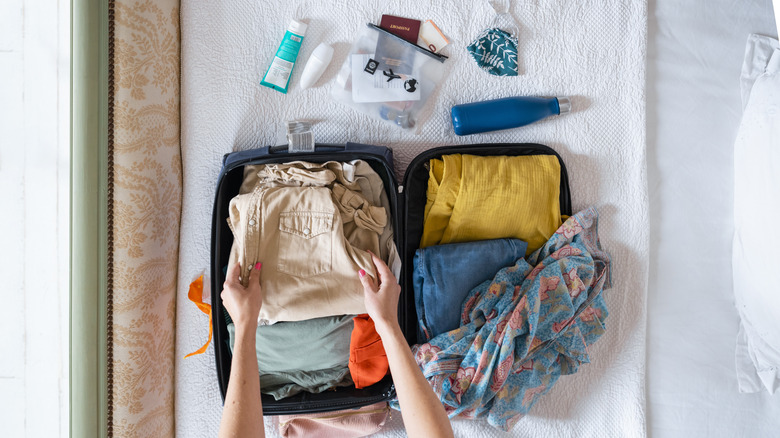 Solstock/Getty Images
The limited space in a carry-on bag and the TSA requirements for liquids can make it challenging to pack your toiletry bag. There's no shame in being a maximalist, and travel is an ideal opportunity to express yourself and try out new and exciting makeup looks. Whether you're traveling for an extended period or excited to create many different makeup styles during your trip, chances are you'll need to check a bag.
The great news when it comes to checking a bag is that you'll have plenty of space and the flexibility to bring whatever you choose. The TSA has no liquid limitations regarding checked baggage, so you can pack as many full-size cosmetic and personal care products as you desire without stuffing them into a tiny bag (and potentially damaging your favorite products).
When packing your makeup bag in a checked suitcase, your primary concern should be pressurization. Ensure that liquids are stored in plastic or silicone bags to keep them from creating a mess if they explode. This sometimes happens due to the changes in pressurization in the airplane's cargo hold. For added safety, you can wrap your liquids in plastic wrap.
Find the right toiletry bag or makeup pouches and stay organized during your trip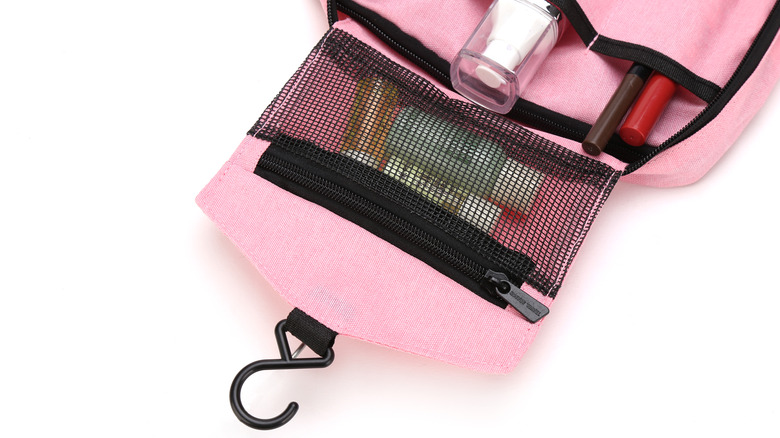 livingpitty/Shutterstock
Investing in a great travel makeup bag will help ensure that you can keep your products organized for the duration of your trip. Some excellent options are on the market, including large bags with multiple compartments. Some even come equipped with hangers and clear compartments to hang on the bathroom door when you arrive at your destination, allowing you to free up counter space.
Select different size pouches to keep your products organized within your toiletry bag. You can use plastic baggies, but if you travel often it might be worth investing in some small reusable bags or pouches of various sizes to help you organize products by size and type.
Divide your products up by type to help keep things organized. Consider separating your skincare, hairstyling products, and makeup into separate bags. Many travel toiletry bags have detachable clear plastic bags that are perfect for liquids, which might otherwise spill and cause a mess. Lump together solids like lipsticks and eyeshadow palettes in a separate bag or compartment. Finally, pack your brushes and makeup applicators.
Pack multi-purpose makeup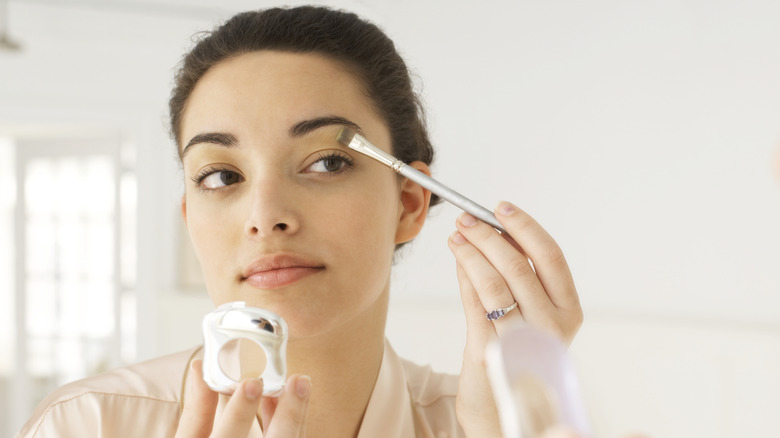 Christopher Robbins/Getty Images
When packing the perfect toiletry bag for your vacation, consider the products you use daily. In the days leading up to your trip, pay attention to the products you gravitate towards most that are the easiest to use.
If you wear makeup, consider packing items that can be used in multiple ways to create various looks without taking up a ton of space. Swap out heavy liquid foundations for a cream complexion stick that can be used as both foundation and concealer — or grab a solid blush stick that can double as a buildable lip color.
Consider narrowing down your makeup to five essential products for an ideal minimalist beauty routine. You'll want to choose one product for your complexion, such as a tinted moisturizer or a cream foundation stick. Pair this with a tinted brow gel, a travel-sized mascara, a cream blush that you can wear as lipstick, and a neutral eyeshadow palette that can create multiple looks for both day and night.
Once you've packed the basics, you can add a few specialty items as space allows. Go ahead and throw in that luminous highlighter or the extra lipstick you love to fill the space you have in your makeup bag.
Purchase travel travel-size minis of your favorite products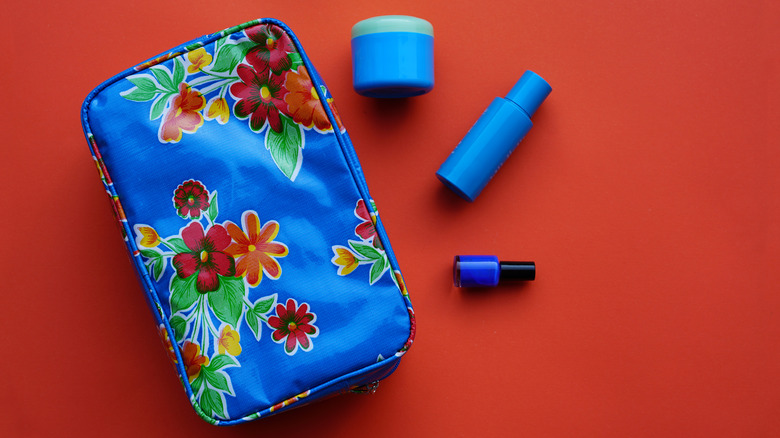 Ksenia Molina/Shutterstock
It's worth investing in travel-sized minis of your favorite products. Many brands create sample or mini sizes of some of their top products. If you travel a lot, you can have your travel makeup kit pre-packed and ready each time you embark on a trip.
Beauty samples are the perfect sizes to take on trips, but make sure it's a product you'll actually use; otherwise, it will simply take up extra space. Mini-size products are perfect for those who don't want to sacrifice their beauty routine and will save a ton of space in your bag.
Another option is to invest in some refillable travel containers that you can fill up with the everyday products you use at home. If you're using refillable decanters, purchase a set of labels and handwrite (or type out a label for each product) so that you don't accidentally end up washing your hair with body lotion.