This U.S. State Is Home To America's Highest And Most Dangerous Peak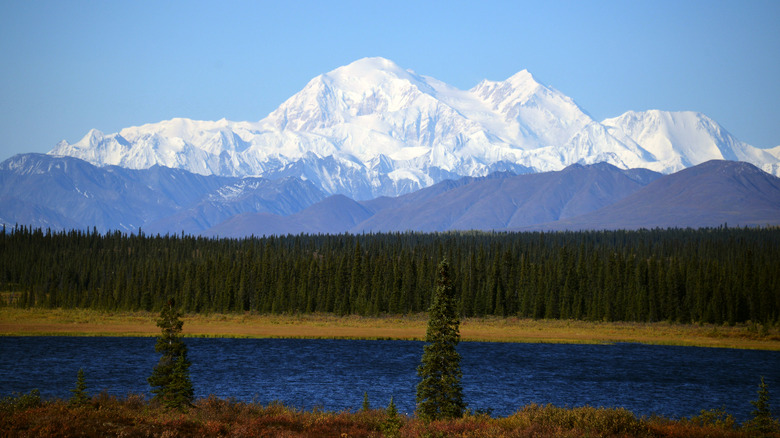 Lance King/ Getty Images
The United States is home to a myriad of natural wonders. From the Grand Canyon to Niagra Falls, there is a long list of must-see spots for outdoorsy people to put on their bucket lists. If you're in that camp, you'll definitely want to see the highest, most dangerous mountain peak in the country — Denali. Located in the central part of southern Alaska, the peak of this enormous mountain reaches a jaw-dropping 20,310 feet above sea level.
On the list of the tallest mountain peaks of each continent, the Seven Summits, Denali places third. As wonderful as it would be to look out at the view from its record-setting peak, getting to that point is no easy feat. Climbing Denali is reserved for the best climbers in the world and is one of the most dangerous hikes in the U.S. Nonetheless, Alaska is an absolutely gorgeous state, and visiting it to see the peak from afar could be well worth the trip.
The dangers of Denali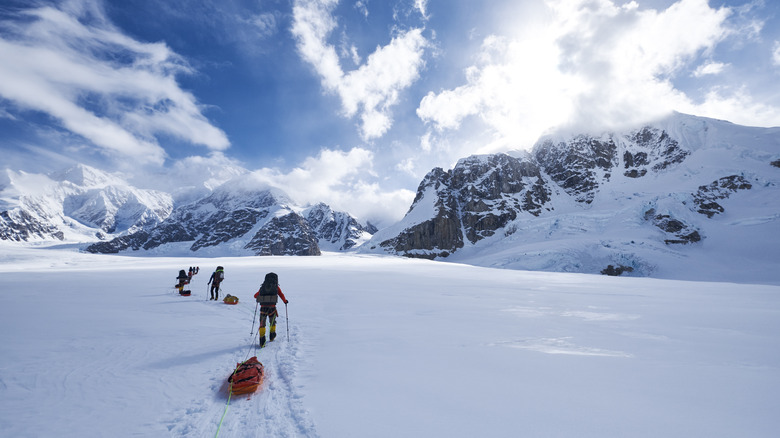 1111iespdj/ Getty Images
Climbing Denali is not a trail for beginners. In fact, it's barely a trail for those who are advanced in their climbing skills. For most of the year, from mid-July to late April, the path is completely inaccessible to climbers due to its hazardous weather conditions. When it is open to the public during the months of a "safer" climate, it still poses a range of deadly threats.
Slipping and falling is one of the most common causes of death for climbers hiking up to Denali's peak. The former South District Ranger for Denali, Daryl Miller, told the New York Post, "A fall on Denali is often 1,000 to 2,000 feet; some survive it but not many." There are other dangers to the climb, including the risks of overheating, freezing, and altitude sickness. 
Miller went on to explain another danger of climbing Denali, saying, "The most frequent injury on Denali is frostbite. If you have it in your hands, you can't climb. Get it badly enough in your feet and you can't even walk. Once you are non-ambulatory, you are in danger of dying."
Visiting Denali National Park and Preserve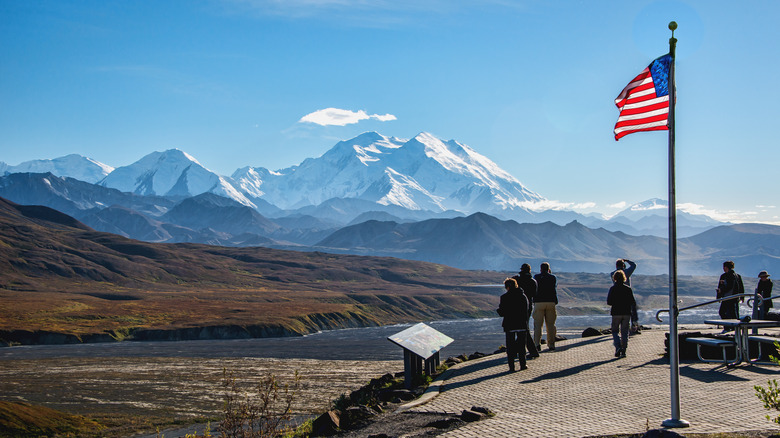 FloridaStock/ Shutterstock
If braving the gnarly terrain of Denali isn't for you, you're far from alone. But, just because you cannot climb its peak, does not mean you can't visit Denali. Located inside Denali National Park and Preserve, the mountain is surrounded by 6 million acres of natural land that has been inhabited by Koyukon Athabascans for over a thousand years. In 1917, the U.S. government officially named the mountain Mount McKinley after the country's 25th president. However, the name "Denali" is an Athabascan word meaning "the Great One." In 2017, under the efforts of President Barack Obama and Secretary of the Interior Sally Jewell, the mountain was officially renamed "Denali."
Today, it is one of Alaska's most popular destinations for visitors. From following a guided tour to walking one of its scenic beginner trails, there are plenty of things to do for the whole family. With lodging available in nearby villages, like Healy, Cantwell, Nenana, and Talkeetna, you can stay relatively close to the layout of gorgeous fields, lakes, and forests. If you want to get a sense of the greater Alaska area, you can also stay in a larger city further from the mountain, like Anchorage or Fairbanks, driving or riding the train for a trip to the park.