The City In New York That Is A Must-Visit For Foodies (Hint: It's Not NYC)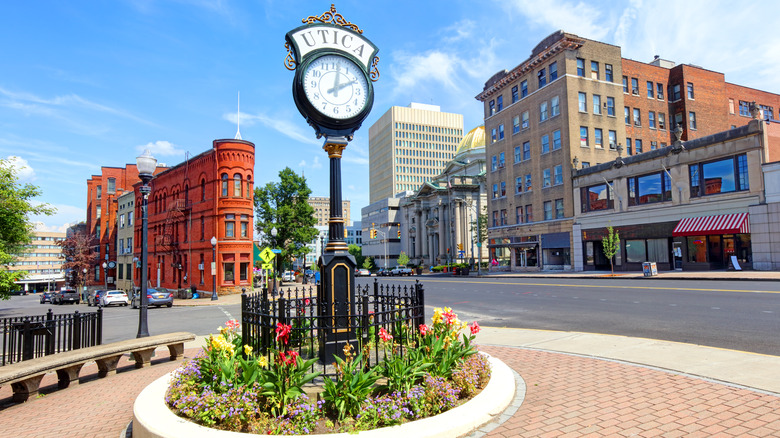 Denistangneyjr/Getty Images
Far too often, when the masses think of New York, they immediately think of New York City. However, New York City, as fantastically vivid as it is, only takes up a small geographical portion of the state of New York, with Upstate New York often getting overlooked. Though New York City is thought of as the best gastronomical city in the state (and in the country, for that matter), there are some upstate contenders that give The Big Apple a run for its money. In fact, there's one particular city in New York State with stellar food and far much less recognition. That city? Utica, New York.
Utica is located in Oneida County in Central New York. With a population of approximately 64,500, Utica is nowhere near the size of New York City, but despite its relatively small size, the flavors this city brings certainly pack a punch. Home to a large refugee community, regional dishes that are worth jumping on the Amtrak to Utica Station just to try, breweries such as Saranac Brewing Company, buzz-worthy coffee shops like Utica Coffee Roasting Co. and Joseph Putrello Coffee Barista Bar. Utica is a fascinating culinary city that should be added to every foodie's bucket list, and an added bonus is eating like royalty in Utica won't cost nearly as much as it would in New York City.
The influence of refugees on Utica's food scene today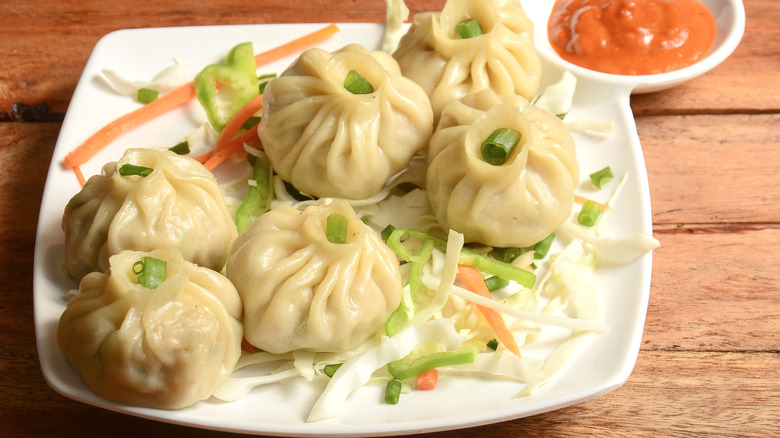 Mahi ryan/Shutterstock
Utica has a long history as a refugee city and is home to large Bosnian, Somali Bantu, Middle Eastern (namely Lebanese and Syrian), Burmese, Italian, Irish, and Polish communities. Safe to say, not only does Utica give New York City a run for its money when it comes to food, but also as a proper melting pot.
Because of the diverse ethnic makeup of Utica, the dining options range across a wide variety of cuisines. Yemeni eateries can be difficult to find even in major cities across the USA, but Utica's Marib Restaurant is serving up khubz mulawah, or rashoosh, a traditional Yemeni flatbread. Fancy a Caribbean bite? El Barajo Restaurant offers Dominican classics such as pernil and oxtail, and Restaurante El Buen Gusto makes pupusas as good as they'd be from an eatery in San Salvador.
For a quick trip to Lebanon, head to Karam's Middle Eastern Bakery, offering up hummus and lentil soup in a no-frills setting. Southeast Asian eatery Lotus Garden serves amok — the national dish of Cambodia — that's so good that you might find yourself heading to Utica's closest airport, Syracuse Hancock International (SYR) to get on the next flight to Siem Reap. For a further look into the everyday life of the people who live here, head to Muju International Groceries, an international grocery store selling staples that can't be found at your run-of-the-mill Western market. Don't leave without ordering some Nepali momos.
Regional specialties of Utica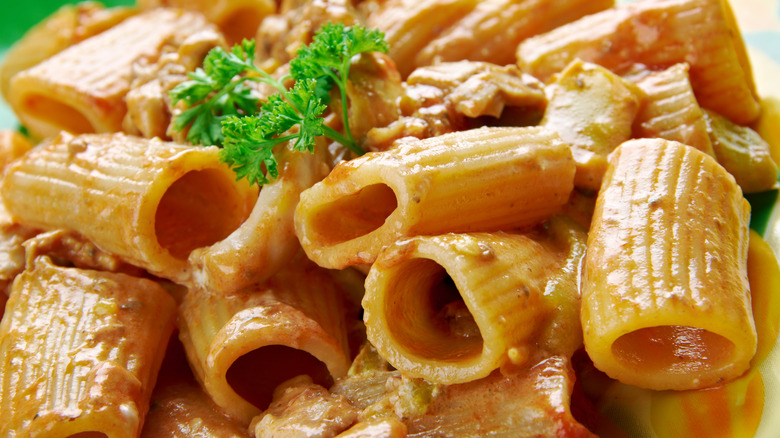 Fanfo/Shutterstock
Utica is home to some exceptional regional dishes. Topping that list is chicken riggies, or rigatoni loaded with chicken, peppers, and an array of vegetables that can range from onions to mushrooms to olives, all tossed in a light tomato cream sauce. "Riggies," as locals call it, can be served mild, medium, or hot. Almost every local restaurant serves chicken riggies (as well as many pubs and bars), but some of the best spots to grab this classic dish at are Bella Regina and Ancora!
Just as notorious as chicken riggies? Utica greens, or braised escarole mixed with breadcrumbs, cured pork (usually prosciutto), pecorino cheese, and hot cherry peppers. Similarly to chicken riggies, you'll be asked which level of heat you'd like your greens served at. Locals swear the best greens can be found at Georgio's Village Cafe.
Time for dessert. While New York City might call these sweet treats "black-and-white cookies," Utica has properly deemed them "halfmoon cookies." The primary differences between the two are that the Utica variation has frosting and a cake base, while the NYC version usually has royal icing on a dense cookie. Hemstrought's Bakeries is the place to try halfmoon cookies.
Finally, you must try tomato pie; a focaccia bread topped with tangy tomato sauce and covered in Romano cheese. The dish dates back to the early 1900s. Unlike pizza, tomato pie is served either cold or room temperature. Legend has it that O'Scugnizzo Pizzeria served it first, but Roma Sausage and Deli is another sworn-favorite.