Here's Why Tourists Are Flocking To This Lesser-Known City In Italy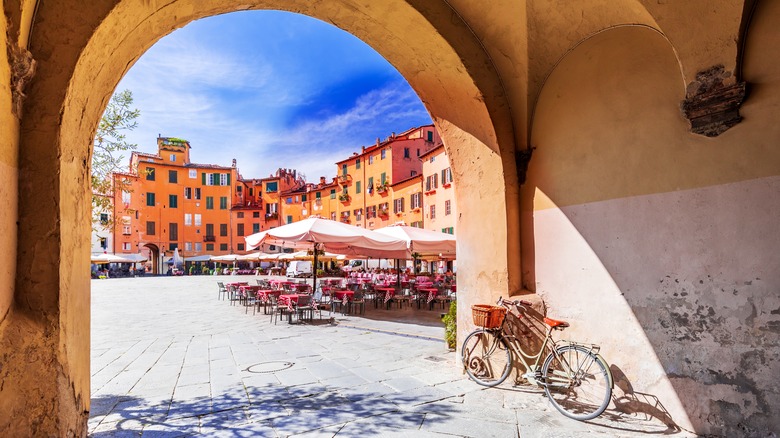 ecstk22/Shutterstock
While Italy's big cities like Rome, Venice, and Naples certainly give us something to write home about, one of the best and most authentic ways to experience the country is through its smaller, lesser-known destinations. There's something to be said for smaller cities like Orvieto outside of Rome, Padua near Venice, and Bergamo near Milan. While they may not have an astonishing colosseum or towering cathedrals, they each have their own unique beauty and attractions to discover.
If you find yourself in the picturesque region of Tuscany and you want to visit a place no one else at home has probably even heard of — much less been to — we invite you to consider making a day trip (or even an overnight trip) to Lucca. Located an hour and a half from Florence by train — or an hour by car — Lucca is the perfect slow-paced escape from overwhelming crowds or if you're just looking for a unique place to see.
This underrated city is worth a visit just to see its historic center, which is still surrounded by thick walls built in the 16th century. In fact, they are so expansive that you can walk, bike, or jog on them in a 4-kilometer loop around the city. But that's not all — there's a whole lot more to the city that's just waiting to be discovered.
Best things to do in Lucca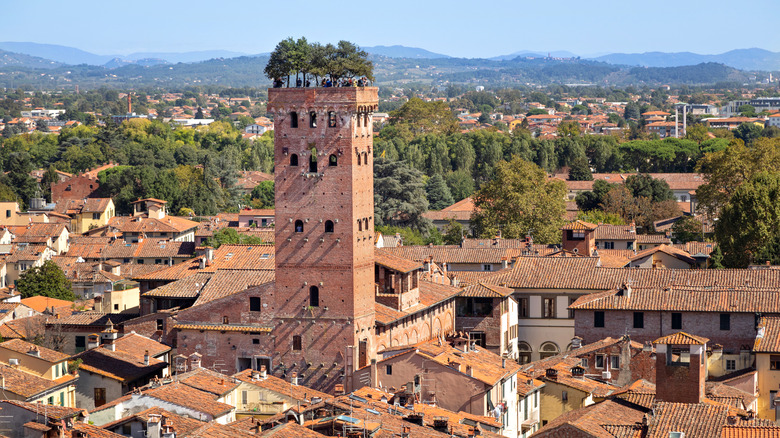 Sergey Dzyuba/Shutterstock
After arriving in Lucca, you'll want to head to the city's historic center. This is where you'll find cute shops and restaurants, idyllic alleyways, and picturesque towers, all contained within the impressive fortifications once built for protection and that now serve as a recreational vantage point for the city's residents and visitors.
To get an even better lay of the land, we suggest climbing to the top of Guinigi Tower. Though Lucca was once home to over 250 towers, only a few now remain, and now Guinigi Tower is the most famous. This is largely thanks to the mini garden growing on its rooftop, which is meant to symbolize rebirth and provide some much-needed shade to visitors during Tuscany's intense summers.
Next, you'll want to head to the Piazza dell'Anfiteatro. Here you'll find an oval-shaped piazza that, if viewed from above, resembles the shape of an amphitheater. Well, this is for good reason, since — as its name might suggest — there was once an amphitheater built at this very spot. Now you'll find a circle of buildings with homes and vacation rentals on the upper floors and eateries and shops at the ground level. Restaurants and cafes set up their tables outside so patrons can enjoy the views while they sip their coffee, dine on amazing pasta, and drink the delectable local wine.
Eat like a local in Lucca
Whether you're traveling solo, with friends, or you've got kiddos in tow, there's one thing everyone can agree on: The food in Italy is extraordinary, and it would be a travesty not to taste your way through each city you visit. Lucca is no different; there is a swirl of culinary delights to be found here. Moreover, just like many cities in Italy, there are regional ingredients and local dishes you must try while visiting.
There are two foods that you must try in Lucca: Tordelli Lucchese and Buccellato di Lucca. As you may have noticed from the names, these are two dishes that are specialties of Lucca. Tordelli Lucchese is made with semicircular ravioli with ragged edges and are usually stuffed with pork or beef along with Swiss chard, pine nuts, raisins, bread, spices, and grated cheese and served in a meat sauce similar to Bolognese.
Buccellato di Lucca is more of a sweet snack you could have for breakfast. Invented in 1450, this bagel-shaped sweetbread is filled with raisins and aniseed and cooked with an egg and sugar coating to give it a shiny appearance and an extra sweet taste. To get the best version, head to Pasticceria Taddeucci, which has been making Buccellato since 1881!